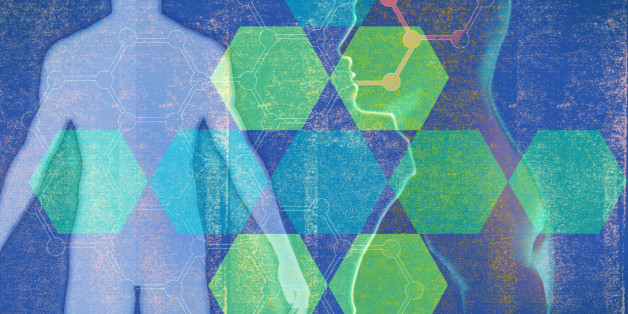 This week, the U.S. Food and Drug Administration made headlines for its approval of another obesity drug. News outlets worked hard to translate the meaning of this story, but they left out something important: heads.
After facing public backlash over the withdrawal fen-phen in 1997, the FDA exercised caution towards all subsequent obesity drugs, notably rejecting phentermine/topiramate, lorcaserin, and naltrexone/bupropion in 2010 and 2011. By 2012, the FDA approved the former two after seeing additional safety data. On Wednesday the FDA approved naltrexone/bupropion, and yesterday an advisory panel endorsed a higher dosage of the diabetes drug liraglutide for use as an anti-obesity medication, indicating that another approval is likely on the way.
Coverage has focused on the function of these drugs, their safety profile, their regulatory history, the likely financial ramifications for their pharmaceutical brands, the larger obesity epidemic, and insurance coverage. These are all important topics to various audiences, but to see what they leave out, take a moment to scan through the images used in each of the linked articles. Wherever an obese person is pictured, they tend to be headless. Where heads are present, they are faceless.
London-based academic Charlotte Cooper first identified the "headless fatties" in 2007, arguing that these images further stigmatize obese people, who become "reduced and dehumanised as symbols of cultural fear: the body, the belly, the arse, food." The Yale Rudd Center for Food Policy and Obesity performed a content analysis of 549 photographs used in news stories about obesity in 2009 and found that 72 percent of the images negatively portrayed overweight and obese individuals: often headless, with junk food, or without clothes. The press is not alone -- professional settings, health care environments, and educational spaces join news media as domains where evidence of weight discrimination, bias, and stigma are well documented.
Some find no fault in this, such as bioethicist Daniel Callahan, who argued that fat-shaming should be used to combat the obesity epidemic in the same way stigmatizing smokers was used to decrease tobacco use.
Research on the relationship between stigma and obesity says otherwise. In a survey of 6,157 participants in the U.S. Health and Retirement Study, researchers found that individuals in the study who experienced weight discrimination were 2.5 times more likely to become obese within four years, and those who were already obese were three times more likely to remain so.
The Rudd Center reaches similar conclusions, explaining that stigma and discrimination can be associated with chronic stress and the denial of proper medical attention, which not only introduce their own health problems, but prevent a person who does desire to lose weight from developing the self-esteem and motivation to do so. In other words, we cannot simultaneously shame individuals for their weight and expect them to feel good enough to initiate and maintain the grueling work of weight loss.
This is true of my experience with weight loss, too. As I grew up overweight and obese, I was taught that fat is lazy, greedy and compulsive. With this view reinforced by everything around me, that's exactly what I came to believe about myself too. This didn't stop me from trying to lose weight, but it did stop me from being successful. Over 15 years, I lost and gained weight, never fully reaching a healthy weight or keeping any losses off. It wasn't until I went to college that I lost about 100 pounds. What changed? I had a clean slate, a facilitating environment, and a new strategy to motivate myself.
Rather than focus on the reasons why I looked disgusting or undesirable, I kept a catalog of success stories among folks who lost a lot of weight and kept it off through positive health changes. When the going got tough, I returned to these stories to remind myself that others had been there. My struggle with weight was inflected with people and images who did not look like me, telling me how I should feel. Reaching a healthy weight was a direct outcome of studying people who once looked like me, telling me how I could feel.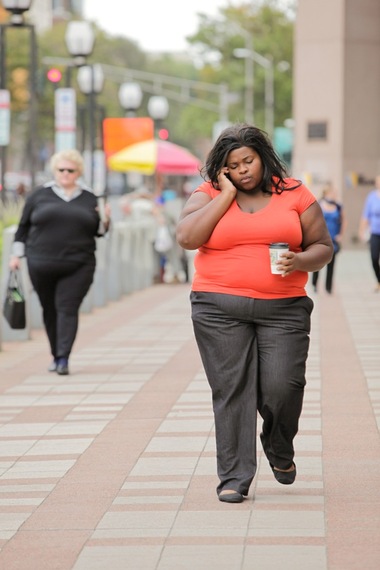 I suspect that the editors these articles would tell me that obese individuals are necessarily headless because no obese person would consent to their face being shown in a story about obesity. That's not a great excuse. To specifically address this issue, the Yale Rudd Center assembled a database of images depicting overweight and obese individuals in non-stigmatizing settings (I used one of their photos above). The point here is not to celebrate or encourage obesity, but to humanize it. These images are free to use with the proper attribution and allow stories about obesity to feature a relevant picture. The irony is clear: Before casting the obese as lazy, take stock of your own mindless practices.