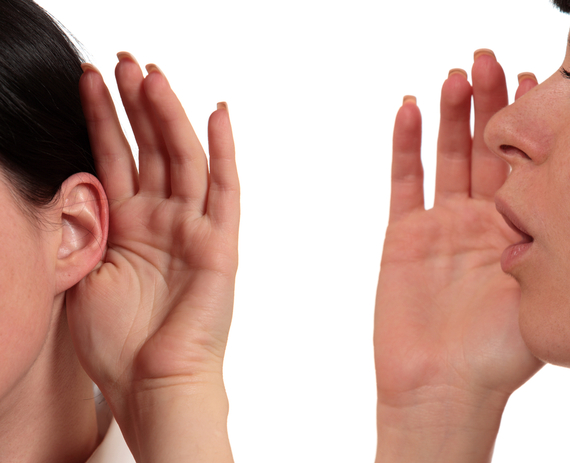 Listening is not as easy as it seems. I realized that during a conversation with a friend the other day. She mentioned how her son was improving in music, and I started thinking about how my daughter was not so good at music but more at painting. My mind lost focus on her explanation and I just wanted her to finish so I could explain how great it is that every child has their own qualities and talents. She developed more... something about piano lessons. And I have to confess I wasn't really paying attention, even if I was smiling, looking at her, and in apparent silence. Where was my mind? Just thinking about that amazing drawing my daughter had done for me last week and things related to that.
We left the café and I was feeling quite tired and ended up with a sensation of not having really communicated with her. I started to check how many of my conversations are only a comparison of my stories with the other person's story and I came to the realisation that I wasn't as good a listener as I thought.
Then the Charlie Hebdo attack happened. There I understood that things were worse than I thought: Our capacity to listen to one another is not quite developed yet.
Continuing my research I realized there are two situations where I'm open to listening: when I am with my daughter and when I am in consultation with my clients, in private or group sessions. There I can easily enter into inner silence, I become a total receptor to be able to read whats really going on with them. I read much more than what they are saying with words. How do I do that?
Waiting for the person to finish his/her thoughts without interrupting.
Reading the corporal expression, the tone of the voice, the expression of the face.
If there is any doubt I ask questions.
Avoiding projections of my story onto their situation.
Following my intuition, for that I need to be present and alert.
My breath is calm and smooth.
If you need to work on calming your breath you can
check my video The 21 Breaths
.
So I spent the week training in the art of listening. Applying what I do in my consultations, so I could be present to the exchange with each person in a more grounded way.
Listening is an art, yes. An art that if many of us were good at, I mean REALLY good at, our exchanges would be of a higher quality and many common problems wouldn't arise.
Developing the capacity to listen is one of the biggest gifts you can give to yourself and to others. Through a mindful listening you can easily be present in the here and now and connect with others in a deeper level.
So this week I want to invite you to listen. That's what my video is all about. Let's go for it. You will gain so much!
Let me know how it goes for you in the comments below. If its hard, or if you are quite good at it. Or share any technique that has helped you and that can help us improve our practice of the art of listening. I'm all ears!
info@rakelsosa.com
www.rakelsosa.com
Join Rakel in Facebook
Rakel Sosa has been practicing and teaching Rajadhiraja Yoga for twenty years and was trained by Master Healer David Elliott as a Pranayama Breathwork healer. She has been working in private and group sessions in Germany, France, Italy, Switzerland, United States and Venezuela since 2010. She is the co-author of Blooming Together, an Audio Pregnancy Program designed to enhance the well being of babies and expectant mothers. Rakel earned a master's degree in Communication from The Sorbonne University in Paris. She worked as a journalist for 11 years for Radio France International covering social and political issues around the world. Today as a filmmaker and healer she uses her professional skills for promoting self-realization and well-being.