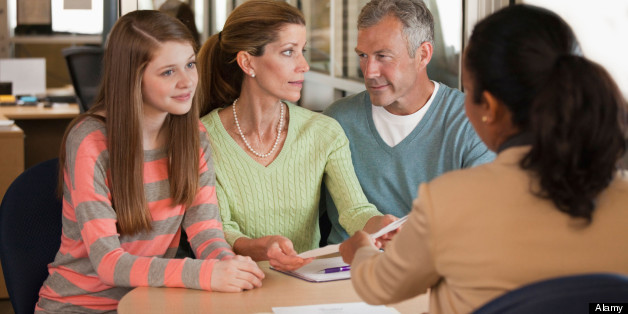 "Trust me -- when you step on the campus, you'll know," they said.
Maybe it won't quite work out like that for you. Didn't for me. I would take tours of massively different college campuses -- urban, rural, small, huge -- and I would experience the same thrill at every one of them. Nothing seemed more awesome than the others.
Come college application time and I had no choice but to apply everywhere and hope that when the decisions came it, my choice would be made for me. To all rising juniors: do not do this to yourself. Try to spend the summer before your senior year getting to know yourself and what you want. Do those online college match things to help you narrow down your options and then take a college road trip with the 'rents. It's a really good way to not get overwhelmed during application time, and a great motivator to keep you going through your last few semesters of high school.
The worst part is that you'll feel like all of your friends know exactly where they want to go, how they're paying for it, what they're studying, and what they'll do after. (Truth is: they probably don't and the ones who say they do will probably change their mind between now and when you make your decision.)
There are too many options in college; there's no way we're privy to all of them before we even get there. A premature decision is almost as bad as procrastinating that decision completely (my mistake). A middle ground is a good idea both for your long-run success, as well as your emotional stability if something gets between you and your dream school (i.e. not getting in, or financial factors).
Questions to ask yourself before choosing schools: Do you have a favorite class that isn't necessarily your favorite subject? This will help you decide if you want a small school where teachers are attentive to their students, or a large school where you'll have more flexibility to self-study. Job placement, internships, co-ops and study abroad programs are things I didn't even consider before submitting my applications, but you really do have to think that far into the future when you're making your choice.
Talk to current students. Find faculty in your department. Start applying for scholarships. Understand what your reach, target, and safety schools are. Juniors should be doing this by now but, if you're like me and you've really put this off, it's not too late to do this as a senior and really make the right decision. Until just this week I was choosing between a private liberal arts women's college with 900 students and a flagship state school with 20,000! Everyone makes their decisions based on different factors and on a different timeline. Whenever you start putting some serious thought into it, you're probably not ahead or behind the curve.
The final thing that helped me finally commit to a school was this: You're not signing your life away. You're starting a new adventure for one year, maybe even one semester if it really doesn't work out for you. And unlike high school, you get to blaze your own trail and do what you want with the opportunities in store. After all, isn't that what you've been waiting for?