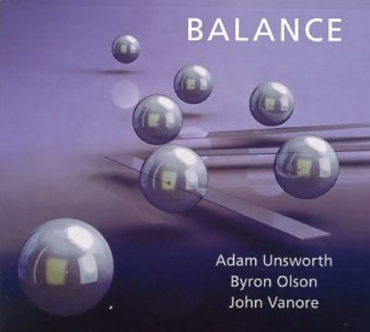 The French horn is an unusual instrument in jazz, first prominently used by Claude Thornhill in his orchestra of the late '30s and early '40s. Thornhill employed Sandy Siegelstein and John Graas to play French horn at various times in his band. Their symphonic tone along with a powerful woodwind section gave that band its distinctively cool sound. Gil Evans, a Thornhill arranger who used the distinctive instrumentation as a laboratory for developing his own sound, famously commented on the Thornhill Orchestra's unique sound. "The sound hung like a cloud."
On Balance, French Horn player Adam Unsworth, a member of Ryan Truesdell's Gil Evans Centennial Project, teamed up with conductor/ arranger Byron Olson and trumpeter John Vanore, and created an eminently listenable experience. They seamlessly integrate a sumptuous symphonic sound with the exhilarating excitement of improvisational ensemble playing. The music has an ethereal beauty with cinematic undertones mostly provided by Olson's deft arrangements and Unsworth's billowy sound.. With songs like the title track "Balance," composed by Unsworth, Olson's arrangement is resplendent with strings and counterpointed by some masterful soloing by Unsworth, pianist Bill Mays and saxophonist Bob Mallach. The song transports you to a place of mental balance and tranquility interspersed with a dynamism that is kinetic and revitalizing.
On "Flow," another Unsworth composition, the lyrical pianism of Bill Mays and the warm clarinet work of Jeff Nichols carries you into the slipstream of this piece with effortless ease. The rhythm section of Mike Richmond and Danny Gottlieb are propulsive but unobtrusively supportive. John Vanore's warm flugelhorn, Unsworth's richly expressive horn and the brilliant string arrangement of Byron Olson make for pure magic.
"Bittersweet" an Olson composition, is the musical invocation of the word. Trumpeter Vanore lifts this tune from its melancholy into a more spirited ensemble playing that includes a tasteful tenor solo by Tim Mallach.
"Tilt" starts out with an ostinato line by pianist Mays and saxophonist Mallach. The orchestration by Olson gives this piece a cinematic feel of action. There is a section of controlled cacophony that is punctuated by Gottlieb's precise drumming. The tune takes a film noir turn with Mallach and Unsworth playing in unison before Mays enters with a stirringly original piano solo. Unsworth returns with a French horn solo that almost pulses like a rombone. The tune ends with a bounty of multiple instruments all working in controlled frenzy.
"Blues Nocturne" features exquisite ensemble playing with Vancores muted trumpet, Unsworth's bellowing horn surrounded by Olson's swelling strings. Pianist Mays dances on the keyboard with a marvelously floating crescendo of notes leading into a soulful solo by bassist Mike Richmond, including his expressive sighs. Saxophonist Bob Mallach's playing is robust and fluid. Olson's " Michele" is a mournful ballad played to perfection by Unsworth's moving horn and made all the more poignant by arranger/conductor Olson's deeply emotive orchestration. Vancore offers a subdued but effective muted trumpet solo.
The album finishes with Olson's "One Last Fling" a swinging ensemble piece that showcases some nice individual playing by Unsworth, Mays, Mallach, Gottlieb and Richmond and "Find Your Way" an Unsworth composition that features Mallach's lyrical playing along with Unsworth's own emotive French horn work, supported by a the full orchestra arrangement by Olson. Balance is orchestral jazz at its finest, a feast for the ears that can be enjoyably left in your rotation without losing its appeal over multiple listenings.