The guitarist John Hart is not a household name, but to his musical colleagues and his appreciative students he is a seasoned professional who can be relied on to add grace and beauty to whatever project he participates in. He has a superb tone, a deep bluesy tone developed over a sixteen-year stint working in organist Brother Jack McDuff's trio and with other notable jazz luminaries. Hart has been playing guitar since the age of twelve and studied at the University of Miami where he now is a lecturer at the Frost School of Music. Hart spent the formative years of his musical life as a resident of Brooklyn where he lived and worked for the better part of thirty years. Brooklyn is where met his two bandmates, drummer Tim Horner and bassist Bill Moring, who together make this latest release Exit from Brooklyn such a tasty treat.
Hart's repertoire is boundless, but here he chooses a Billy Strayhorn ballad, two Monk tunes, a few American songbook standards and three of his own originals to, as he says "play music that is rich in melody and explore and refine the chemistry that we have developed after all these years of playing."
The chemistry shows and so does Hart's smooth, facile playing that seems to eschew flash for taste and sensitivity.
Take Hart's musical opening to the well-worn "Here's That Rainy Day" and his lively improvisational treks amongst the changes of that standard that just brings new life to an old favorite.
The title song, "Exit from Brooklyn," a Hart original that brims with unpredictability, funkiness and a kind of loose freedom, is masterfully executed by Horner and Moring, as Hart explores with a wonderful abandon.
Strayhorn's "Star Crossed Lovers" starts with a short Moring ostinato bass line before breaking into Hart's tender rendering of the melody. Horner is beautifully subdued on the brushes as Hart explores the harmonic possibilities of the melody with an ever so gentle touch reminiscent of Jim Hall. Moring's bass is plump and round and perfectly complimentary to the feel of the song.
Hart's "Inside Out" is a 7/4 rhythmic romp that the group performs flawlessly with an easy fluidity that makes it all sound so easy. Hart's tone is particularly joyful and Horner's drums cascade in syncopated delight.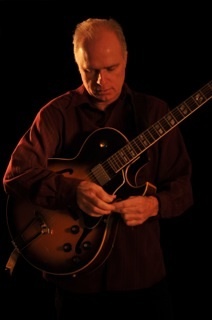 On Vernon Duke's "April in Paris" we find Hart returning to his days with organist Jack McDuff where he played this warhorse every night over his sixteen years with Duff. Hart never thought of it as a guitar trio song, but here his expansive improvisational chops and once again superb taste leave nothing to be desired. Moring provides a nice bass solo break that has an innate swing and launches a series of trade off riffs between Hart and the subtle Horner that is a delight.
"Just Friends" is re-harmonized into a broody rendition that Hart feels better represents the melancholic sentiment of the lyrics "lovers no more, just friends." Hart's solo is gorgeous in a heartbreaking way as he traverses the fretboard with such precision and sensitivity.
The rousingly bouncy Hart original "I Mean It" is a circular swinger that allows the band to open up a bit. Moring lays down a potent walking bass line and Horner keeps the rhythm swinging with his snare, cymbals and occasional pops.
Monk's poignant "Ask Me Now" is a wonderful vehicle for Hart's more romantic playing. The guitarist has a bluesy element that somehow accentuates the angular tune at just the right moments. His rapid single line improvisations are not blazing but liquid and always on the money. The trio executes this Monk classic with poise and polish.
In contrast Monk's "Jackieing" is a quirkier tune that the trio manages to make their own by intuitive interplay that pulses the tune forward in a way that Monk would certainly have approved. The trio has been playing together since 2000 and it shows. Horner is particularly interesting on this tune, providing a mix a percussive effects that create great counterpoint to Hart and Moring.
The final cut on the cd is the Rogers and Hart standard "Where and When." Hart arranges this tune into a soft shuffle that meanders along. His guitar is sweet and soulful as he navigates with a smooth sense of reverence for this song's beautiful melody which he leaves relatively unembellished.
No longer living in New York, now spending most of his time in Florida, Exit from Brooklyn shows that guitarist John Hart may not live in Brooklyn, but he has lost none of his Brooklyn heart.