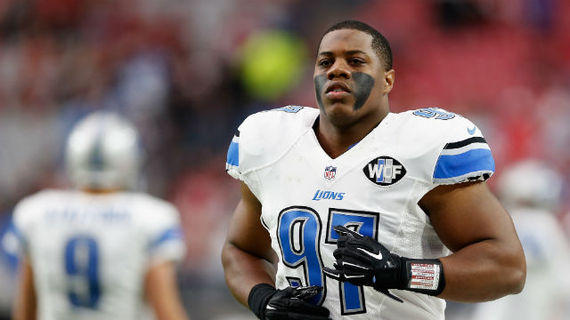 Think of that thing that you've been dreaming about for the longest....the dream you want SO bad to come true.
What is it?
For Caraun Reid, my friend and fellow Princeton alum, that "thing" was to be a NFL player. It wasn't a dream he had until college where he saw the successes he had on the football field. With the support of his coaches and loved one, he pursued the path to "greatness."
I reached out to Caraun as part of my BRANDMAKERS series because I thought his story is both interesting and encouraging. He's someone who was determined to accomplish that goal and worked HARD to make it come to fruition.
When did you first start playing football?
Growing up, I watched the cool guys play football. I didn't start playing until I was a freshman in high school. I was a scraggly kid, not really imposing at all.
The moment I got on the football field, my coaches put me at offensive and defensive line. I thought that sucked because no one wants to play o-line. Back then, all I wanted to do was run the ball and score touchdowns and do the dance. That was the dream.
What was your Princeton football career like?
It was a daunting experience being with guys who are grown men. I came in as a little seventeen-year-old kid who didn't really know much or play that well. As my Freshman year went on, I got stronger. Then I became one of the better guys on the team. That was one of the most amazing things for me.
Being a student-athlete was extremely difficult, but I had a lot of fun. I don't like to be miserable in anything I do. It makes it harder to do. It was hard. I had to learn time management. I don't think I perfected it but I got through college in a way that enabled me to enjoy the whole experience. Whether I was working, playing ball, or working out, I was always having fun. I always made sure I was around fun people no matter what I was doing.
When did the NFL prep start?
I tore my pec sophomore year and missed every game of the season after the first game. After my Junior fall, I had one of the best seasons that I ever had. it dawned on me that I was pretty good at football.
Well, my coaches said it beforehand about my talent level. I didn't really catch on to it because our team wasn't doing too well. I focused on other things at the time. After my Junior year, they said that I could do it and that I would have the opportunity to play in the NFL.
Scouts were coming to practices and games. It became a more tangible thing. I could actually see myself being in the NFL.
Did having confidence help you?
Without knowing that I could do it, I probably wouldn't be in this position. I built my confidence by winning my one-on-one battles. The better I became as a football player, the more success I had.
There was a game that we played and we shut out Brown University. That was my first senior year. It was one of those games where I absolutely dominated. I've never been in that position before.
It was one of those "Yea, okay. This is real" moments. Ivy League is lower-level competition. They are not exactly the same tier of people you are going to play in the NFL. There's always that going against you, but you just have to know it doesn't matter who is in front of you. Your talent is talent. It's not based upon your competition.
Your talent is your God-given ability. It was one those things where I had to mold myself in my mind and get my confidence up.
How do you figure out what you're good or what you should focus on?
Everyone should do some sort of soul-searching in their life. It's really finding out what you love.
What are your passions? Pursuing your passions is the greatest thing ever. It doesn't matter what is. I know I loved football because it became more important to me than my school work. My success in college wasn't really bound upon what I got in each class. On the football field, I always wanted to be the best. That was the main thing. I had the opportunity to be the best and I'm still striving for that.
What did your loved ones think about your decision to pursue playing in the NFL?
This wasn't the path my parents or anyone in the world that knew me thought I would take. I came to college wanting to be a doctor.
There was always that pressure. I did all the pre-med courses but stopped at organic chemistry. It was getting to be too much.
Once I decided to take a 5th year, my parents pretty much knew that I wasn't going to medical school anytime soon.
There was a little bit of tension. My dad was not quite happy when I first told him that I wanted to take a semester off from college because I want to play in the NFL. He said, "Yeah, I hear you, but we kinda have this plan set out. That's not part of the plan."
Now they are my biggest supporters. It's great how everything worked out.
When did you experience challenges and how did you cope?
The whole rookie season would be classified as a struggle. It's a big adjustment from playing in college and going to class to this is your life and you're playing in the NFL. You have to make yourself ready. That was the biggest thing.
The hardest thing for me was not getting something that I thought was so simple. I had to understand how to play within the defense.
I thought it was the easiest thing because it's very simple directions. It's nothing intricate. You attack. You go. I had to break myself free from the cerebral mentality that I've always had being a thinker. I had to think that there has to be something else that I should be looking at. That was the biggest and hardest thing I struggled with all of last year. It's like, "You're here. Be in the moment. Focus and go. Don't think about anything else. Don't worry about what's going on tonight."
I can transfer my thoughts from one moment to the other and not really focus on what's important. I suffered for it a little bit, but I'm better for it now.
How do you think you've changed since you graduated college?
I've learned how much it is okay to be different from the norm. Granted I am an Ivy League educated guy in the NFL, who in his off-time plays music... there's no one else like me in my locker room. I've learned that this is who I am and that I should let people in. It's a process though.
What's it like to be a Black man in the NFL?
I love it. I think it's a lot harder being a Black man on an Ivy League team especially when there's not as many of us. I wouldn't say there is any sort of racism or anything like that on the field. It's different. I came from the Bronx where everyone is either Black or Hispanic. Then you go to Princeton where my Freshman year there were about 10-15 Black guys out of 110 guys. The diversity increased through my time at Princeton.
Then,going back to the NFL where there is a lot more Black guys..it's a different feeling. It's like how I felt in high school where I had more guys who could relate to what it means to be a Black man. There is a lot of pressure. They can help me go through it. It's better to have guys in the locker room that you can talk to and understand what you are going through as a Black man.
Let's say the NFL doesn't work out, what would you do?
I'm never going to say the NFL won't work. It's been working wonderfully. In 10-12 years from now, I would love to be playing music and getting better at my craft as a guitarist and vocalist.
I would like to get involved in more public speaking obligations. I think my story is unique. The gifts that God has given me are unique. I want to be able to show God through what I can go.
What advice would you give to someone who has dreams of playing professional football?
Go for it. Make sure that you get your education. That's the biggest thing.
You have these dreams. It wasn't until it became a realistic opportunity that I was able to say this is going to come true. If it didn't come through, I would have my education to fall back on.
There are a lot of guys that I know that once this dream ends, they are in an awkward position because they never really got a solid education. The NFL is never guaranteed. The career is not for long. Your education is the only thing that will sustain you if they take anything away from you.
What makes you shine?
I would never want to put God or my parents to shame. I try to model myself in a way that they could look at me and still be proud. That's my method for success. My parents instilled in me a great work ethic. With that work ethic and no matter what I do, I don't think I could fail.
Connect with Caraun on Twitter.
To read the full interview on my personal blog click here: "How Bad Do You Want It? Lessons on Dreaming, Executing, and Conquering w/ Caraun Reid"
Rana Campbell is a freelance writer and branding strategist who helps brands and organizations create stories that inspire. Follow her on Twitter, LinkedIn, Facebook or Instagram. Read more at ranacampbell.com.
To learn more about how you can shine in your professional and personal life, click here.