"These people are fighting for survival in societies that are hostile to their very existence," said Dr. Chloe Schwenke, who described LGBT (lesbian, gay, bisexual, and transgender) people as being "embattled." She, along with three other global LGBT experts -- Urooj Arshad, Victor Mukasa, and Ryan Ubuntu Olson -- spoke at a recent IREX event on how the international development community could best work with LGBT populations globally.
As the vulnerability of LGBT people around the world has been well-documented by organizations such as the UN and Human Rights Watch, the experts offered these key recommendations for those working with LGBT groups abroad:
Be facilitators, not leaders. LGBT communities, while vulnerable, are also highly resilient, and local LGBT work is already ongoing in many places. "We need to be facilitators, not leaders in this process," stressed Schwenke. "We need to work closely with LGBT communities and listen to them."
Respect local identities. International development groups need to be careful of imposing the Western LGBT identity politics model on other cultures. "LGBT identities can subsume other local identities," said Arshad. She described how in Pakistan some trans women have recently adopted more Western terminology, whereas previously they identified as "hijra" or "khwaja saraa."
Include the whole community. Transgender people are frequently marginalized, including within LGBT communities. "There's a great deal of information and education needed about what transgender issues are, how to make that understandable in the context of LGBTI, and how to make sure it isn't conflated with sexual orientation," said Schwenke. She called for space and programming that just focuses on gender identity. Olson added that most of the scant LGBT-related funding in international development has gone toward men: "We're not talking about lesbians nearly enough, nor the intersectionalities of our entire community."
Avoid "golden child" syndrome. There exists the perception that some donors will find one or two favorite grantees and return to working with them repeatedly instead of engaging with other LGBT groups. Speaking about his experiences in Uganda, Mukasa said, "It has brought division among the activists. That hurts the movement." He called for greater transparency in how LGBT groups are selected for support. "How do we really get resources down to the grassroots level?" asked Arshad.
Emphasize LGBT rights as human rights. "Ground LGBTI assistance in human rights approaches," said Schwenke. She asked for international players to get beyond rhetoric and make this real. The UN also recommends a rights-based approach that focuses on basic rights like the right to assemble, privacy, and personal security, instead of focusing on LGBT identities per se.
Support LGBT networks. "Networks matter," said Olson about his work with the International Day Against Homophobia and Transphobia. He stressed the value of the "shared experiences of activists to other activists," such as front-line defenders comparing emergency protocols. Schwenke echoed the value of getting activists together for "solidarity events." Having just returned from a gathering of LGBT activists from across Africa, she said, "I saw a great empowerment of a community simply by being together." She continued, "This is really where human dignity starts from, the sense that we're not alone."
Share knowledge in multiple directions. "At the local level, beyond just the language, there's also capacity that's been developed among local groups that have been quite successful, that are opportunities for us to learn from," said Olson. He gave an example of a LGBT-positive TV show in Vietnam and groups in Latin America who have gotten local officials elected. There are international LGBT human rights defenders who have had to flee to the U.S. who can be a great resource, noted both Olson and Mukasa.
Despite repeated emphasis on the vulnerability of LGBT people, each of the experts spoke with admiration about the dedication and innovation of local LGBT activists and organizations. We encourage international donors and development implementors to continue to strengthen their support for LGBT-focused initiatives around the world.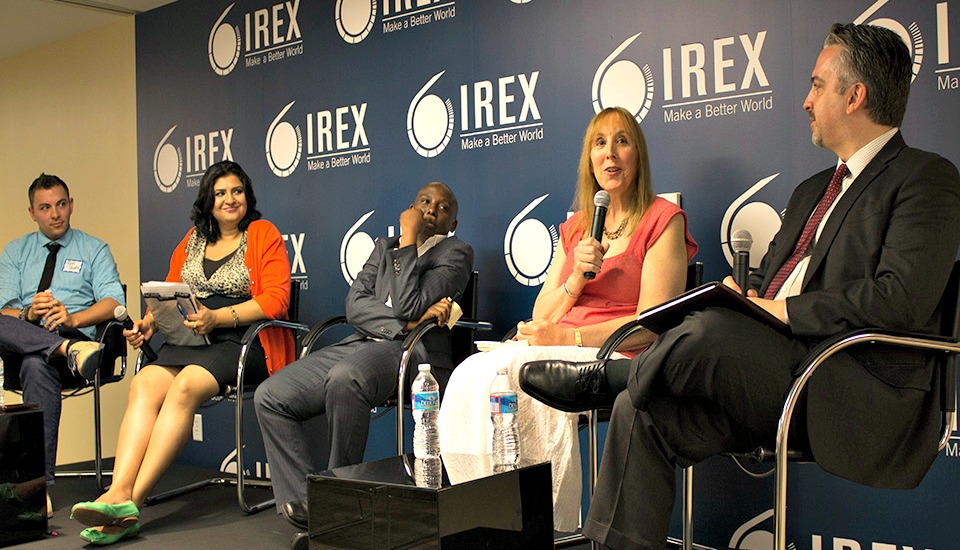 IREX is an international nonprofit organization providing thought leadership and innovative programs to promote positive lasting change globally.