Numbers and merriment and have always paired up. There's January 1 and New Year's; February 14 and St. Valentine's; October 31 and Halloween; April 22 and Earth Day. And then there's May 5... Cinco de Mayo. 
Five has always been an intriguing number: the number of arms on a starfish, players on a basketball team, musicians in a quintet, oceans on earth. Five fingers. Five senses. The Jackson 5. The Pentagon. Iambic pent - (5) - ameter. Five Olympic rings. Five: the Quint-essential number.
Cinco de Mayo (literally 5th of May) always conjured up images of Mexican fiestas, accordions, margaritas and mariachi bands. Wrong. Not to mention all those Mexican icons we worship, like Anthony Quinn, Eva Longoria, Linda Ronstadt and Diego Rivera. Having only visited Mexico once--the quaint fishing village of Zihuatenejo over 30 years ago--I never truly experienced the flavor of a true Cinco de Mayo. Having studied Spanish for six weeks in the summer of '69, and remembering only one sentence: "es pequeno y delgado pero bien parecido, verdad?" I didn't really understand the significance of the holiday.  I actually thought it was either: 
1) a Mexican holiday created to celebrate the synchronicity of Month 5, Day 5; 
2) a fragrance celebrating Coco Chanel's lucky # (she always launched her collections on May 5);
3) some sloppy Mayo sandwich you had to eat over the Sink; or
4) a festival honoring the Royal Family Hellman's, Patron Saint De Mayo.
Then I read up on my history. Turns out Cinco de Mayo is a celebration of the ill-prepared Mexican army's victory over French forces in Puebla on May 5, 1862, fighting for freedom and folkloric pride. It's a salute to the underdogs: to the courage displayed by a cultural mix of 4,000 troops -- mestizos, Zapotec Indians, and Spaniards -- using antiquated rifles and machetes, under General Ignacio Zaragoza Seguin, to fight back 6,000 powerful members of the French cavalry. And to all of us fighting for individual expression.
In honor of those defiant Mexicans, I decided to check out two NY hotspots of Cinco de Mayo-ism: Greenwich Village and Woodstock, New York -- both historic hotbeds of independent spirit.
1. ABC's of Toloache - Avocados, Bohemians & Chimichurri
On a charming side street (Thompson) in Greenwich Village lined with chess shops, multicultural eateries -- from landmark coal oven pizza to French Basque -- is a veritable Mexican fiesta itself: Toloache. Around the corner? Bleecker and Macdougal Streets, Washington Square Park - the bohemian mecca, the haven for artistic and literary freedom, in the coffeehouses and cafes, the beatniks, the poets, the folksingers. Toloache one of several restaurants (Yerba Buena, Tacuba, Copellia) created by Mexico City born Julian Medina. This is a man I've never met; I've concluded he has a kaleidoscopic mind and a passionate soul. His signature dishes have names I must practice in front of a mirror to pronounce: There's something called Costilla & Tuetano featuring bone marrow (my childhood was fondly filled with a very early form of the now-trendy marrow...chewing on soft chicken bones )! Medina takes classic flavors, adding his own "fusion and twist to elevate each dish!" Yup - more merging of cultures, combining beef, Mexican rice and beans, Thai basil, roasted red onion-jalapeno, and chiles tornados. Then there's Chayote (yup, it rhymes with the mystical peyote and coyote, the howling animal that's been prowling around NYC streets) which belongs to the gourd family Cucurbitaceae. Try that in a spelling bee!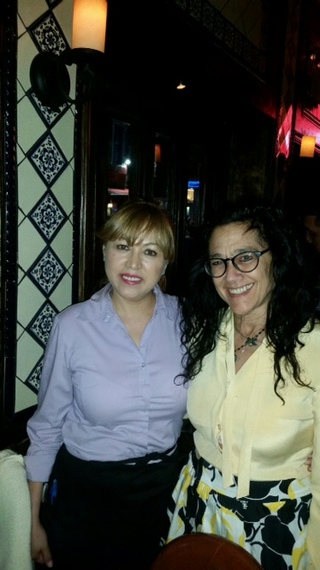 2. Yadda Yadda or Empanada?
I'm someone who's always been confused by the nuances between tortillas, tacos, and empanadas. I've been known to frequently have that Harry met Sally experience of exhausting the waiter and my date with endless questions about the size, texture and spice level of the chosen -Ada, -illa, or -aco.  
So walking into Toloache (a flowering plant renowned for its uses in love potions), I knew my dining companions were filled with trepidation.   It was kismet. The petite, energetic and charming Luz was as patient, descriptive and informative as a life coach.  I entered a jewel box of fragrance and color.  Surrounded by a ceviche bar, vivid Mexican tile and leaf green guacamole, I was on an avocado high ... my taste buds exploding.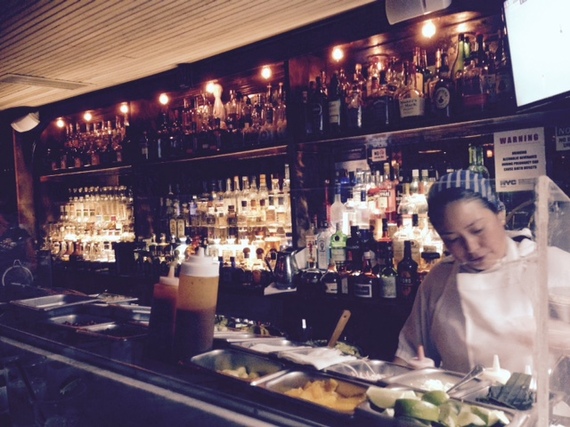 Julian Medina is a chef who believes in taking risks, crossing culinary borders, merging cultures, blending Mexican and Latin. A converted Jew, he is known for creating Mexican Passover menus with a Latino spin on Jewish dishes, sprinkling in some epazote into his jalapeño scented matzoh ball soup; achiote smoked whitefish salad yucatan style; and melt-in-your-mouth brisket. 
Inventive. Free spirited. Courageous.
3. I've got Dibs on the Ribs
Okay, so I admit it. I couldn't just order a dish. But I asked only five (I counted) menu questions ... Truly, how could one possibly know about chapulines, suadero, Veracruz style paella, carrot chile guajillo, suckling pig carnitas or mole de Oaxaca? The most I knew about Oaxaca was that I once used it in a limerick (yup, 5 lines) to rhyme with alpaca. Turns out  guajillo chili (or chile guajillo in Spanish) is a variety of chile pepper of the species Capsicum annuum--who knew?..    I tried the Bohemia-braised short ribs and the room floated away...Definitely worth fighting off the French to celebrate Cinco De Mayo.
4. Toloache sipping / Double dipping
The Kitchen is open and the Toloache cooks and servers are beaming from behind their stoves. Sipping on my tequila tonic, I was imagining Mexico city amidst the markets, the serapes, the street tortilla slappers. Then, out of nowhere, appeared the sugary Chorros, flanked by caramel and chocolate dipping sauces and tres leches sweet cream dessert, and I could have cried.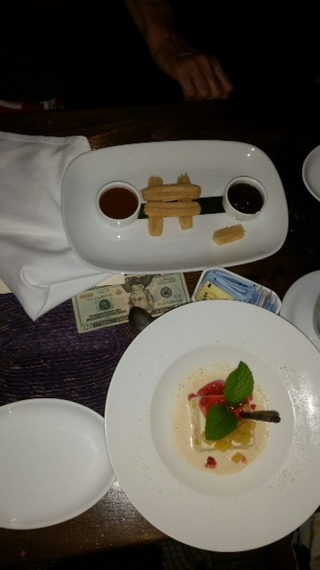 5. Mambo Kikongo - No Ifs Ands or Struts
Combating the morning-after withdrawal from Toloache, I trekked upstate to Woodstock, home of Bob Dylan, The Band, and Max Yasgur Farm lore...not a place I'd normally expect to carry on the Cinco De Mayo celebration. Yet there it was, on a flyer plastered to the wall of Peter Cantine's renowned Bear Café, presented by Radio Woodstock WDST: a Cinco de Mayo bash with Mambo Kikongo.
"Come on out and enjoy the swingin' sounds of Afro-Latin Rhythms that you can dance to: rumba, mambo, cha-cha and meringue." No Cielito Lindo or La Cucaracha here... no trace of any mariachi bands or corridos of the Mexican Revolution. Nope, this was a party for everyone to get out there, strut your stuff, and dance. And why not? Dance is just another form of cultural expression.
Mambo means "conversation with the Gods" in Kikongo, the language spoken by Central African slaves taken to Cuba. Hence Mambo Kikongo.
6. 3M - Mexico, Mayo & Mambo - Collaborations and Syncopations
Here's to yet another cross-cultural phenomenon. The Mambo dance was created in Havana by Cuban musician Dámaso Pérez Prado, who moved to Mexico City. So Mexico and Mambo were intertwined in the 1950's. Once again, a mingling of cultures. The original mambo dance was characterized by complicated foot steps and freedom...and isn't that what Cinco de Mayo is all about?
Cinco De Mayo celebrates the pride of a nation, the spirit of rebellion and the fight to preserve Mexican culture and folklore...with parades, costumes, tacos, tequila, dance, and music. Resembling Julian Medina's blending of food cultures, musical "chef" Carlos Valdez -- creator of Mambo Kikongo -- mixes Latin, Cuban, Afro-Cuban, Caribbean rhythms, 1940s big band, and American jazz.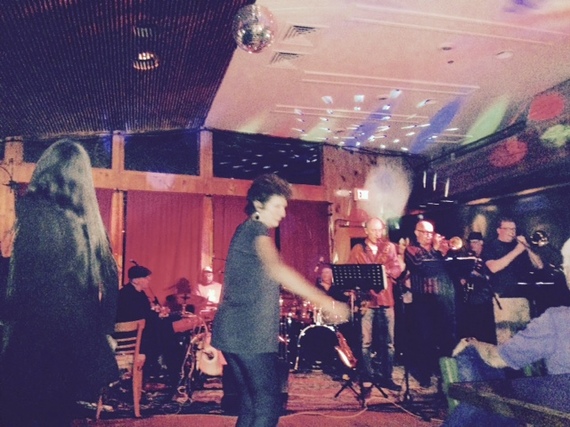 7. Cinco De Mayo: A Fusion Conclusion
The Mambo KiKongo band is the essence (or should I say quint-essence) of Latin jazz, once again merging cultures, mixing cha cha, New Orleans, and Thelonious Monk with blues and funk. In the Mexican and American spirit of rebellion and exuberance, I saw a contagious slice of independent expression on the dance floor at the Bearsville Theater. It was an exuberant blend of leftover hippies, ballroom dancers, do-it-yourself choreographers with unique dance steps sweeping across the floor. There were rumba-ers, mambo-ers, meringue-ers and improvisers...creating their own versions to "soul sauce" - a Dizzy Gillespie/Chano Pozo composition merging bebop and Cuban folk. A toast to fusion.
Yup. Cinco De Mayo -- the people of Puebla, Mexico; Greenwich Village and Woodstock -- all fighting for their freedom of expression. I 'll clink to Julian, Carlos, Dizzy, General Ignacio, and Dylan, with a touch of tequila, a sprig of cilantro and a "HIGH 5."