As a spouse to one our fine service members, I've traveled all over the United States. I'm very grateful for all the places I've seen, and all the wonderful places I've had the opportunity to live. But there's that one place, that will forever permanently hold a large piece of my heart: my own small town U.S.A. ...Arlington, Ohio. If you ever want to see a place filled with history, pride, patriotism and great people, then this is your stop.
I spent over 20 years of my life here. I was born just outside of Arlington in the city of Findlay, Ohio, and I was raised, went to school, climbed trees, dug in the dirt, played sports, graduated and met lifelong friends, all in this little town.
A small town that is technically a village with literally one stoplight, if you don't include the school crosswalk. A place where life moves a little slower and you can always expect to receive a friendly wave or take time out of your busy day for a welcoming chat. It's a town with great pride in the community, and even more pride in the people.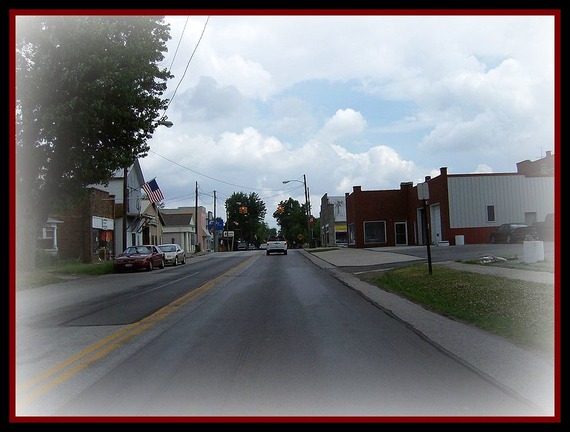 Photo Credit: Wikipedia
Arlington is a village located eight miles south of Findlay, Ohio on State Route 68 in the Northwest Ohio region. It's surrounded by a magnificent farming region located in Hancock County. According to the 2010 census, the population of the village of Arlington is 1,455 people.

It's a community not only rich in beautiful farmland, but rich in faith as well.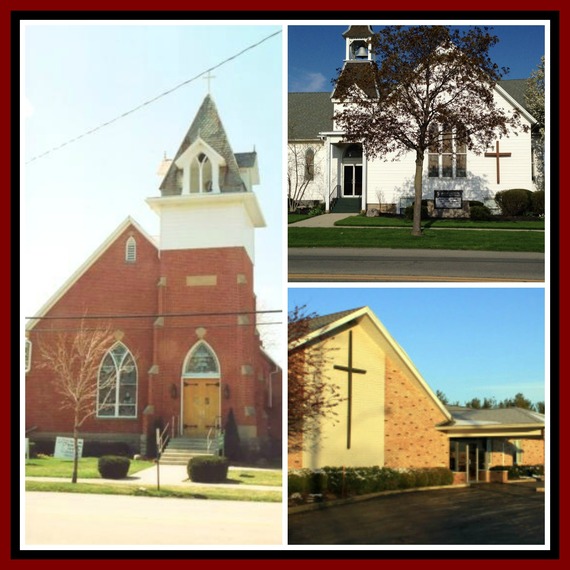 A community that supports and protects each other with the help of the great men and women of the Arlington Volunteer Fire Department.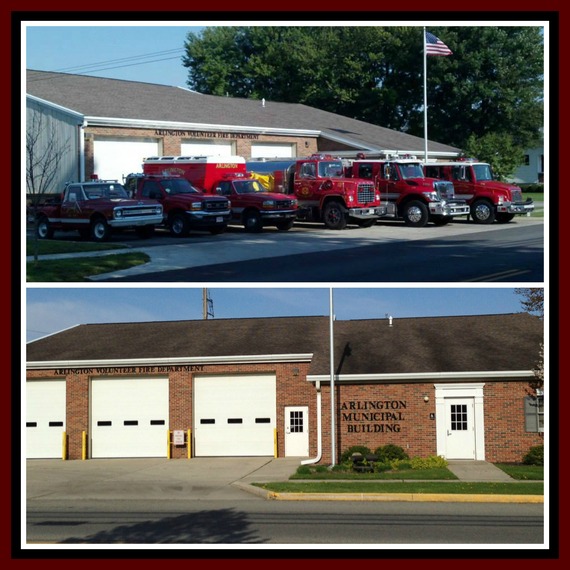 A community rich in education. The Arlington Library is a place where you feel privileged to go and check out books and during my time, VHS tapes.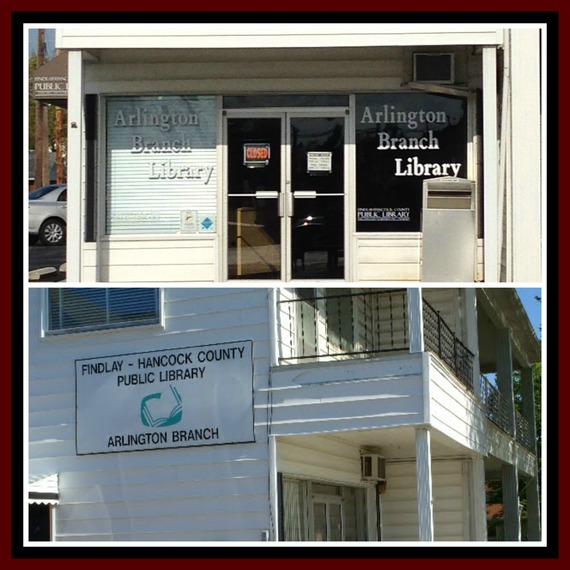 The Post Office is a friendly place where one can often venture by bike or foot. A place you can expect to be greeted by older members of the community who have many stories to tell, and are always happy to shake your hand and chat a bit.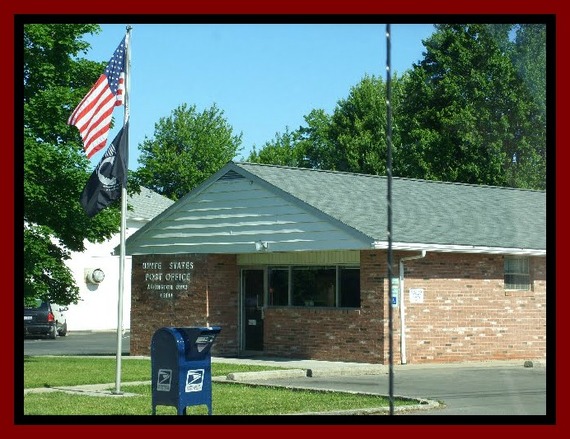 The Arlington Village Pharmacy that may have changed locations and color, but it was always the go-to spot for 1₵ bubble gum and many other sweet, candy goodies. And of course, all your other pharmacy needs.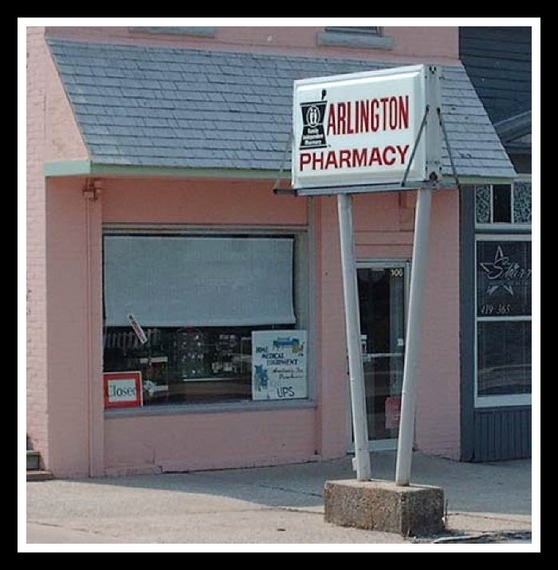 Another important stop right outside of town among the scenic farmland on State Route 68, Brinkman's, where you could get fresh flowers to plant, and fresh vegetables to grow, a variety of locally canned meats, as well as visits to the pumpkin patch every fall.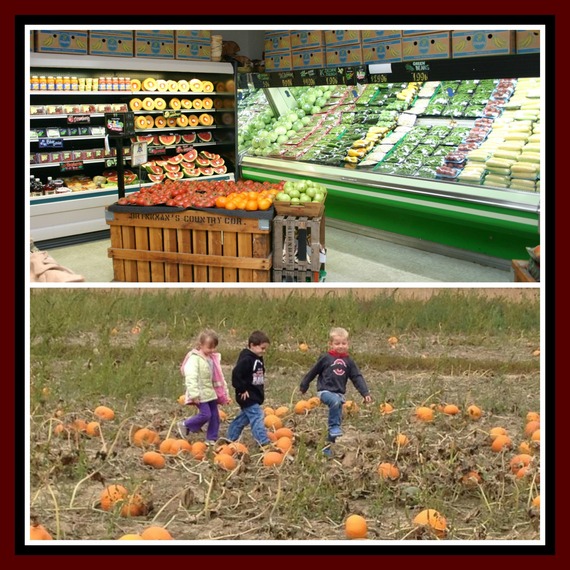 Whenever coming home to visit family and friends, there are just certain places one must stop. Places that you can't find anywhere else other than locally like Jac & Dos. A place that not only has delicious pizza, but where you assume the likelihood of running into many people you know and haven't seen in a long time.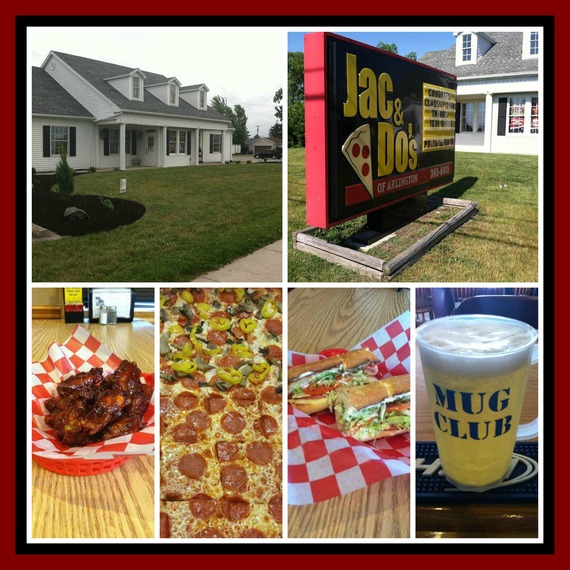 Lovell's Appleseed IGA is a locally owned hometown favorite, where right before you head down to the softball or soccer fields for practice, you could stop in and grab a snack and a Gatorade. Don't forget to stop into the bakery and get the Filled-Sticks (Éclairs for you more sophisticated types), but make sure you get there early because you can bet these delicious, freshly baked goodies go quick.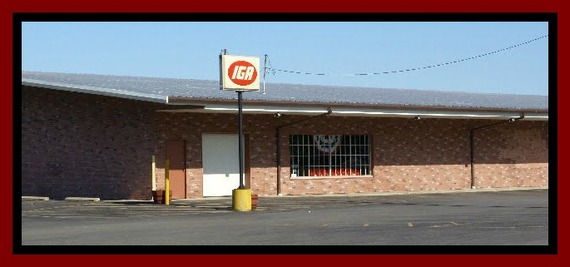 Marky Mo's All-American Grill (Terry's Drive Thru in my day), where during every break period from the swimming pool, you could go get some warm fries or an ice cream cone; also where former President Bill Clinton tried some delicious chicken BBQ.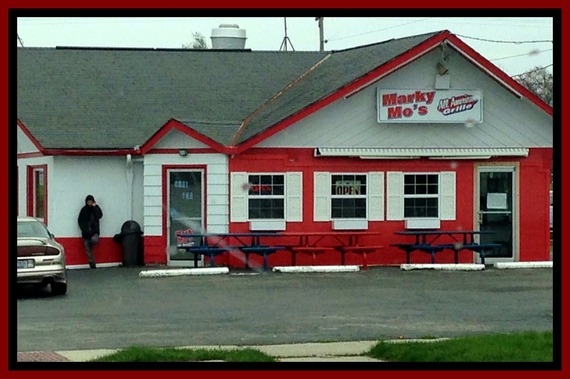 As mentioned, it's a small town where former Presidents have set foot. A train runs through the town traveling north up to Findlay and Toledo. Ohio is a coveted election state, so campaigning here is important; however, it's mostly done in bigger places such as Cincinnati, Cleveland, Columbus, and Toledo, not in a town of less than 1500 people. However, during the campaign route up north, not one but two different Presidents made the stop in Arlington, Ohio. Among them were, President George H. W. Bush and his wife Barbara, and President William J. Clinton and his wife Hillary and daughter Chelsea.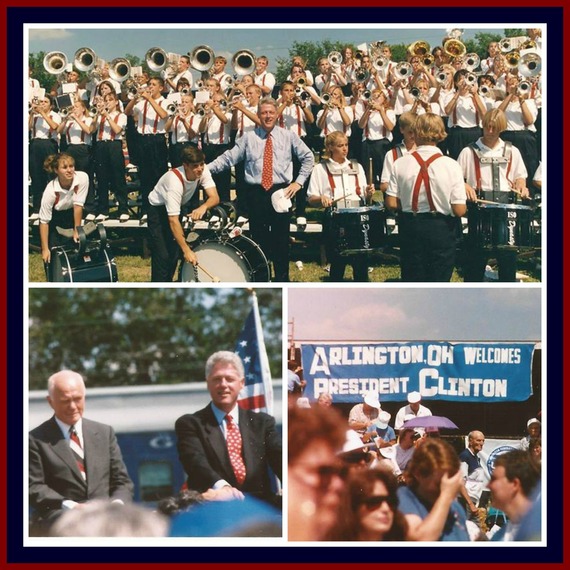 The Arlington Village Park. Where those campaign speeches were given right on home plate of the softball field, and where most of your summers were spent. You were either on the playground or on a softball field, and if that wasn't your thing then maybe you spent your time on the soccer fields.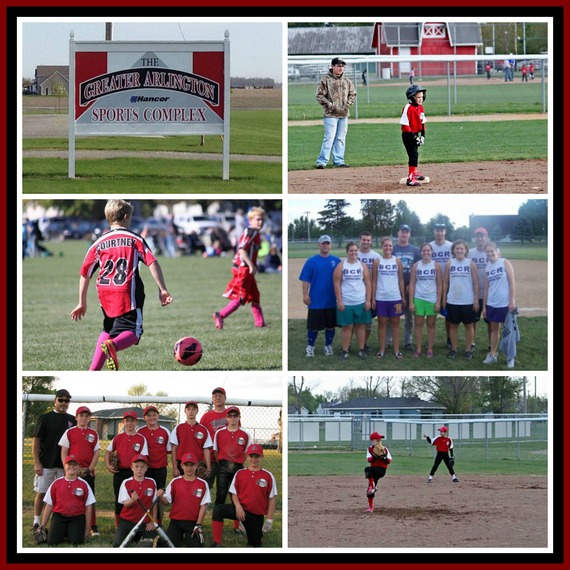 Of course, the best thing about spending the summer at the park is the community swimming pool. Lots of wonderful memories here.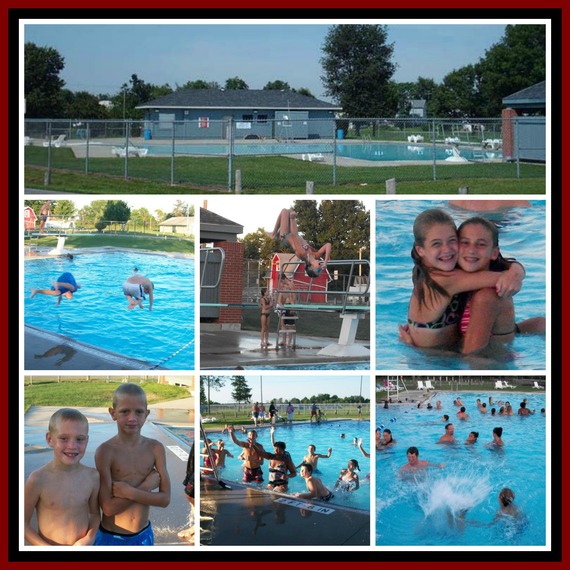 And when the joys of summer are over you spend the majority of your time in this place...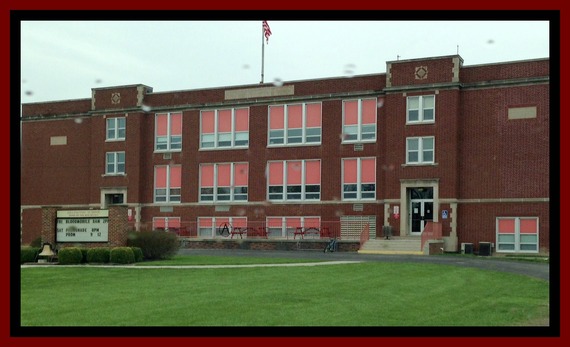 Arlington Local School District was established in 1929 and it has Kindergarten through 12th grade in this one building. Where you literally grow up with everyone you graduate with and your graduation class is anywhere from 30-60 people give or take.

But don't think because it is a small school that we are cheated out of an education, because we're not. In fact, our teachers truly care about us, and to this day, I still receive support, encouragement, praises, and accolades from many of them.
It's a school that takes great pride in the students as well as their accomplishments. We have great students, great athletes, great fans, and the best damn band in the land. We may be small in size, but we are mighty in heart!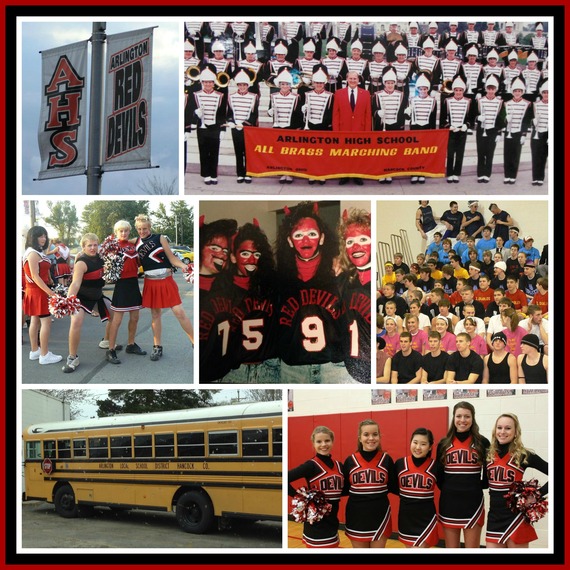 As previously mentioned, the continued support from this small town is priceless; a close-knit community that comes together to celebrate the good times and comfort each other in the bad. They rally around the youth of the community and support them at every possible turn. You would never imagine that such a small town could fill the seats of a major college arena such as the Schottenstein Center, but they surely did. Sporting their red and black, this community proudly cheered on the 2011-2012 girls' basketball team during their State Championship victory.
We love ALL our sports and activities, but it's safe to say that football is just in our blood, besides red and black of course.
Before we get to the real heart of the town, it would be an injustice not to mention a few more important stops along the way (Sorry, not all will be pictured). Some of these stops are still with us, but yet different, and some are regrettably no more; however, all are important to the wealth and history of the town.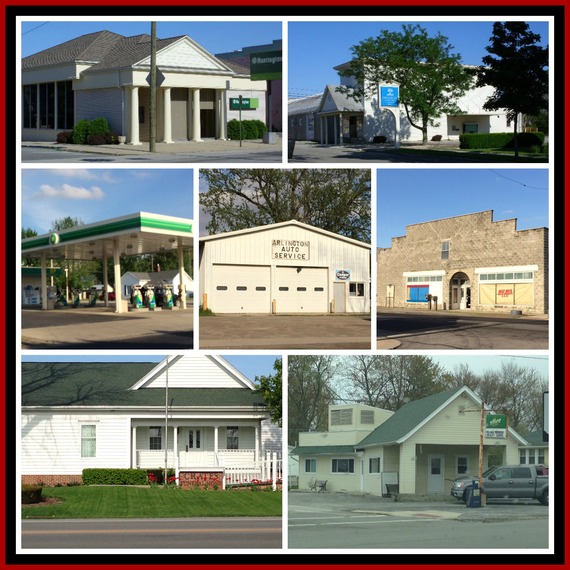 Arlington being a town rich in tradition and harboring numerous multigenerational families, it is no surprise the mention of certain buildings and locations bring up a host of differing memories. The current Curly's Drive Thru might still be called, "The Lube," or Libation Station by some of the eighties and nineties generation.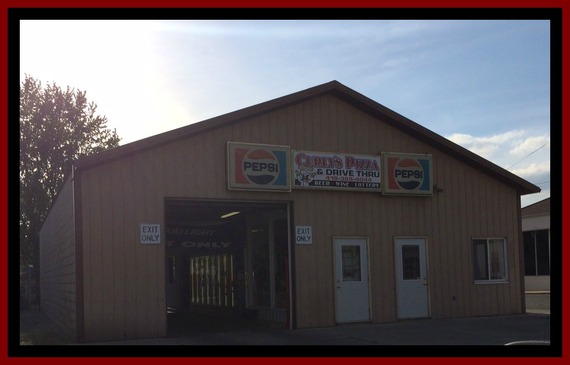 Whereas, the older crowd might refer to this location as the site of the long ago demolished Stella's Restaurant, a building steeped with history once you could get past the dead ferns hanging in the window. Stella, often seen in her well-used apron, was usually sweating profusely in effort to serve her customers sitting up at the counter, or the many children coming in to buy candy, gum, and magazines. Like a character right out of a novel, everyone knew Stella, so it was no surprise when the building was being razed; many remembered her and the building by grabbing their kids and going to watch this piece of history coming to an end.
-
Another memorable stop for families was the Plainview Dairy outside of town on 103. It is now a single family home, but I am sure if you listen closely, you can hear children's echoes as they excitedly order their first homemade ice cream cone.
-
The building that housed Snyder's Garage still stands today. No longer in the Snyder Family, it was once the hub of quite a few men coming in to get their hunting and fishing licenses and to quite possibly get away from their wives.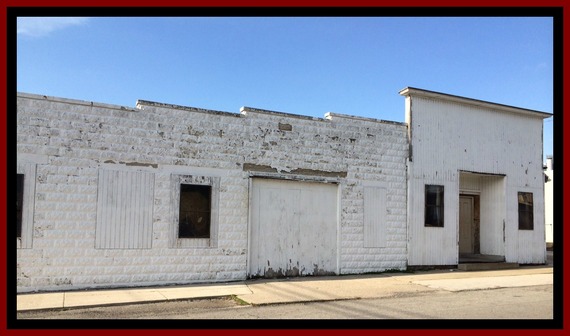 The bar in the south end of town was the famous Houdeshell's, or Howdie's, owned by a local family for generations. Today it is empty, but its walls also hold many differing memories as well.

Locals came in for lunch and sometimes a beer, or to shoot pool. Later the older and younger generation bonded together when a deck was put on to the existing building. Karaoke was sung, and the name was changed to The South Deck. Many a Friday and Saturday night, you could hear several recognizable voices echoing across the surrounding fields.

This bar/restaurant was later turned into a hair salon called The Eclipse (when it relocated from downtown), until at last, it stands vacant, but the echoes of good times and memories still linger in the hearts of the locals.
-
Mention Roper Studio and some may hint there are more than memories haunting this former Hardware, Dance Hall, Photography Studio, etc. Rumor has it; more than one ghost might occupy this beautiful old building with great bones.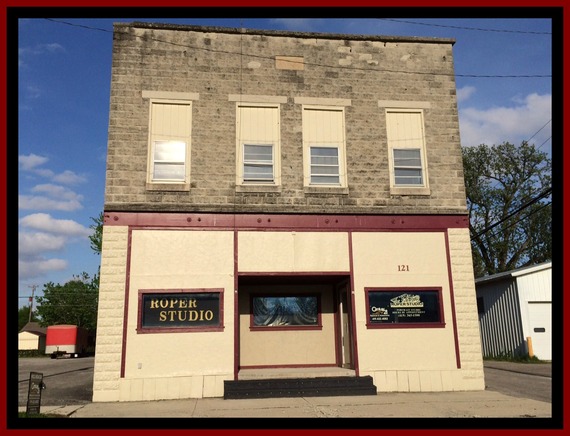 The Arlington elevator has served our farming community well. Although it has changed hands in recent years, and one of the existing silos collapsed a few years ago, it still stands as a source of strength for Arlington's rich farming community. There was nothing more remarkable, than the big star placed atop the silo at Christmas time.
-
Another important stop is one that reflects the patriotism of this tiny community. As this next extremely important holiday approaches, the Arlington VFW post hosts the annual Memorial Day Ceremony at the cemetery or at the schoolhouse if it rains. It is never cancelled. These men, while getting on in age, continue to march every year.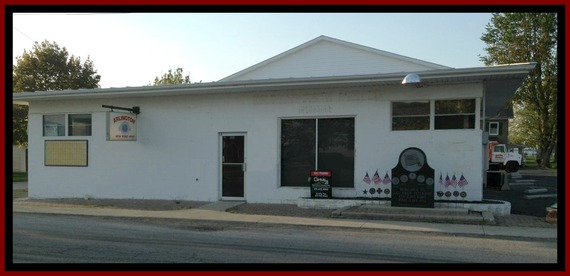 It should be noted, that without fanfare, they dutifully travel before the ceremony to all the local cemeteries to play taps and salute those who have fallen. We also have a lone Gold Star Mother, who for the past 47 years has placed a wreath to honor the fallen. Although she is now 91 years old and walks with a walker, you could hear a pin drop as she diligently places this wreath with hushed words and tears.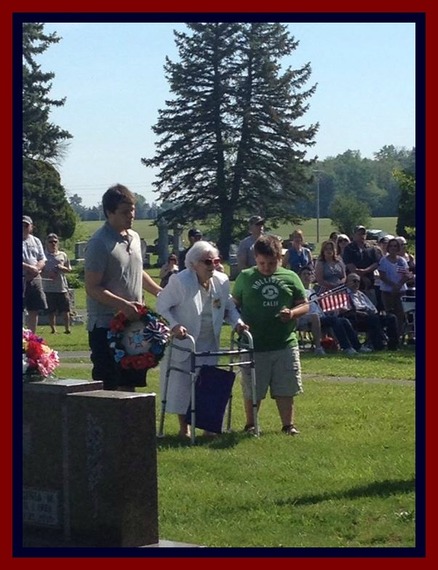 And, as if the patriotism, pride, and sense of community in this small town wasn't wonderful enough, there is the one last thing that actually makes it as magnificent as it is; the true heart of the town...The people.
Here are a few of the many faces that make up this great little village past and present.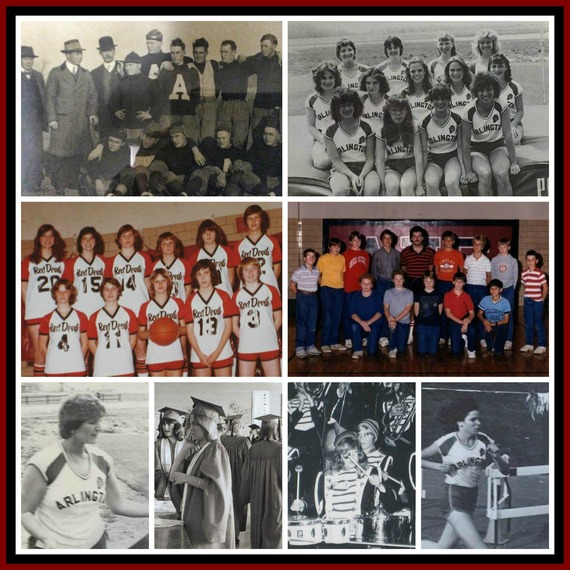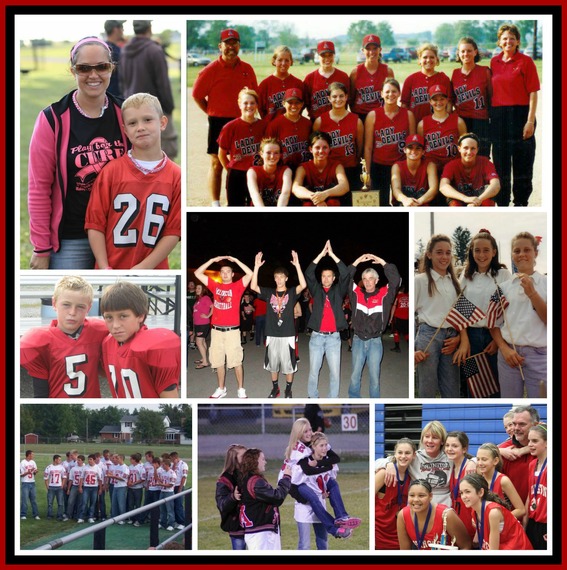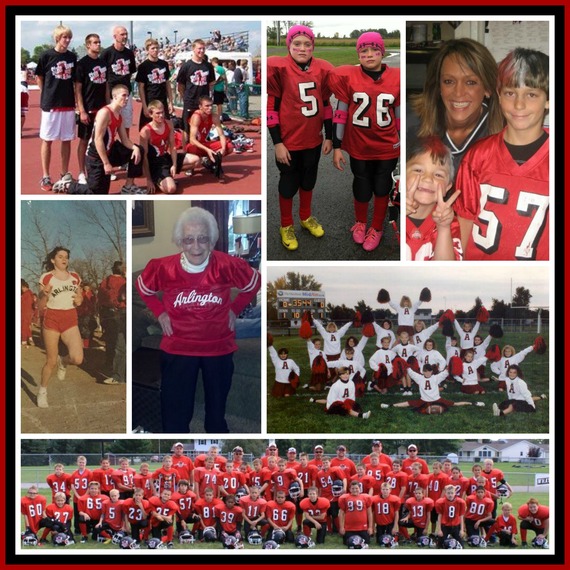 Thank you to everyone who contributed to this article by sending me pictures and special memories. A special thank you to Audrey (Bender) Tyzzer, Adrienne (Bender) Huffman, and Nolan and Brayden Courtney for walking around town and snapping pictures. And a very special thank you to the Village of Arlington and all inhabitants past and present for contributing to such wonderful place to grow up in as well as an amazing community filled with such pride.