I invited Param Jaggi to be a guest writer for my blog today. He founded the company Ecoviate, which is determined to solve some of our greatest issues in global sustainability. His first project is a very inexpensive fitting for tailpipes, infused with algae, that significantly reduces CO2 emissions. Add him to your people-to-watch-and-support list:
My name is Param Jaggi. I am 19 years old. And yes, I'm crazy enough to think I can change the world.
When I was 12 my biology teacher told me the following true--yet inconvenient--reality of life that shook me up:
"We can live for weeks without food.
We can live for days without water.
We can only live for seconds without air. "
It made me think: in a world filled with starvation, drought, and global pollution, why do we focus so much on Kim Kardashian's new botox procedure or who won the last Super Bowl? Why haven't we, as a society, taken more steps to solve some of the world's most pressing and unavoidable problems?
In that moment, I decided I would change the world.
Rather than developing new and innovative technologies to satisfy human 'wants', I set out to create unprecedented and disruptive tools to solve human 'needs'.
I joined the MENSA society and spent the majority of my childhood trying to learn about energy conversions, applied chemistry, and basic thermodynamics that govern our world. In high school, I researched an average of 30 hours per week, published papers, and filed for patents--all while going to basketball practice and maintaining a somewhat normal social life. I faced scrutiny, rejection, and extreme sleep deprivation, but all these trials came second to taking pragmatic steps toward achieving my dreams. There is a huge stigma in our society against young individuals making technological advancements without real-world experience behind them. I spent years kindly nodding my head at some of the most renowned scientists in the world, while completely keeping my goals and aspirations intact.
It's been an insane and unbelievably challenging journey, but the hard work has paid off. One of my first breakthroughs was to develop an innovative bio-fuel preparation method that eventually was sold to a Fortune 500 company.
And today, I'm very proud to announce that my company is officially launching our new product into the marketplace--a technology that reduces tailpipe CO2 emissions from any motor vehicle and other emission sources. The device, the "CO2ube", fits directly into the exhaust of any motor vehicle and reduces carbon dioxide emissions using algae and chemical reactions.
We chose to launch on Kickstarter after years of trying to figure out the best way to get the technology out to the world. Kickstarter is a platform that accentuates a basic human quality: a sense of community. At an early age, I realized that takes more than one smart inventor to change the world, it takes an entire community. I may be able to develop innovative technologies, but without the support and use of an entire community, I cannot singlehandedly make a change.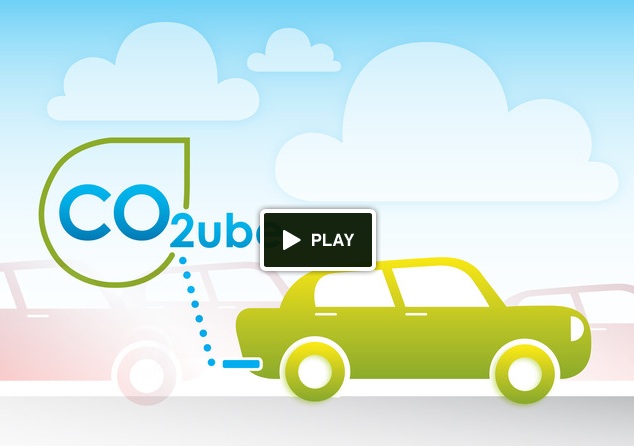 We, as a society, need to take more pragmatic steps to ensure a more viable future not only for ourselves, but also the future generations to come. I can't help but notice that the true sources of innovation are gravitating away from the technologies and practices that will sustain our planet. The environment is the foundation of everything in our society. We should start taking some pride in where we live, rather than just how we live there.
I hope you'll consider learning about the CO2ube on our Kickstarter page, using a CO2ube on your own vehicle, and helping to spread the word with friends, colleagues, and family. The first step in solving any major problem is bringing light and understanding to the problem itself-- then giving people an opportunity to help make a tangible difference.
The hardest thing to do is to take the first step, to be the first to raise your hand, to be the first to adopt a new technology.
The CO2ube will take this new sense of urgency to a society that has yet to realize what's at stake. It is going to take an entire community, and a crazy one at that, to change the world. I have faith that we can do it.
Please take a moment to check out our launch on Kickstarter and share your feedback!