During my childhood, I spent a lot of time in hotels and motels. My father, infected by wanderlust, enjoyed being on the road and we frequently moved from place to place. I can still recall following my father around the outer balcony of a motel in Roanoke, as he fervidly sought out a cigarette machine then sitting on the outside steps staring through the aqua blue iron railings as he dragged on a Kool and stared out at the highway.
We even ended up having to live in a Houston, Texas Holiday Inn room for an extended period during the early '70s.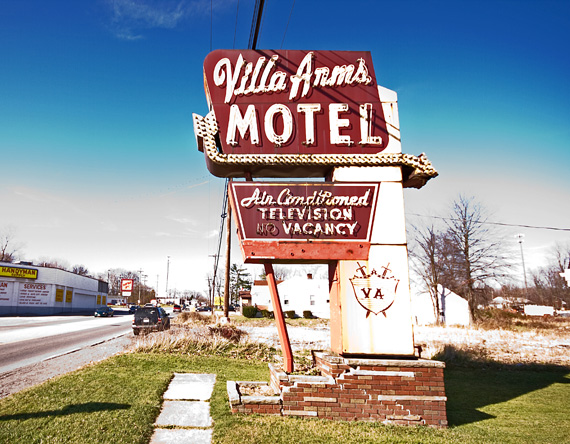 Villa Arms Motel Youngstown, Ohio
As a kid, I never minded, though my mother and two older sisters probably did. It was endless restaurant take-out, a swimming pool, and the affable Merv Griffin every afternoon. Of course, 70s style was in full bloom, and furniture, signage, and architecture were still leaning toward the space age. Luckily, they hadn't yet adopted today's flat, unimaginative and flat-out boring design.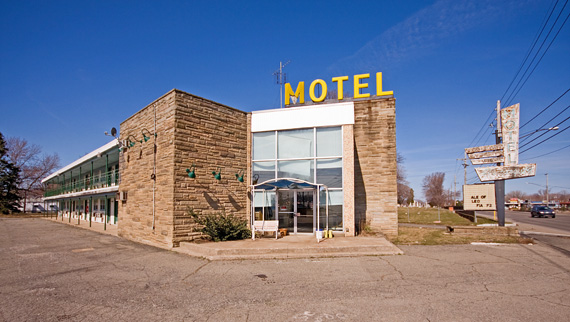 The Peninsula Motel Erie, Pennsylvania
As you travel through the Rust Belt, you can still come across the remains of hotels and motels still touting marketing innovations such as "Color TV" or "Air Conditioning."
The road was open and there was still a post-WWII air of prosperity in the air when a lot of the old inns were built, and even into the 70s, there was a sort of faux-grandiosity being built in i.e. ornate balcony railings; large pop-art inspired lighting fixtures, bold colors on the walls and carpets. Even the large Howard Johnson chains built their units with a touch of whimsy, with the orange slanted roofs and aqua-blue amenities, one could be spotted a good distance from the highway.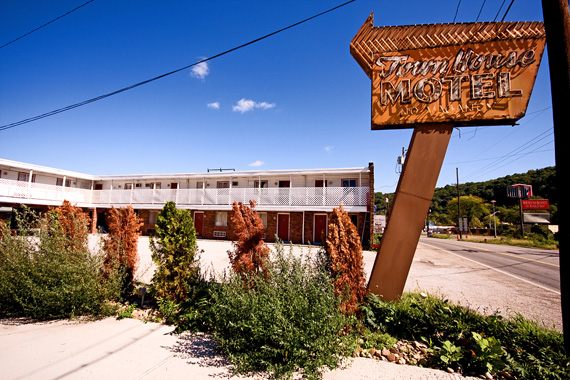 The Townhouse Motel Weirton, West Virginia

Nowadays, The families are long gone; the pools are empty; and the chairs are stacked on the tables, and these remaining buildings stand like faded starlets, waiting by the roadside for a second look or chance that, in all likelihood, will never arrive.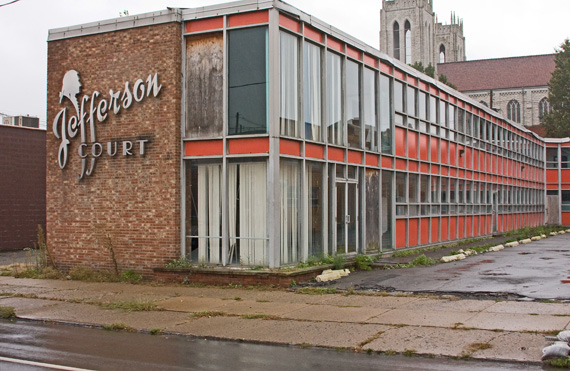 The Jefferson Court Motel New Castle, Pennsylvania
Please visit Randy Fox's website for more Rust Belt photography. Fox also manages the American Elegy website, which features the interviews and work of some of our greatest photographers, well-known and emerging.