My spouse Mark and I begin a new journey this month. The second half of last year kicked my ass and left me in a severely-weakened state. I lost 30 pounds in six months. It was weight that I could not afford to lose. I am so thin that I can no longer wear my wedding ring.
Throughout the holidays we wondered what was next. We decided that Mark would take family medical leave from his job. Together, we would focus on trying to help me regain my weight and strength. I am still not ready to give in to this horrible disease that is ALS.
I have been fighting ALS for nine years, give or take, and I've been doing okay, relatively speaking. But for the last year or so, Mark, doctors, family, friends and other people with ALS (pALS) all have been strongly urging me to get a "feeding tube." A feeding tube, or percutaneous endoscopic gastrostomy (PEG) tube, is essentially to help a person who is having ongoing and serious trouble swallowing and can't get enough food or liquids by mouth. It's placed directly into the stomach through the abdominal skin. The tube allows feeding directly through the gastrointestinal tract and bypasses the mouth and esophagus. Most pALS get them or have them, but they are used for people with all sorts of diseases or medical conditions. The tube literally sticks out from your belly.
So, why have I been fighting a PEG tube for so long? Bottom line: Even with ALS, I have been trying to keep my life as "normal" as possible for as long as possible. I need Mark to feed me, and it takes about an hour, but I can still eat regular meals. For the longest time I have looked at the PEG as sort of a symbol of giving up one of the most basic human functions I can still manage -- eating.
This all changed within the last few weeks as I realized that if I didn't get the PEG tube, I would die a hell of lot sooner than if I chose to do it. Therefore, I am scheduled for surgery this week and should be rocking and rolling with the PEG very soon.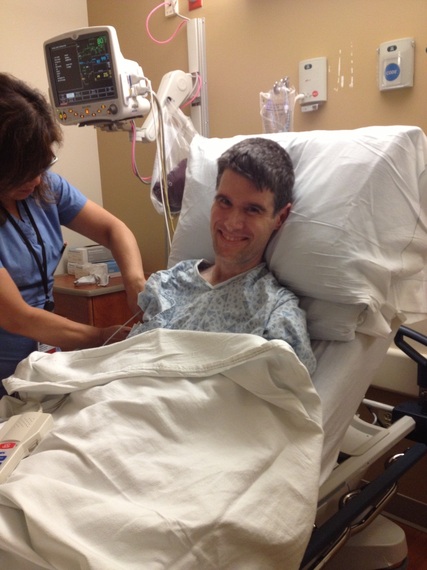 Photo courtesy of Randy Pipkin
My plan is this. I will work as hard as possible to eat as many conventional meals as I can during the day, and I'll use the PEG tube to supplement my weight. From what I understand, Mark will be pouring a special mixture into the tube several times a day. And that's about it. That will be my "new normal."
What will hopefully change is that I will gain weight and strength and ideally be around to continue to fight.
I share this since I think it may benefit people who are sick and may be going through a similar process. I hope others are not as hard-headed as I am and do not wait until the last minute to do something that will help to continue their life.
Although I'm still uneasy about the PEG tube, I know I am making a good decision. I'll report back once it's over and I'm using the tube. Wish me luck!
Randy Pipkin is a consummate ALS fighter and recently was the national campaign chair of Breakthrough ALS for the ALS Therapy Alliance.