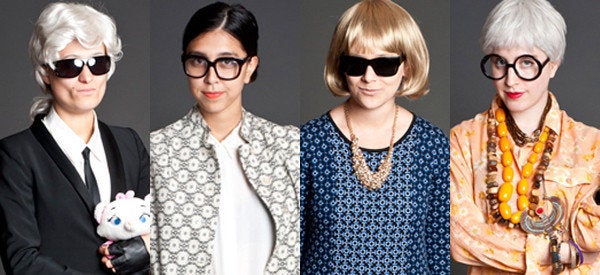 Halloween is coming. It's a time for costumes, masks and trying out new personas. Here's a challenge. In our everyday lives, we all wear masks to some extent or another -- we all play some type of role to ease the way. What if you considered taking off the mask, and having the courage to live as your authentic self?
Sometimes, it's hard to even keep track of the masks we wear -- they can be expressed in so many ways:
When duty takes over spontaneity,
When expectations infringe on personal expression
When the hustle and bustle of day-to-day life allows no space to reconnect with what we know to be true.
What makes Halloween so fun is that it gives us an opportunity to be playful and to try out different aspects of our personality that don't always have a chance to emerge. What are the costumes that attract you: Are you ready to channel your superhero, wild animal or vampire vixen? Each one is a reflection of some part of you.
So here's the challenge -- think of what costumes you have chosen for the Halloween parties of the past and then consider what part of you is yearning to be expressed this year. From now on, find a way to let that side of your personality free! No, you don't have to parade down Main Street as Elvis, but you can find a way to give that attitude a chance to see the light of day.
Or you can always go as Big Bird, and tap into one of this year's hottest trends. Hurry -- those costumes are almost gone.
On another level, consider using this occasion as a time to look deeper. Is there a part of you that longs to be more spontaneous? Would you like to rediscover that playful part of yourself that has been sidetracked into serving other's expectations? Can you carve out the breathing room to dust off your dreams and reconnect with an essential aspect of your true self?
"The privilege of a lifetime is to become who you truly are." -- C. G. Jung
What role do you play with family, with your friends and at work? Do you get to share who you really are and express your vitality, individuality and love to those around you? Or do you feel shut down in certain contexts? What changes can you make to have more congruence and freedom? Often the changes can be just as subtle as a shift in your perspective, but that in itself may lead to significant expansion.
Feeling like you are in the various scenarios of your life by choice is very empowering. If you know that you are wearing a mask and having to hide your true self, maybe it's time to take some steps to liberation! Allow who you really are to come into your life from now on.
"Happiness is when what you think, what you say, and what you do are in harmony." -- Mahatma Gandhi
What part of you and what costume want to show up this year?