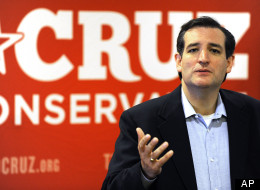 On Tuesday night, Ted Cruz gave an impassioned speech at the Republican National Convention in Tampa. "Government is out of control and we're going broke," he declared, speaking without notes or the aid of a teleprompter. "We want our country back!"
Ted Cruz is the newest member of the GOP A-list. He was catapulted into the spotlight after his win in a runoff for the Senate nomination in Texas. Come November, he will likely be the USA's third Hispanic Senator. "The sky is the limit on Ted Cruz," Senator Mike Lee (R-UT) told USA Today.
If you believe the hype, Cruz is the future of the GOP. Republicans think he has the potential to attract Hispanics to their party. Cruz's supporters say he is going to shake things up in Congress. But Cruz actually had little Latino support in a race marked by low turnout. And, unfortunately, it looks like he is committed to Congressional gridlock, rather than real problem solving.
Given that Texas is a solidly red state, Cruz is all but assured a victory in the fall. Yet he is unlikely to attract Hispanics to the Republican Party because his views are well outside the Latino mainstream. He is against "amnesty," opposes the DREAM Act, and has called President Obama's easing of deportation regulations for young immigrants "illegal." He supports Arizona's SB 1070 law. Cruz has vowed to repeal the Affordable Care Act, despite the fact that 37 percent of Hispanics in Texas are uninsured.
Unlike Marco Rubio (R-FL), to whom he is often compared, Cruz did not run with strong support from his state's huge Hispanic population. Cruz' base was the Tea Party, and he did little outreach to Latino voters. In contrast to the fully bilingual Rubio, Cruz told Fox News that, "My Spanish is lousy."
Cruz' win was hardly a mandate for his candidacy. Due to a legal fight over redistricting, Texas pushed its primary back from March to May, and the final runoff was held on a July day when the temperature topped 100 degrees. Not surprisingly, turnout was low. Roughly 630,000 Texans voted for Cruz -- out of 15 million eligible voters in the state.
Cruz ran on a message of being against compromise. "I am perfectly happy to compromise and work with anybody, Republicans, Democrats, Libertarians. I'll work with Martians. If -- and the if is critical -- they're willing to cut spending and reduce the debt," he told Fox News Sunday. In other words, he will only compromise with people who see things his way. This is troubling, because it means that Cruz will likely further contribute to the paralysis in Congress.
True, Cruz is a gifted speaker and a brilliant lawyer. Still, he is not a political outsider. He was educated at Harvard and clerked for a Supreme Court justice. George W. Bush appointed him to his former post as Texas Solicitor General, and he also worked for two federal agencies. He is the type of "elite" that the Tea Party typically rails against.
New to the national stage, Cruz has already waded into controversy. Speaking at the Faith and Freedom Coalition in Tampa, ahead of the GOP convention, he called Hurricane Isaac a "blessing" because it "kept Joe Biden away." He also told Telemundo that Mitt Romney, if elected, should reinstate deportations of deferred action applicants.
Although he may give a good speech, Cruz is not going to be a bridge between the GOP and Latinos. He is a candidate who simply happens to be Hispanic, and one with narrow appeal to boot. As Senator, he would do well to moderate his rigid positions in order to do right not only by all Texans, but by all Americans.