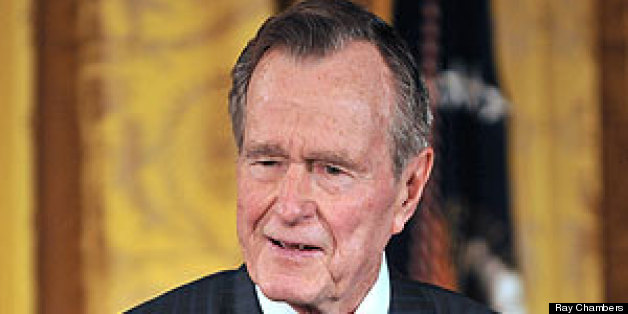 During the 1988 presidential campaign, George H. W. Bush introduced the concept of "one thousand points of light." At first, some were unsure of the meaning of the phrase. But as the campaign wore on, Americans began to understand: President Bush was referring to the people of the United States who gave service through volunteering -- people who helped one another with a passion and commitment seen nowhere else on Earth.

President Bush spoke of citizens in every community helping whenever their neighbors needed help. He spoke of Americans traveling across our country to pitch in after disasters struck the heart of one of our communities. He spoke of strangers risking their lives to help others in danger. He spoke of what Alexis de Tocqueville from France observed when he visited the United States in the mid 1800's -- "one thousand points of light" reacting innately from coast to coast, who put the needs of fellow Americans ahead of their own needs.

There were some who were skeptical, believing that then-candidate Bush's "points of light" idea was merely campaign rhetoric. But President Bush put those doubts to rest as soon as he was inaugurated as the 41st President of the United States. One of his earliest actions was to form the Points of Light Foundation. I was honored to have been asked to be the foundation's chairman and joined with leaders like Dr. Johnnetta Cole, then president of Spelman College, Roberto Goizueta, CEO of Coca-Cola, Michael Eisner, CEO of Disney, John Akers, CEO of IBM, Marion Heard of the United Way of Massachusetts and other key national leaders as members of the board of Points of Light.

The foundation's objective has been to encourage as many Americans as possible to volunteer in their communities, working to make a difference. Along the way the foundation has significantly increased its capacity through combining efforts with the National Volunteer Center and the HandsOn Network. In recent years, Michelle Nunn has magnificently led Points of Light while chaired by Neil Bush.
Since the foundation began its work in 1989;

• The number of Americans volunteering has increased from 38 million to 64 million, an increase of more than 60 percent;
• The rate of volunteering has increased by nearly a third, from 20.4 percent to 26.8 percent;
• In 2011, volunteers performed 7.9 billion hours of volunteer service worth $171 billion to America's communities;
• Business support for employee volunteering has become a pillar of corporate social responsibility;
• Service on college campuses has become a new standard and is on the rise; the volunteer rate for young people has increased dramatically, from 13 percent to 22 percent;
• The number of older Americans engaged in service has increased significantly;
• Baby Boomers and older Americans are 40 percent more likely to volunteer than the same age groups in 1989 and,
• The foundation is now the largest organization in the world dedicated to volunteer service;

Immediately after he took office, President Bush 41 also began to designate a "daily point of light" selected from a pool of thousands of extraordinary organizations working in their communities to truly make a difference. His assistant, Gregg Petersmeyer, thoughtfully oversaw the designation and celebration of each daily point of light. President Bush 41 has stayed personally involved in the choosing of the daily point of light to this day, a period of 24 years! From midnight basketball in Glen Arden, Maryland where youth could participate in an alternative activity during the hours when most crime occurred to a group of third grade students in Nebraska who call homebound seniors. From San Antonio where a businessman started a nonprofit to provide school supplies for underfunded schools to a Vietnam veteran who created a mentoring program for southeast Asian refugees. By recognizing each point of light, the President has consistently supported and affirmed each one's unique contribution to our society. As he has said so many times: "any definition of a successful life must include serving others."

Over the past 25 years, President Bush has traveled all over our country to pay special tribute to many of the points of light. He has encouraged and inspired celebrities and the media to join him in recognizing these great volunteers. And on Monday, at the White House, President Obama will join with President Bush to celebrate the "five thousandth point of light"!
The increase in community service across our nation over the last quarter of a century -- and the kinder and gentler way that many Americans are now treating each other -- are a direct reflection of the warmth of "a thousand points of light" and their greatest champion, President George Herbert Walker Bush.