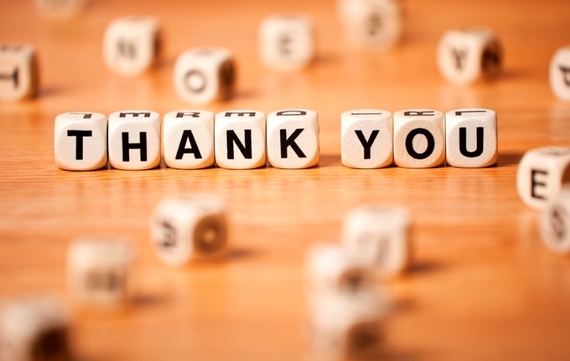 I couldn't agree more with my friend Arianna Huffington's insight that giving is one of the foundations for building a rich life. I can confidently say that none of the material things I have acquired through my fortunate business career has been as meaningful as the acts of giving that I have been able to be part of. Touching the lives of other people has provided my life with its deepest meaning, whether that person has been someone I have mentored directly or one of the millions I'll never meet who have benefited from the protection of a mosquito bed net provided in our global fight to end malaria deaths.
Arianna provides a wonderful narrative on the importance of giving service and the way it enriches our lives by "widening the boundaries of our being." What a beautiful phrase.
There are many ways we can give of ourselves. I have done so locally by mentoring young people in Newark, nationally through the Points of Light Foundation, MENTOR and America's Promise, and globally through my work as the UN Special Envoy for Financing the Health Millennium Development Goals and for Malaria. But for me, the aspect of giving that I appreciate the most is the simple act of giving thanks. Fortunately, giving thanks is also one if the easiest things to do. And it won't cost you a cent.
There is such power and positivity in recognizing the effort of others, and that's what giving thanks is all about. It's a way of helping others feel great about their accomplishments, and of encouraging them to continue to do their best. That's why, whenever I have the opportunity, I thank the people around me.
Giving thanks is, coincidentally, an act that makes you feel great as well. It makes you more aware of the web of humanity around you. And it makes you feel deeply connected to the people you have thanked.
Here's a little exercise: Take a moment and think about someone you know. It could be a family member, a work colleague, a community leader or someone else in your life. Now, pause and think about how you would thank that person if given the opportunity. What would you say? And how wonderful would that act of giving feel. My heart swells when I give thanks, because I am supporting and encouraging others for their own attempts at being their best.
Giving is so important. And thanks may be the most powerful thing you have to give freely. So while on the topic, thank you, Arianna, for providing such wise and heartfelt guidance on how we can all lead richer and more meaningful lives. Let's thrive together.
Read more posts about Thrive from featured HuffPost contributors here.