I waited 26 years to get a pedicure. This sounds absurd, I know. Most of my friends have indulged in pedicures and raved about the experience and their beautiful feet -- even a couple of my past boyfriends had gotten pedicures. Clearly, I was missing out. But I just couldn't bring myself to do it. Why not?
I blame my sister.
When we were growing up, my younger sister, Nichole, would constantly tell me that my toenails were so tiny and she just wanted to "pop them off!" What?! Who says that! It turns out this is a great way to cause psychological damage to a sibling. So, as much as I love foot massages, there was always a hard rule to steer clear of my toenails. I had never let anyone touch them, for painting or otherwise, until Sunday, June 3rd at 11 a.m.
If it sounds like I was walking to my doom, it's because that's what it felt like. Just thinking about the filing was making me anxious. What if they really did pop off! (Thanks, Nich.) I thought about telling the woman giving me the pedicure that I didn't want her to touch my toenails, but that kind of defeats the purpose of overcoming this silly fear.
And so it began. It was easy enough to pick out the color of nail polish I wanted. It had to be a bright coral-y color, that I knew would add a pop of excitement to my mostly plain outfits. I'd even worn strap-y sandals to make sure that I would not only preserve my perfect pedicure, but also to show off the fact that I'd actually gotten a pedicure! These weren't going to be the shakily painted toes I normally show the world.
The foot bath was nice, calming even. I enjoyed the hot green tea I was offered as I felt some of my anxiety melting away. Then came the tools... My jaw was clenched most of the time and my shoulders were up to my ears whenever Linda (she really was very nice) even looked in the direction of my toenails. I tried to relax again by taking photos, reading, checking emails, paying attention so I knew what was happening, and then closing my eyes to avoid seeing the process. None of it worked -- I could still feel it! Needless to say, I survived. I still have all of my toenails. And my feet look and feel amazing. But telling you that I'm excited for another pedicure would be lying.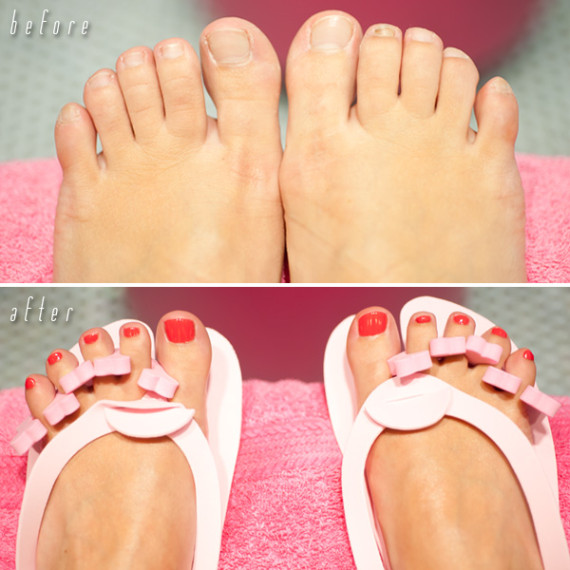 Photo by Raydene Salinas
And somehow I feel really girly and almost embarrassed that I've gotten a pedicure -- like it's a silly indulgence that I don't deserve. So I haven't been flaunting my gorgeous toes as much as thought I would. I seem to hide them more when they're in sandals and hope that no one comments on my nail color. I used to feel that way after I painted my toenails, but have gotten more comfortable with it. Perhaps the same will happen in the unlikely event of me getting another pedicure.
It sounds like I'm bashing pedicures, which I am, but only in regards to me. I feel like perhaps it's something that I would do again if I was going to hang out on the beach with an insanely beautiful celebrity or meet Michelle Obama in open-toed shoes or, you know, some other rare life event. Until then I'll stick with my anxiety-free, always imperfect, at-home nail polish nights.