This week 15,000 food industry professionals will converge on Chicago for the annual Sweets and Snacks Expo, where more than 300 new products will be unveiled, all vying to be named the "most innovative."
With taste sensations like General Mills's Wasabi Chex Chips, which promise, "flavors so bold, it's like they're in 3-D," or chocoStyle's shoecolate™ famous chocolate stiletto shoes, a fun novelty creation "2 die 4," the competition will surely be stiff.
But one category that is not being scored this week may ultimately be the most important in determining the future of the snack food industry. It's more often associated with pipelines and power plants than with our kitchen tables: climate change.
You probably didn't think of climate change when you packed your children's lunch or enjoyed your bowl of Kellogg's Corn Flakes this morning. You didn't imagine flooded landscapes or scorched earth when you treated yourself to a Pillsbury Cinnamon Roll. Maybe now you will.
Oxfam released a report today, Standing on the Sidelines, which exposes the destructive business practices used to produce such breakfast favorites. We found that reckless deforestation, nitrous oxide released from the overuse of fertilizers, large scale land clearance, and other harmful production practices in the industrial-scale supply chains of the 10 biggest food companies in the world are driving dangerous climate disruption that could derail the fight against hunger.
Together, these 10 companies - Associated British Foods (ABF), Coca Cola, Danone, General Mills, Kellogg's, Mars, Mondelez, Nestlé, PepsiCo and Unilever - create an amazing 264 million tons of greenhouse gas emissions every year. If these big 10 companies were a country, it would be the 25th biggest polluter on the planet, spewing more emissions than Finland, Sweden, Denmark and Norway combined.
The food industry is one of the leading contributors to the changes in our climate that bring about extreme floods, droughts and shifting weather patterns. In fact, the food system contributes about 25 percent of all greenhouse gas emissions. These emissions fuel a growing humanitarian catastrophe. By 2050, there could be 50 million more people made hungry because of climate change.
The paradox for these polluters is that climate change is threatening the companies' bottom lines.
General Mills reported losing 62 days of production in the first fiscal quarter of 2014 alone and Unilever says it now loses $415 million a year because of extreme weather conditions, which are growing worse because of climate change.
Clearly, it is in the interest of the industry to help prevent this fate. And if companies incentivize their suppliers to put existing tools and technologies in place to slash emissions, it could make a huge difference. Our report shows that if these companies simply replicated the best practice already being pursued in the sector, they could save a further 80 million tons of greenhouse gas emissions by 2020, equivalent to taking all of the cars in Los Angeles, Beijing, London and New York off the road.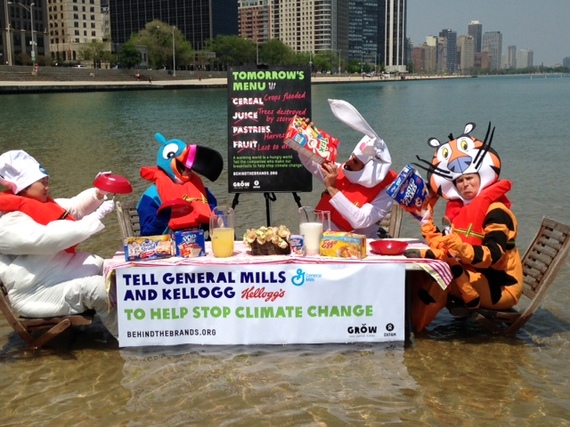 Some companies are at least on the right path to reduce emissions and disclose their progress. Unilever, Nestle and Coca-Cola are leading the pack, though even they have a ways to go.
While all of the big 10 food companies claim to be reducing their emissions, the targets they have set so far miss the biggest share coming from their agricultural supply chains.
And too many companies are standing by silently, hoping that the crisis will solve itself. Kellogg and General Mills stand out as among the worst of the big 10 in this regard. They remain the ultimate beneficiaries of supply chains that tolerate massive deforestation and land clearances that cause high-levels of emissions, not to mention human rights abuses and worsening poverty and hunger among local communities. They continue to stand by silently as fossil fuel companies lobby to prevent political leaders from taking ambitious climate action. This must change.
While you and I are not going to be voting for the most innovative product at the Sweets and Snacks Expo, we vote every day with our consumer dollars. The big 10 companies care what we think because we buy what they sell.
As has been proven over and over again, when enough people come together and urge companies to change how they do business, they listen. It is time for all of us to speak up and demand that companies like Kellogg and General Mills help stop climate change from making people hungry.