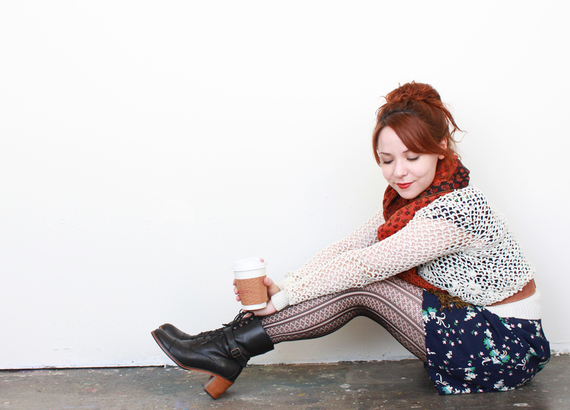 Me, wearing a mix of vintage and new pieces. Photo by Kaitlin K. Walsh.

First of all, let me preface this by stating that there is nothing wrong with looking like you're wearing a costume when you're not. Personally, I absolutely adore when someone's style treads that line between theatricality and reality and I'm all for wearing whatever it is that you feel good in, especially if what you feel good in is an expression of your spirit and creativity.
Of course, not everybody feels that way, and a common concern I hear from people who have yet to take the plunge into the world of vintage clothing is that, if they do, they will look like they are wearing a costume. Here are 5 tips for wearing vintage while avoiding exactly that.
1. Pick garments that look like current trends. As a vintage seller, I can tell you that lots of modern designers and fashion houses have massive archives of vintage garments that they are constantly adding to and from which they draw inspiration. In fact, most contemporary fashion is really a reinterpretation of styles from the past, and you would be surprised how close a lot of modern designer clothing comes to replicating older garments. Finding and wearing one such garment is an easy way of avoiding a costume-y look.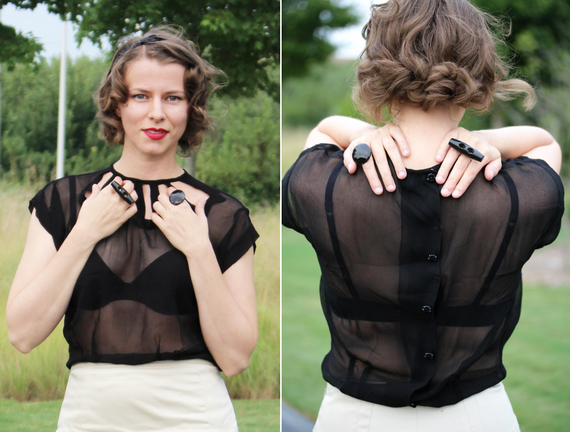 Jamie Lee of ChatterBlossom wearing a dramatic sheer blouse - when worn so daringly, would you have had any idea that this blouse was from the 1940's? Unless you are a vintage pro, I'm betting no.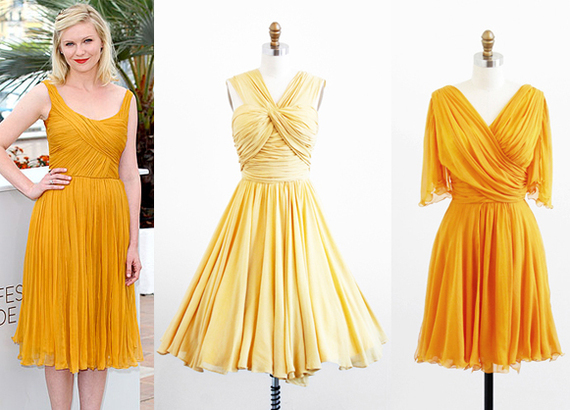 Kirsten Dunst wearing a marigold silk chiffon dress by Chloe juxtaposed with two similar silk chiffon vintage dresses circa the 1950's and 1960's from Rococo Vintage.
2. Contemporary hair and makeup. Chances are, unless you are dedicating hours to recreating precise vintage hairstyles and makeup application, your hair and makeup are already going to look comparatively modern. Simplicity in hair and makeup is a tried and true way of grounding a vintage outfit, such as wearing a 1950's dress with a slicked back ballerina bun or pairing an Edwardian blouse with a subtly smoky eye. Even contemporary versions of classic hairstyles will update a look while still giving a nod to the appropriate era; modernized 1940's loose waves -- which have been a Hollywood favorite for the past couple of years -- are a great example.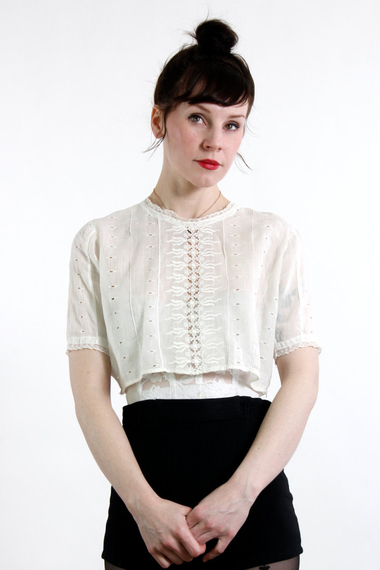 Vera of Vera Vague looking effortless while pairing an antique Edwardian blouse with a modern top knot and contemporary makeup.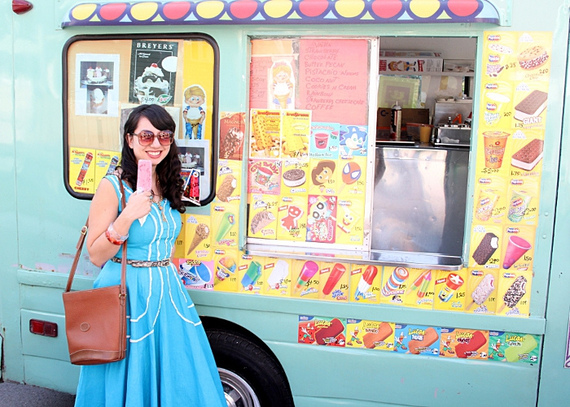 As illustrated by Leilani from Thriftaholic, a vintage 1950's dress looks far less precious when paired with a headful of modern loose waves and natural makeup.
3. Modern accessories. Pairing vintage clothing with decidedly modern shoes, bags and sunglasses is an easy way to dramatically ground an otherwise whimsical garment. It is easy to keep the overall look streamlined by picking a color that is present in the garment and wearing contemporary accessories in the same color. Of course, pops of vibrant color paired with all black accessories (or vice versa) is also a quick way to modernize a classic vintage garment.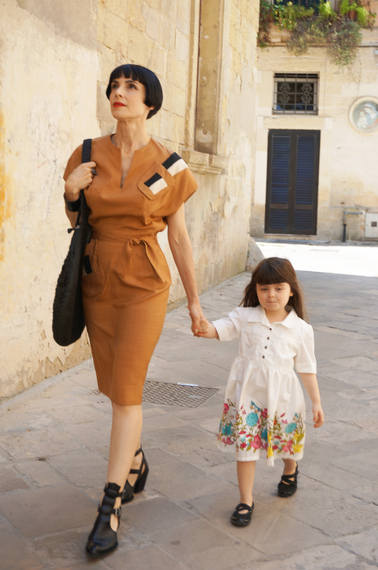 Angela DeCristofaro looking outrageously chic while wearing a vintage 1950's dress from Rococo Vintage paired with a modern bag and shoes while strolling the streets of Lecce, Italy with her sweet little girl, Beatrice.

4. Mixing vintage and new separates. Years ago, while waiting in line at a coffee shop, I saw a woman wearing a white Edwardian blouse with a zip up sweatshirt and torn up jeans and I still consider her to be one of the best examples I've seen of wearing vintage and new separates in a way that is both very modern and entirely unique (wherever you are, mysterious lady, you are still my #1 girl crush.) Mix-n-matching vintage and new separates is probably the easiest way of beginning to work vintage into your wardrobe, as well as a simple way of taking a very special, fancier vintage piece and making it more wearable for day.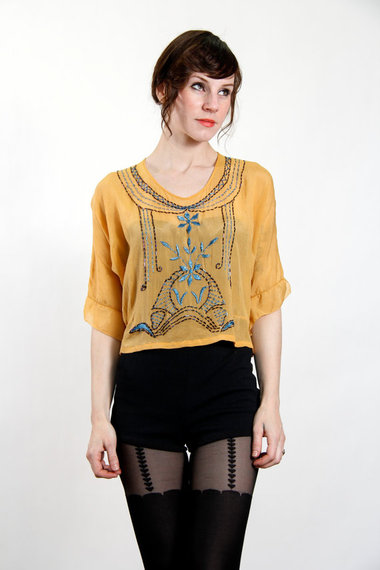 Vera of Vera Vague wearing a vintage silk chiffon beaded 1920's blouse that has become instantly au courant paired with high waisted shorts and funky modern tights.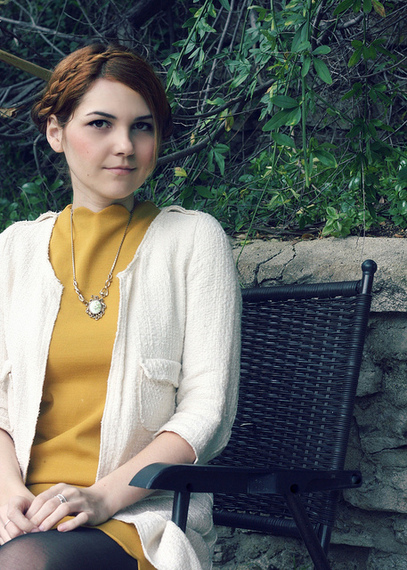 Singer Meg Olsen looking cute and casual while wearing a vintage 1960's dress and vintage necklace with a modern cardigan from Zara.
5. Mixing eras. Even when wearing head-to-toe vintage, accessories included, it is possible to accessorize in ways that make your outfit seem more relevant. Mixing eras can, surprisingly, have the same effect as blending new and vintage pieces. Unexpected pops of vibrant color, surprising combinations of textiles and silhouettes and layers of contrasting patterns always serve to make an outfit appear both uniquely modern and totally timeless. In fact, mixing eras may just be the most fun and exciting way to wear vintage!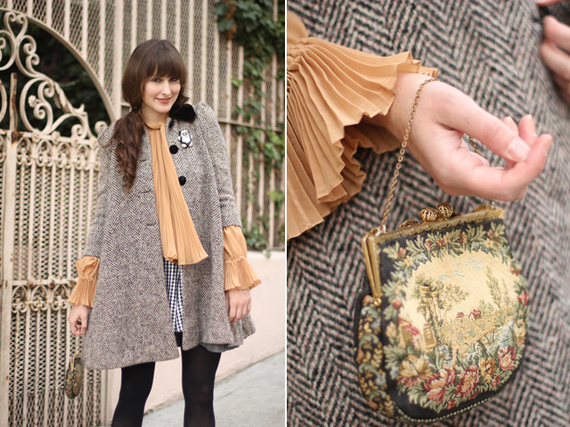 Blogger, stylist and vintage shop owner Ashley Ording mixing eras like a pro. Her coat is vintage 1960's, her blouse vintage 1980's, her skirt vintage 90's, her purse vintage 1930's and her (panda!) brooch vintage 1970's.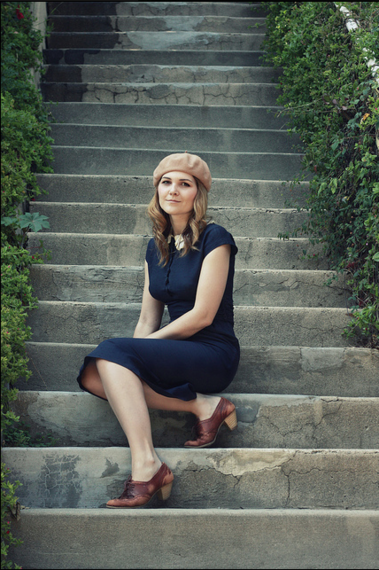 Singer Meg Olsen wearing head-to-toe vintage in a timeless way. Her dress is vintage 1950's, her shoes vintage 1930's and her beret vintage 1980's.

The above are just a few of the ways to wear vintage without looking like you're wearing a costume -- truth be told, the possibilities really are endless (although, again, there's nothing wrong with dressing theatrically. YOU DO YOU, guys! Always!) And just as wearing vintage is a way to ensure that your clothing is entirely unique, it is also a way to help the environment by conserving resources, support small businesses by shopping at vintage shops and websites and to deepen your resources for expressing your own creativity and unique spirit. Adding vintage to your wardrobe is like adding more paint colors to your life's palette, and as cheesy as that may sound, those who wear vintage know exactly what I mean.
Rebecca Emily Darling is a writer, artist and vintage seller. You can follow her on twitter, facebook and instagram and view her vintage treasures here.