What a whirlwind weekend in Beijing! While everyone was at the Games and the city was empty, I took a close-up tour of a few of the city's trendy new spots. Some are copycat ideas, others are purely original--just like the tech startups I write about in Silicon Dragon.
By the way, pollution controls are working. See photo of the pleasant conditions I snapped over the weekend in central Beijing.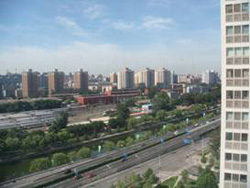 Getting an early start to the weekend on Thursday evening, I ventured out to a new boutique hotel in the popular Sanlitun district, Hotel G,that is decorated in retro 1960s. (You have to like purple to love it.) Off the lobby is the hotel's restaurant 25 Degrees, a carbon copy of the burger bar in the famous Roosevelt Hotel on Hollywood Boulevard. Both hotel properties are owned by Hong Kong-based Gaw Capital. While I was enjoying my burger with sun-dried tomatoes and onions, the owner of the joint, Goodwin Gaw, came by to chat. Turns out he's a Stanford grad and has funding from some of the institutional investors I know, including those backing high-tech ventures in China. Here's a photo of Goodwin (below) that I snapped at the restaurant.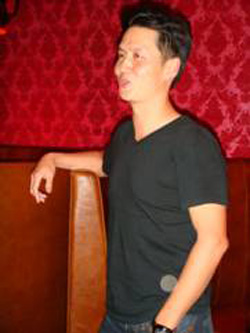 Yes, Beijing used to be a wasteland for good eats--at least for "expats" like me, except for a few places like the avant-garde Green T House. But no more. On Friday night, I was treated to the most delicious Peking duck at a chic place called Hidden City, built around a former 1949 factory in Beijing tucked behind the IBM tower here. The complex combines a courtyard of gardens and trees surrounded by a LED-lit bar, a watch-them-make-it noodle bar and the signature restaurant where I ate, Duck De Chine. The place also houses a gallery showing works of contemporary Chinese artists. Soon, the establishment will offer memberships to a Club 49 retreat within the complex. I had the opportunity of meeting the owner/manager, Paul Hsu, who happened to be dining there as well. He's typically on the road, managing the multiple restaurants he has in Shanghai, Hong Kong and Indonesia as part of his Elite Concepts group. Sad to say, don't think they will open a NYC or SF outlet soon, given how much growth there is in China.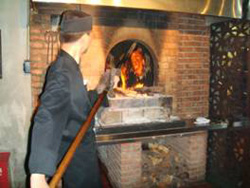 Saturday night, I was on the lifestyle front again. I had a rare treat--a tasting of wines from around the world in central Beijing, not southern France or Napa Valley. Chinese have not been known as big wine drinkers but as consumers increasingly developing a taste for all kinds of goodies, finely aged wine is one of them. Sommelier Peter Teng at the just-opened Hilton close to the Forbidden City took me on a tour of what has to be one of the best wine cellars in town, some 10,000 bottles and 500 labels, and many of them reasonably priced. That's him shown in the photo with me.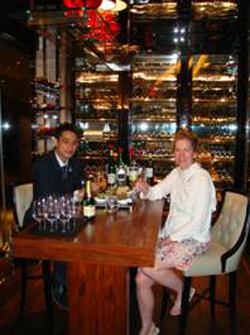 And get this! Not only are the wines paired with the foods here but the hotel's Macanese restaurant Vasco's has a water sommelier who matches up bottled wines with appetizers, entrees and desserts. Now that's something I haven't seen in Manhattan yet!
What's the operator of Cathay Pacific Airways doing in hotels? Just in time for the Olympics, the Swire group opened its first small luxury hotel in Beijing, named Opposite Hotel. I was walking north on Sanlitun Road when I spotted an emerald glass, cube-liked structure surrounded by bamboo trees on the left. Intrigued, I took a look inside and seeing no front desk, thought I had entered a private club. This is part of the scheme to make the hotel more inviting and relaxing.
Most 5-star luxury hotels operated by the big chains have some new standards to beat here. China teaching the west! All 99 contemporary rooms have natural wooden floors and discreet Chinese decor. The stainless steel swimming pool reflects fiber-optic lighting and a sunken garden provides a glimpse of an open-air shopping complex that Swire will start building again after the Olympics.
I had dinner at the Mediterranean restaurant Sureno, but there's an Asian restaurant too. Both have their design inspirations from entrepreneur chef David Laris, the force behind the trendy eats Mezzo in London and Three on the Bund in Shanghai. My only wish is that I could afford the starting room rates of RMB 5,000 or about $700.
I also took time out to walk Wanfujing Street and experience China's booming era of consumerism.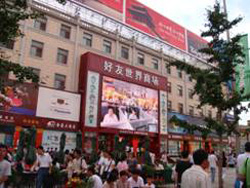 This major shopping strip was packed with locals checking out store front windows, watching the Olympics on giant outdoor screens, buying Olympics merchandise and just generally hanging out.The city is beginning to come back to life now that a week has passed since the Olympics opened. This is the first time I've seen crowds since I landed here a week ago. This photo I took on a Saturday afternoon jaunt through town.
Stay tuned for more action. Tuesday night, I have tickets to the Games!