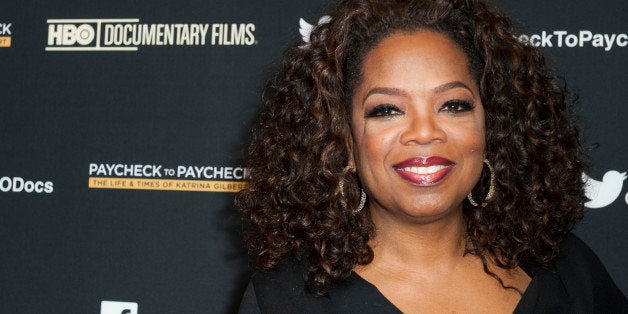 Mother's Day is a perfect opportunity to celebrate the women in our lives who made us who we are today. It's a much-deserved holiday, and frankly, with arguably the toughest job in the world, it should be celebrated for an entire month.
But, what about the women who chose not to take the path of motherhood in the traditional sense, who have contributed to making our lives better -- shaping our personalities, our ethics and even our career paths? Women who exercised their personal right to choose the kind of family that was right for them, and the end result was beneficial to the entire world.
Let's take a moment to celebrate some women who have certainly impacted my life, and probably yours as well. So, in addition to celebrating our mothers, here are some amazing women who deserve thanks. After all, they created entire movements and changed the world as we know it.
I don't have all the facts to back this up, but I'm pretty sure Drake's lyric, "Started from the bottom now we here," was inspired by Oprah's life. If it wasn't, it should have been. Oprah Gail Winfrey was born into poverty to a single, teen mother in Mississippi. Since then, she has launched an entire network, helped bring LGBTQ issues into the mainstream and was instrumental in putting a black President into office in the 2008 elections. She's also a generous philanthropist and outspoken advocate of female education around the globe.
Lizz Winstead: Mother of Re-Invention
As co-creator of The Daily Show, Lizz gave us all real, accurate political news in a humorous manner like no one had ever seen before. Even before her Daily Show days she was fighting for basic human rights for women -- she's been an outspoken (to say the least) advocate for decades, and has changed the paradigm in which we talk about reproductive rights. Her latest venture, Lady Parts Justice, is taking her fight straight to the people. She has vowed to use humor to "expose the bad and elect the good," and has joined forces with Sarah Silverman, feminist extraordinaire Sarah Sophie Flicker and many brilliant volunteers to improve the political landscape for women during these midterm elections.
Dame Helen Mirren: Mother of Cool
First of all, how badass is it to be a Dame? On top of that, Helen Mirren looks better in a bikini than most teenagers. Of course, that doesn't mean she's simply skated by on her gorgeousness -- her acting chops are basically unparalleled. She's won an Oscar, four Baftas, a Golden Globe, a SAG award... I could keep going, but you get it. Mirren has been quoted as saying she has "no maternal instinct whatsoever," and that's just fine, because all that extra time and energy went into giving the world more than 100 films to revel in her talent.
Gloria Steinem: Mother of Modern Feminism
Gloria Steinem didn't invent feminism, but she certainly made it explode. She rocketed to the spotlight by co-founding the feminist publication Ms. (did you know the title "Ms." wasn't recognized by the government until 1972?!), co-founding the Women's Media Center, and helping create countless other women-centric organizations. She dedicated her life to ensuring women across the nation had access to the women's liberation movement like never before. Even today, at 80 years old, Steinem continues to fight for equality -- because there is still so much to be done.
Margaret Cho: Mother of Comedy
"Why am I a feminist? I just am, and I haven't really questioned it." Margaret Cho espouses this type of wisdom often, spreading a sort of level-headed, equality-based comedic conversation that feels inclusive and empowering. She's an award-winning humanitarian, fighting for LGBTQ rights and representing her culture and her gender with pride and humor. "I'm The One That I Want" is a one-woman show, and it's light years ahead of its time. Cho stands on stage, waxing hilariously philosophical on issues we all struggle with: weight, sexuality, vices and inequalities. It's even in book form, so there's something for everyone. If you haven't seen it, drop everything and check it out this second.
Betty White: Mother of Longevity
At 92 years old, Betty White has long surpassed the unspoken "sell by" date for women in Hollywood, but she was never one to adhere to rules anyway. Case in point? She was one of the first women in television to have creative control both in front of and behind the camera. She's the oldest person to host SNL -- by popular demand, even -- and is the oldest Emmy nominee. She's in every entertainment record book and has won countless lifetime achievement awards, along with SAG awards, and even a Grammy. Lucky for us, it doesn't look like she's slowing down anytime soon.