Organic farmer Anthony Boutard sells direct to the public rather than to distributors, he (and his wife Carol) joined what they describe as a "cook's market," the small but well-curated selection of vendors at the Hillsdale Farmers' Market just outside the city's core. Many of Portland's premier chefs soon heard about the quality and unusual variety of Ayers Creek's produce, especially the chicories, tomatoes, garlic and the polenta that Anthony grinds from heirloom flint corn. And many became regular customers.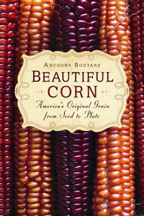 That corn has become Anthony Boutard's passion, so much so that he wrote a book about it called "Beautiful Corn: America's Original Grain from Seed to Plate." Not bad for a crop he says was originally just a whim, borne from childhood memories like the smell of cornbread fresh from the oven.
"It was a listing in the High Mowing Seed Company catalog that said 'makes good cornbread,'" he said, chuckling. And he thinks it's the perfect crop for where he is in his life.
"I am past middle age, and this corn suits an old man," he said of the flint corn he's become so fond of.
With a mischievous glint in his eye, he added, "You pick it when you want to and you grind it when you want to. If there's an ear worm on it, you snap it off. It's a corn that grows to full maturity and it's for a person of a full maturity. Youngsters should not play around with this corn."
To read the entire post, visit Cooking Up a Story. Video originally posted on Food.Farmer.Earth.