As we learn in this story, cask-conditioned beers are still alive, and further maturing in their (cask) containers as they are served to the customer. As publican Ted Sobel of the Brewers Union Local 180 explains, the continuing fermentation process of these living beers imparts subtle and complex flavors to the brew. Because the yeast in the beer is still alive in the casks, the carbonation process occurs naturally within the enclosed cask, and doesn't overpower the subtle flavors of the brew as may occur with CO2 tank carbonation.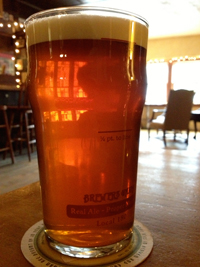 In England, the local pub is thought of as being the "third home", the first and second being home and work. The somewhat unusual name for the pub, Brewers Union Local 180, came from one of the locals because the original idea was a "union of brewers" coming together to sell beer. Though the original business idea never took flight, Ted Sobel liked the proposed name because for him, the "union" was a coming together of people at their "local" pub, and the "180″, a different meaning of the name than what may appear on the surface.
What's truly refreshing here, a business owner committed to the overall satisfaction of the customer first, with the financial outcome, obviously critically important, but subservient to the first concern.
That is a 180-degree perspective with a fine finish.
To read the entire post, please visit Cooking Up a Story. To watch more videos, visit Food.Farmer.Earth.