Veteran food author Deborah Madison's new cookbook Vegetable Literacy draws inspiration for its recipes directly from the garden. Growing a variety of one's own plants in a food garden, and witnessing what they look like through their various stages of growth provides distinct advantages in the kitchen. "Because the garden is the other side of the kitchen, it helps to have some ideas about how to use what we grow, how plants relate to one another on the plate as well as the garden bed" ..."I'm convinced that the garden helps us cook better, more easily, and, ultimately, more deliciously," says Madison on the jacket cover of her new book.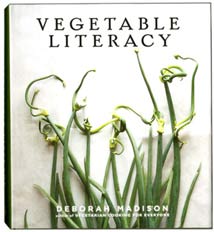 Despite growing up on mostly a plant-based diet, Madison never considered herself a strict vegetarian. When she became more of a public figure as a result of her books, she felt a personal obligation to distance herself from promoting that lifestyle, and declared publicly not to be a vegetarian. "I didn't want the focus to be on pushing something away, on not eating meat, I'm always more interested in trying to work with situations, and having everybody at the table, and now I think that has started to happen," Madison explained during our interview.
To read the entire post, please visit Cooking Up a Story.