Cordova, AK As Elliot Johnson of Alaska Department of Fish and Game explains in the video, the Childs Glacier monitoring station is responsible for counting the returning salmon as they complete their ocean migration back to their native spawning grounds in the Copper River Delta.
Their monitoring station uses sonar waves, essentially "echo location"; 26 beams form the pie shaped image that displays on the computer monitor capturing an image of the fish as they swim by.
These counts are incredibly important to the local commercial fishing fleet because they determine when the commercial season begins for each of the different salmon runs. The Chinook, Sockeye, and Coho runs occur from May through September, though the actual commercial fishing harvests are kept quite short.
"This first opener is usually around the middle of May", says Johnson. He continues, "Well, in the case of this year [2013], we had a late ice-out and we didn't start seeing fish until about the 30th of May; we usually start seeing fish up here around the 20th. So, how I mentioned earlier that they're able to close the fishery if conditions aren't, if we aren't seeing numbers, well that's what happened.

So at the first opener, it was marginal, I think they caught 60 or 70,000 total and it was a 12 hour period. 3 days later was the next opener, had about the same. The 3rd opener, it was 12 or 24 hours, they caught almost 400,000 fish. And they were like Whoa! Okay, hit the brakes and we still had zeroes here at that point and we still had zeroes for a whole other week. So here the fishermen are like, We just slammed them; There's fish everywhere!; It's going to be a great year!; but, zero - zero - zero - close fishing, close fishing. We haven't seen any fish in River, so they're not sure if they're going to over-harvest.

Part of the management is spreading out the fish, the run, into spawning grounds. So, you don't want to over harvest early and you don't want to over harvest late, you want to take a little bit throughout, because part of the reason for that is maintaining that genetic diversity, so the early fish coming in typically run farther upstream and they're going to spawn a little bit sooner. So if you lose the early run fish, you're going to shorten the length of your fishing period because now you've lost those first 2 weeks of fish returning, and likewise on the end of it."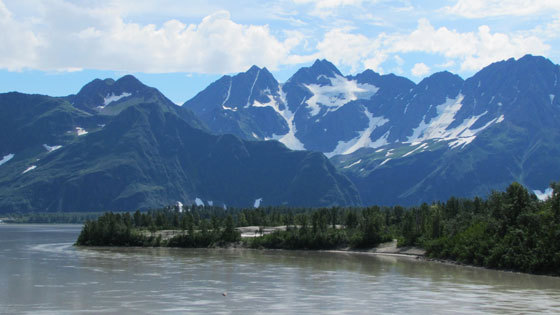 According to the recent 2013 report by the Alaska Seafood Marketing Institute, the state of Alaska contributes over half of all fishery production in the U.S., creating tens of thousands of jobs, and generating almost 7 billion in annual revenue. Not surprising, the Alaska state constitution mandates that its fisheries operate in a sustainable manner consistent with careful monitoring, and reliance on science-based policies and procedures to protect and maintain its fish populations.
One of the defining characteristics of the Copper River Salmon (Chinook, Coho, Sockeye, Pink salmon, and Keta), is the buildup of fats (rich in Omega 3 fatty acids) needed for their arduous 300 mile journey from the mouth of the Gulf of Alaska near Cordova to their final spawning grounds in the Copper River Delta. As a result, the wild salmon caught in these pristine ocean waters are incredibly delicious, at their physical peak, and are (as previously noted) of high nutritional value to eat.
To read the entire post, please visit Cooking Up a Story.