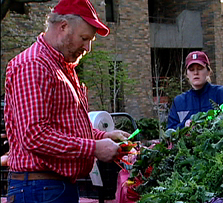 Opening day at the Farmers Market brings thousands of visitors, and customers looking for fresh, local food, drink, music, and just plain fun. But how do the farmers feel about the market, especially the first early morning of the year when they are unloading, and readying their products for sale, and gearing up for their first day of business (and social interactions) at the public market?
You may want to check if the farmers market has opened up on your area. What a great way to welcome in the Spring season!
Originally posted on Cooking Up a Story.