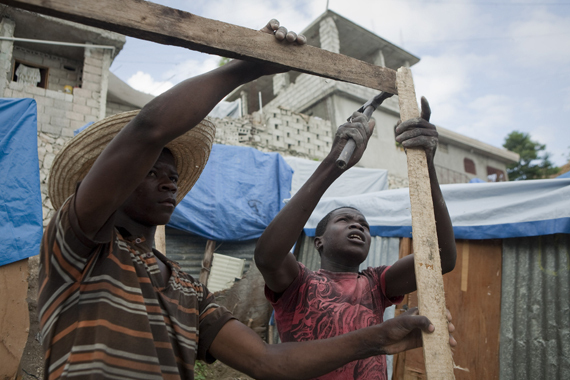 UN Pledges 10 billion In Aid To Haiti
The United Nations Secretary-General, Ban Ki-moon, has welcomed pledges of aid to Haiti totalling nearly $10bn.

Half of the money will provide immediate assistance, the rest is aimed at longer-term development.
At Least 30 Haitians Rushed To The US After Earthquake, Jailed Because They Had No Visas
From The New York Times
More than two months after the earthquake that devastated Haiti, at least 30 survivors who were waved onto planes by Marines in the chaotic aftermath are prisoners of the United States immigration system, locked up since their arrival in detention centers in Florida.

In Haiti, some were pulled from the rubble, their legal advocates say. Some lost parents, siblings or children. Many were seeking food, safety or medical care at the Port-au-Prince airport when terrifying aftershocks prompted hasty evacuations by military transports, with no time for immigration processing. None have criminal histories.

But when they landed in the United States without visas, they were taken into custody by immigration authorities and held for deportation, even though deportations to Haiti have been suspended indefinitely since the earthquake.
Haiti's "Declaration Of Independence" Found By Grad Student
From MSNBC.com
The leaders of Haiti's revolution sent their Declaration of Independence to other governments in the days after the island country's 1804 birth. But copies from that original printing have been lost in the centuries since, and the country's national archivist said he's traveled abroad looking for any that might have survived.

Duke University said Thursday a graduate history student found what could be the only surviving copy. Julia Gaffield made the discovery in February while combing through early 19th Century correspondence collected in Great Britain's National Archives in London, the archives and Duke said.
The Story Of A Haitian Family
From Al Jazeera
Living conditions

"Things are not better, they are not worse. The reason I say neither better or worse is because last time (you visited me) I did not have a tarp. I was living under a bed sheet. When it rained I got wet. I borrowed a carpet to sleep under, but the owner came and asked for it back, so I went back to the bed sheet. When it rained, neighbors would take me and my kids into their tents where we slept under carpets. This made me feel very humiliated. But later I got a tent and I can thank God for that."

"This tent is OK, and I thank God I have it. But it is not completely waterproof. So I still have to put a bed sheet to catch some water that goes through the tent. I see some people have a tent that does not allow water in and I wish I had a tent like theirs."