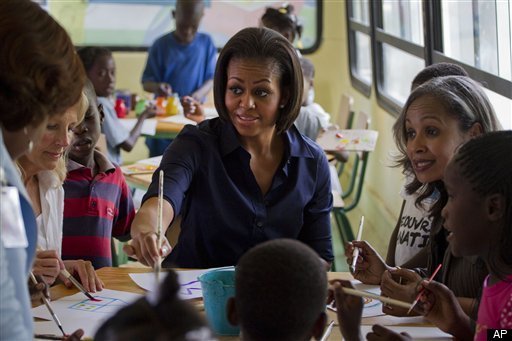 Yesterday, Michelle Obama, the first lady, and Jill Biden, the wife of vice president Joe Biden, visited Haiti. The visit, Mrs. Obama's first solo trip abroad, had been previously unannounced because of "security concerns" said sources at the White House. The New York Times reports:
"It's powerful," Mrs. Obama said after surveying the wreckage from above. "The devastation is definitely powerful."

Accompanied by Jill Biden, the wife of Vice President Joe Biden, Mrs. Obama entered a safe area set aside to provide therapy to traumatized children living in a giant squatter camp in Port-au-Prince's Champs de Mars. "We are glad to see you," the children sang out in Creole. The Haitian first lady, Elisabeth Préval, who went to college in the United States, served as Mrs. Obama's translator.
Obama's visit drew attention to the region, which has largely faded from the daily news cycle. As the Associated Press reports:
"It was important for Jill and I to come now because we're at the point where the relief efforts are under way, but the attention of the world starts to wane a bit," she said. "As we enter the rainy season and the hurricane season...the issues are just going to become more compounded."
Today, Obama continues her tour in Mexico.