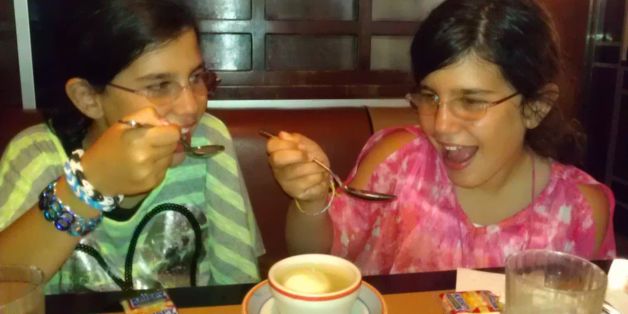 It's Rosh Hashanah -- the Jewish New Year. For those of you non-Jews out there, Rosh Hashanah and Yom Kippur make up the High Holidays. Basically, the one time of year that most Jews go to some sort of service and feel officially Jewish.
I grew up secular to a fault. We did not even go to services on Rosh Hashanah or Yom Kippur unless we were in Michigan with extended family and shamed into it. I did not attend Hebrew School, nor did I have a Bat Mitzvah. But, we did eat.
Somehow, even if none of us fasted, we managed to have a break-fast for the end of Yom Kippur and some sort of Rosh Hashanah dinner. We always had a Passover Seder, even if it was very light on story and heavy on the matzoh balls.
Through much soul-searching over the last few years as my husband and I have enrolled our daughters in Hebrew School and grappled with what we want them to get out of it, I have concluded that I am not Conservative nor Reform nor Recontructionist, but that I am at heart, a Culinary Jew.
I believe in the power of brisket. I believe that when I combine sour cream, eggs, cottage cheese and noodles into a kugel, I honor my grandmother. I believe that gefilte fish connects me to my ancestors in a way The Torah never could. (Though I can't imagine keeping a carp in my bathtub.) And I believe that sitting down to the holiday meal is far and away the most important lesson of the High Holidays.
My bible is Joan Nathan's Jewish Cooking in America. It is my staple, filled with recipes that bring me back to the sweet kugel, chili sauced brisket and sweet and sour meatballs that remind me most of my childhood holiday meals. And I don't care how many recipes the New York Times publishes year after year, nothing beats Manischewitz mix for making perfect Passover matzoh balls. Don't mess with my grandma on this point.
A few summers ago when we spent a month in Italy and visited the town of Pitigliano, which was once teeming with a prosperous, lively Jewish community that is now only remembered by the eerily empty cliff-side synagogue, we wandered into the old sanctuary, felt the rough rock walls of the fabric-dying room and the ritual baths and contemplated the etched Stars of David and Hebrew letters. But it wasn't until we went to the Jewish bakery and ate the centuries-old Jewish treat Sfratti that I really felt connected to the Jewish people who came before.
In many ways, I've come to realize that my faith in the culinary is a matriarchal faith. It is the flip side of the Hebrew chanting and reading of The Torah that dominates the services of the High Holidays, which for centuries, was the exclusive purview of men.
In the kitchen, mixing, chopping, frying and stewing like generations of women in my family tree have always done to mark these Jewish holidays, I honor those who came before me and pass on the essence of Judaism and tradition to my daughters.
And while we don't have ancient family recipes passed down through the years, we do have that box of Manischewitz mix that I will be sure to tell my daughters they must use in order to make matzoh balls just like their great-grandma did (and add your own carrots, that's the secret...)