Around ten Tibetans have been seriously wounded after security forces began shooting into an unarmed crowd, according to information gathered by a number of rights groups. The incident, the most serious on the plateau this year, took place on Tuesday, August 12, in Kardze (Ch. Ganzi), Sichuan province. The International Campaign for Tibet and Free Tibet UK are reporting that the police opened fire on Tibetans who had gathered to protest the arrest of a respected village leader. The region appears to be now under crackdown, with a communications blockade in place and elderly and children subjected to interrogations.
Wangdak, 45, admired among locals for his work with the poor, was arrested at midnight the night before at his village home. ICT reports that he had been urging local officials to allow Tibetans to observe a prayer ceremony at the Denma Horse Festival. Wangdak, who serves as the chairman of the festival committee, argued that a ban on the ceremony would be a violation of religious freedom, though some reports suggest that the authorities were considering banning the festival altogether. It was not the first time that Wangdak had taken the authorities to task. Previously, he had voiced his objections to Chinese officials over allegations of harassment of a group of local Tibetan women who were ordered to perform a welcoming ceremony for a visiting Chinese delegation.
The police used tear gas and fired indiscriminately into a crowd of around one hundred people who had gathered at local government offices in Lochung township to demand Wangdak's release, according to the UK-based Free Tibet. Wangdak's eldest son and brother were reported to be among the injured, although the medical condition of the survivors is still unclear.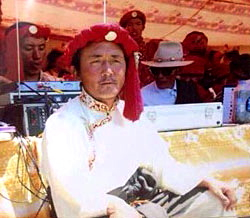 Wangdak, the community leader whose
arrest inspired the protest
Photo: International Campaign for Tibet
These recent events in Kardze reaffirm China's increasingly incoherent policy with regard to its management of Tibetan cultural affairs. Chinese authorities in Tibet have openly promoted the Denma festival in the past according to the Tibetan Centre for Human Rights and Democracy. In fact, horse festivals are widely hyped on Chinese tourist websites. Tibetan Buddhist culture (of which prayer ceremonies like the one that Wangdak was trying to uphold are part) is the main attraction for Chinese tourism in the region, a huge industry that last year racked up 12.91 million visitors according to a People's Daily report. The numbers of international visitors don't even reach two percent of that figure.
Sources in the area report that the situation in Kardze is becoming increasingly tense. Human rights monitoring groups are hearing about the detention of a number of Tibetans on Tuesday evening in Denma Shugpa Village and a build up of paramilitary forces. Said Free Tibet director Eleanor Byrne-Rosengren, "China depends on the use and threat of violence to maintain order in Tibet, despite Tibetans' ongoing commitment to peaceful forms of resistance. Foreign governments must speak out now to condemn China for this action."
Tibetans in Kardze prefecture have a keen sense of national identity and a fierce loyalty to the Dalai Lama. This April a young Tibetan man from Kardze burned himself to death to protest China's rule. Last July, two Tibetans were shot in the head after police opened fire on unarmed Tibetans who had gathered for a picnic to celebrate the Dalai Lama's birthday.
This recent incident "demonstrates the contradictions within the Chinese policy of promoting stability," said Tsering Tsomo, the executive director of the Tibetan Centre for Human Rights and Democracy. "If they were truly interested in promoting stability, they would listen to Tibetans like Wangdak and work with the local community to address their grievances."
Such a rationale is hard to argue with, at least to a rational audience. But it just may be that a little instability in Tibet is deemed worthwhile to a government that has to justify the on-going expense of the huge numbers of security forces stationed there.