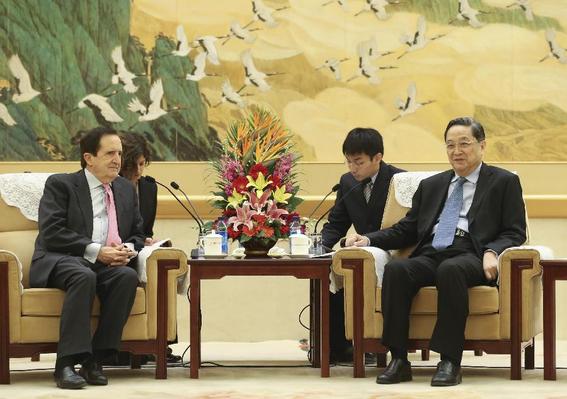 Yu Zhengsheng (R), chairman of the National Committee of the Chinese People's Political Consultative Conference, meets with Juan José Lucas (L), Deputy President of the Senate of Spain, in Beijing, Feb. 17, 2014. (Xinhua/Ding Lin)
The Spanish parliament's recent vote in favour of a bill to limit its universal jurisdiction has been viewed as a serious setback by human rights defenders who accuse the Spanish government of conceding to pressure from China. The vote went down on Tuesday February 11th, just 24 hours after the Spanish High Court ordered Interpol to issue arrest warrants for former Chinese President, Jiang Zemin, and four top Chinese officials. This resulted from the verdict of a ground-breaking case brought by Tibet-rights groups in 2006 against seven Chinese officials for their actions over Tibet in the 1980s and 90s.
"Jiang exercised supervisory authority over the people who directly committed abuses, which makes him responsible for acts of torture and other major abuses of human rights perpetrated by his subordinates against the people of Tibet," Judge Ismael Moreno wrote in his ruling.
Universal jurisdiction is a doctrine of international law that holds that some crimes are so grave that the obligation to prosecute them transcends national borders. Although approved by a very narrow margin (16 out of 342) in Spain's lower house, the bill could see the shelving of as many as a dozen high profile Spanish-led international cases involving genocide, torture and war crimes, including investigations of the US military over allegations of torture at Guantanamo Bay. Whereas formerly Spain's courts could undertake legal proceedings against citizens of foreign countries, the new law will make it possible only to prosecute suspects resident in Spain at the time of their crimes. A previous bill passed in 2009 had already limited such cases to those involving Spanish citizens.
"This could set a dangerous precedent affecting the whole system of international law," said Alan Cantos of Comité de Apoyo al Tíbet, which filed the Tibet lawsuit. "Suddenly, China is deciding how international law should be applied. My organisation and our co-plaintiffs stand ready to appeal this decision, to defend Spain's universal duty to prevent and punish the most egregious human rights violations in Tibet, as offenses against all humanity."
International human rights organizations, including Amnesty International and Human Rights Watch, have issued an open letter, in which they state that if passed into law the bill 'would be a devastating blow to Spain's commitment to ensuring accountability' and that it 'would damage Spain's international reputation and make it an outlier in European Union Member States' common fight against impunity for international crimes.'
China's Foreign Ministry spokeswoman, Hua Chunying, protested the issue of the warrant for China's former leaders on the very same day that the legislation to restrict universal jurisdiction was passed in the Spanish parliament. "I believe this incident concerns the sound development of bilateral relations, so we hope that the Spanish government can properly deal with this matter and tell right from wrong," she said. Observers could be forgiven for connecting the dots between Spain's hasty passing of the bill and China's clumsily veiled threat.
The bill is now headed to the Spanish Senate that is expected to vote it into law in March. But Chinese officials lost no time in flexing their diplomatic muscle. On February 17th, Yu Zhengsheng, chairman of the National Committee of the Chinese People's Political Consultative Conference and a top political advisor, met in Beijing with a delegation from the Spanish Senate led by Deputy President, Juan José Lucas. The meeting was kept so low-profile on the Spanish end it was almost as if it never happened, but it was proudly touted in the Chinese press.
An article by China's state mouthpiece, Xinhua, reports that during the meeting Yu 'expressed the hope that the two sides would further step up exchanges at all levels, learn from each other's experience in political consultation, and enhance mutual understanding and common ground.' Lucas reciprocated, saying that 'Spain is ready to respect the core interests and major concerns of China and deepen bilateral cooperation in all areas.'
Yu is a typical hardliner on the Tibet issue. Just last August he was in the region trying to convince Buddhist monks and religious officials that the Dalai Lama's call for genuine autonomy is against China's constitution as well as "the fundamental interests of Tibetan Buddhism," and urging for a "clear understanding of the secessionist nature of the Dalai Lama clique." The Tibetan children in the press photo of his visit look almost as uncomfortable as Mr. Lucas.
On the same day as the meeting between China's fourth-ranked member of the elite Politburo Standing Committee and the Spanish delegation, Xinhua gleefully reported that Spain's public debt is on its way to surpass total annual economic output. What it didn't say was that China owns a large portion of that debt, something that Yu was almost certain to have reminded the Spanish Senate Deputy over the floral arrangements.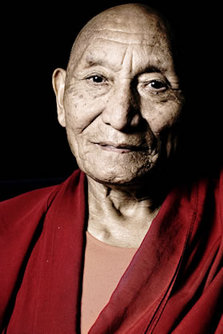 Tibetan monk, Palden Gyatso, a key
witness in the Tibet lawsuit against China's
leaders, who survived 33 years of torture
in a Chinese Gulag. Photo: freetibet.org
These events are a clear example of how China's economic influence dovetails with its abilities to interfere with political and social policy of sovereign states. China claims to stand by a principle of "non-interference in other countries' internal affairs," but as the Spanish case attests, China can interfere indirectly by persuading the powers beyond its borders to do its bidding.
In an interview with European journalists back in October when the news of the Chinese indictments first broke, Zhu Weiqun, head of China's Religious and Ethnic Affairs Committee, warned the Spanish government to "Go ahead if you dare."
With its pursuit of the Tibet case, the Spanish courts had sent a strong message to those who oppress with impunity. But it is now looking like Spain may well be out of daring altogether.