New York, New York: politically charged and Obama obsessed. OTB Photojournalists strolled the city and located support for the candidate in some of the most interesting places. Sidewalk chalking, window displays, and 'I Heart Obama' gear are just a few ways New Yorkers are saying, "Vote McCain? Fahgettaboudit!"
PHOTO GALLERY
NY Hearts Obama
For more Huffington Post coverage of the 2008 Presidential Campaign, go back to HuffPost"s OffTheBus, check out Huff Post's Politics page, and our HuffPost bloggers' Twitter feed.
Sign up here to be an official OffTheBus Photojournalist.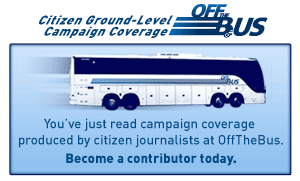 ---