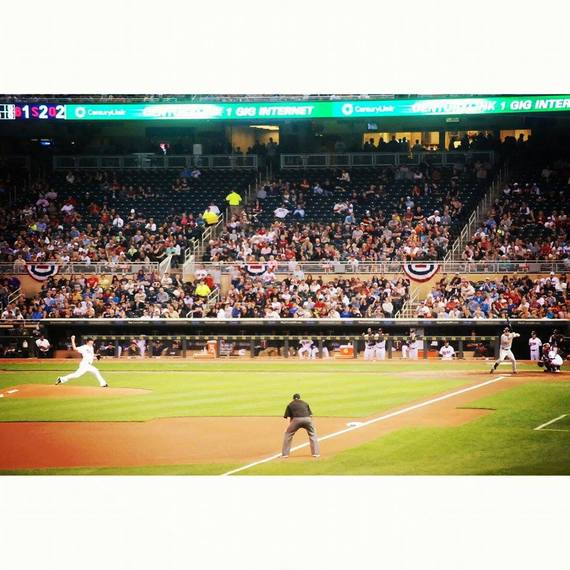 Shriners Hospital sent our family field box seats to the MN Twins baseball game. Katerina is a Shriner's kid, due to her leg length discrepancy. If you are ever feeling a little down, need some perspective in your life, head on over to a Shriners Hospital; you will undoubtedly be changed, at least for the moment.
The same Friday evening as the game, was picture night at the girls' dance studio. I'd taken Katerina in earlier to have her picture taken, but Elizabeth stayed on for the night at the studio, glad to skip the game.
The drive to Minneapolis was a full hour, but at least the traffic wasn't bad. We were all so excited! I was even more excited to eat, after having read an article about the Twins' stadium food that my friend Tamara had mentioned on Facebook. Additionally, Andrew Zimmerman, one of my favorite Travel Channel stars, supposedly had a food truck there.
After paying twelve bucks to park, which meant a greater trek to the field, we came across a homeless man. We kept walking until Nikos said, "Wait! Keep going and I'll catch up!" I know my hubby well, and he's the kind to buy a meal and give it to those who look like they could use one. He ran back with one less ticket to the game and we all hoped the man would make it to and enjoy the game. Nikos promised the man that he'd buy him a hot dog if he showed up.
We decided to eat before finding our seats. Nikos bought some kind of steak sandwich, Nikolas a burger, Katerina had loaded nachos, and I had garlic fries and then asked the guy at the counter for a loaded hot dog. The cashier looked annoyed and smirked, then asked what I meant by a "loaded hot dog." I explained, "Well you know, slaw, sauce, onions, the works!" His robotic reply was handing me a tiny cup of onions and pointing over to the condiment station. I dumped every last diced onion on the hot dog, then saturated it with enough mustard and ketchup that the hot dog was elevated. Nikos also bought a $14 Pepsi and later a popcorn. We were then a hundred dollars poor. I was bummed to not have the time to find Zimmerman's food truck, but the game had already begun.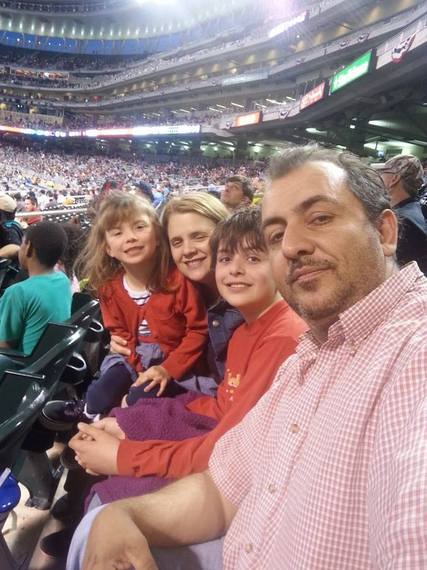 The Target field was massive, hyper-stimulating and impressive. As modern as it all was, the atmosphere still somehow clung to the days of yesteryear, undying energy. The prevalence of nostalgia brought me back to the 1970s, watching a Cincinnati Reds game, hearing the fans, combined with tube socks and the funny talking guy from the speakers. It was an exciting game, the temperature was ideal, and Katerina was hooping and hollering louder than ten rows of fans together. Nikos asked her what just happened in the game and she shrugged her shoulders and replied, "I have no idea!"
The moment I'd taken one big chomp of my hot dog, Nikos shockingly remarked, "Rebecca! You look like you just puked all over your shirt and pants!" I scowled at him and then was horrified by the mess all over me. Every bit of my hot dog was all over me! I told Nikos to go get me some napkins and he further aggravated me by saying only a washing machine would take care of that kind of mess. After two more bites (What?! No sense in wasting a perfectly yummy hot dog!) I hissed at Nikos to get me some napkins, and he said he first wanted to watch the play. I gave him "the look," and he immediately proceeded to bring me five freaking pitiful napkins.
Nikos was right, the sauce just smeared all over my pants and shirt and I was too embarrassed to get up until... the kid in front of me had a small plastic bag over his head, entirely enclosing his mouth and nose, and his parents were distracted by the game. I freaked out and yelled to get that bag off his head. The mom glanced back and then immediately tore off the bag and almost the kid's head in a panic. She thanked me too many times, and I tried to make her feel better by explaining that all three of my kids had done the same at some point in time. Nikos looked shocked and asked when that happened. Eye rolls are very appropriate in a marriage when one asks questions as such.
Nikolas told me he couldn't wait for baseball season to begin. He loved the game and admitted that he'd never be able to throw as far as the guys on the team. It had been an exciting evening, and for a couple innings, the Twins were catching up. Nikos' homeless friend never showed up, but I hope he'd at least gone to the game.
It was getting chilly, even with the blanket I'd packed-yes, I was feeling momentarily smug and all organized, like a got-it-together kind of mom. Of course, all I had to do was glance down at my mustard/onion/ketchup massacre to remember I was as well put together as scrambled eggs in a frying pan. It was well past Katerina's bed time, so we decided to leave before the game had ended.
Driving home sleepy and contented, I sang "Twinkle Little Star" to Katerina, our nightly ritual. I turned and appreciatively stated, "Katerina, thank you for this wonderful game! We wouldn't have gone, had it not been for you and Shriners!" Katerina wisely replied, "No Mama, don't thank me. Thank God for making my legs special." I doubt there is need for me to explain the whopping big lesson that I learned from my precious little girl that wonderful evening.
A version of this post originally appeared on Worldtriptalk.com
You can connect with Rebecca on Facebook.