The SXSWi portion of the 2013 Austin, Texas festival was seemingly on steroids this year. Amongst the incredible cacophony of bands blaring from 6th street bars and sleep deprived techsters pitching their latest ideas to pretty much anyone within earshot, emerged a handful of golden moments as I ran around in circles chasing meetings, observing panels, and catching an UberX if I was lucky. Very lucky.
Direct from my now glazed over eyes and oversaturated brain, came the following notable (if not random) moments of the conference along with perhaps the best soundbites overheard everywhere from keynotes to invite-only parties. For those of you who didn't have the pleasure of attending, this is sure to give a well-rounded picture of the entire experience.
And guess what Tim Ferriss, this will take less than 4 hours. So there.

Top 5 Random Moments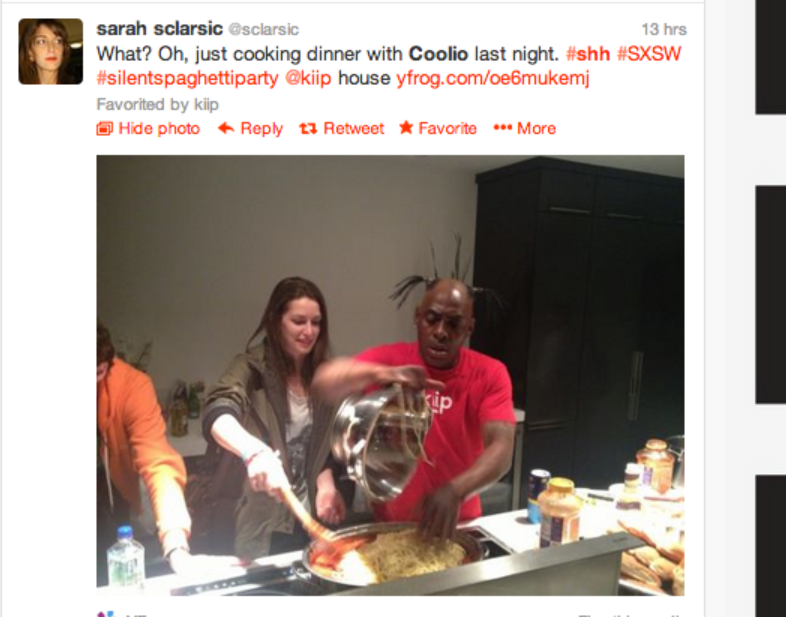 #1 Coolio's impromptu concert in conjunction with Kiip and subsequent after-house party where he made a mean batch of spaghetti. #Shhhhh. #Silentspaghettiparty.
#2 Grumpy Cat getting whisked away from the Mashable tent into an SUV while at least thirty people screamed "Grumpy Cat we love you" and attempted to snap photos through the glass.
#3 Discovery Channel's 5 Captains from "Deadliest Catch" taking a field trip to visit Grumpy Cat for a photo op.
#4 Al Gore talking about the "stalker economy", SnapChat (umm, ewww), and Spider Goats during his on-stage discussion with WSJ's Walt Mossberg.
#5 Fifty "startup influencers" (including Sophia Bush, Yael Cohen, and Jameson Detweiler) showing up in California Christiania Republic One-Zs and Modify Watches to several SXSW parties on Saturday, March 9th with a glitter-bombed Tom McLeod in tow.
Top 10 quotes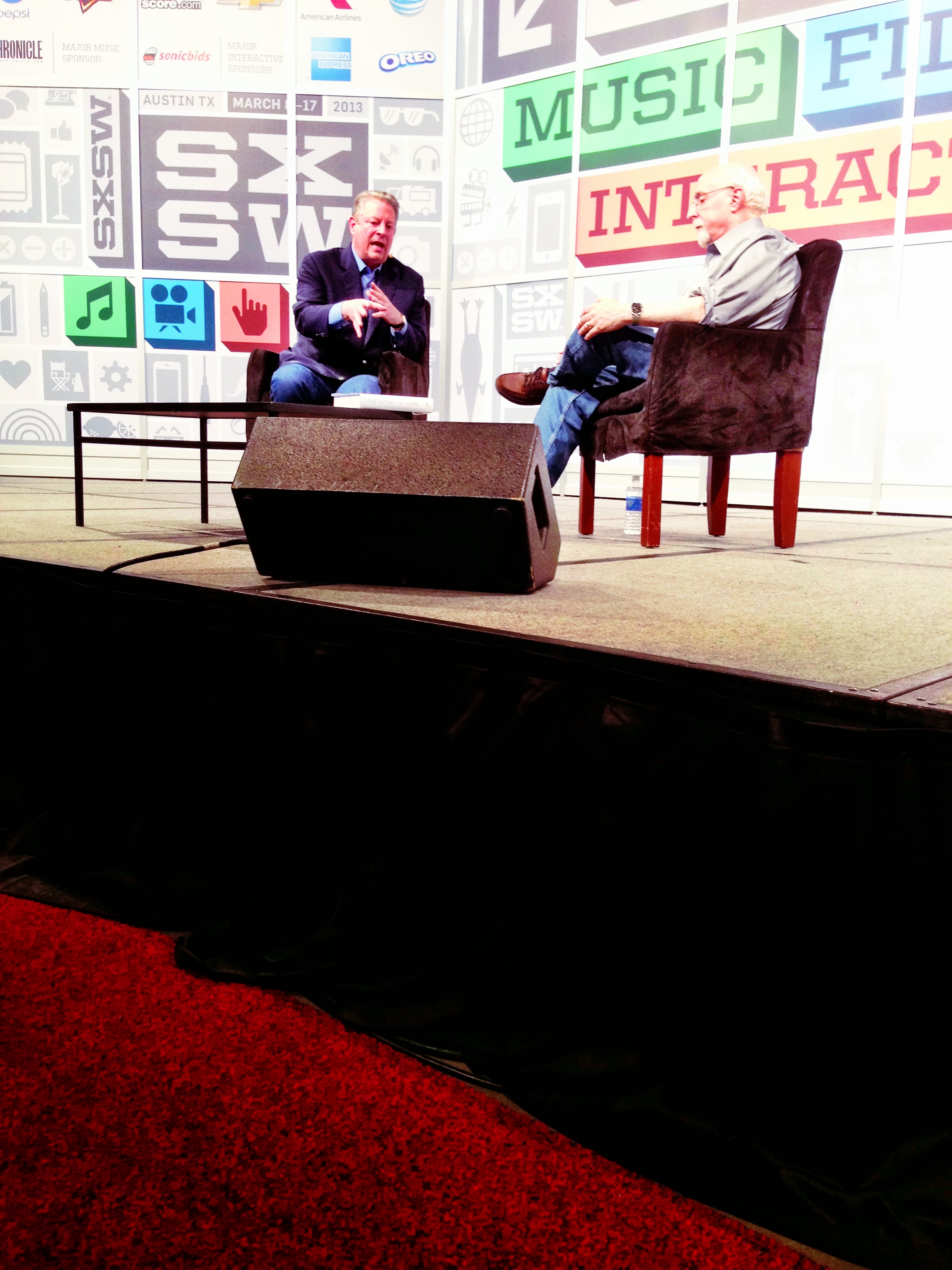 #1 "The NRA is a complete fraud" - Al Gore
#2 "I check emails while I play with my 5 kids. But I have a nanny, so you know...it makes it easier." - Elon Musk (Tesla, SpaceX)
#3 "Products have to be built around immersion. People should forget they are using a computer."
- Michael Buckwald, Leap Motion
#4 "We're starting a movement to get rid of poverty porn." - Nyla Rodgers, Mama Hope & Stop the Pity
#5 [During a quick coffee meeting at the Driskill] "An idea is nothing without the product, and the product has no meaning and is useless if no one wants it." - Andy White, Vegas Tech Fund
#6 [As we pulled up to the 19284012841 person long line] "Why is Nat Geo at SXSW with GirlTalk? People are really going all out for this. I wonder if everyone thinks there will be giraffes and zebras in there?"
- Ethan Kurzweil, Bessemer Venture Partners
#7 "Business is a strategy seeking missile and requires collective problem solving. An app is not going to be a business." - Doug Crets, Microsoft BizSpark
#8 [On our flight home to San Francisco] "When I get home, I'm looking forward to eating food that requires a fork." - Tim Murray, AOL
#9 [When I prompted her about Sheryl Sandberg's new book, "Lean In"] "Everyone is asking 'how women do it all' and this is how: We get up, we jump on a flight, we work on the plane, we go to a meeting, we get up early to go back home to spend quality time with our families. Then we do it again." - Katherine Barr, Mohr Davidow Ventures

Last but certainly not least, to round out and encapsulate all that is SXSW...
#10 "SXSW magic happens through strategic serendipity. You have to strategically put yourself in the right places, but have enough flexibility to let the conference take you where it wants to." - Brandon Hance, Audiolife & GoodThreads
There you have it. If you missed the Austin insanity, there is always next year. And if you can't wait until next year, well then get in line for SXSW V2V, the first-ever offshoot of SXSW happening in Las Vegas from August 11 - 14, 2013 at the Cosmopolitan.
I have a distinct feeling the random moments and takeaway quotes are about to get very interesting.