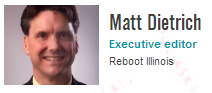 CAMPAIGN 2014 Chicago billionaire Bruce Rauner came out swinging against public sector unions as he officially entered the race for governor on Wednesday. This may be a good strategy to get the Republican votes he'll need to win the GOP primary, but how will it play in a general election against a union-backed Democratic candidate? As Bill Brady learned in 2010, he'll need some votes from Chicago and the suburbs to win.
And don't expect Rauner or any other GOP candidate for governor to have former Miss America Erika Harold as a running mate. She's running for Congress.
Find out more on our running Campaign 2014 scorecard.

MR. SPEAKER, ARE YOU THERE? Gov. Pat Quinn called a pension summit, but House Speaker Michael Madigan didn't show. And since he doesn't carry a cell phone, Madigan couldn't be reached. Chicago Tribune cartoonist Scott Stantis takes it from there. Click to see the whole cartoon.

FRACKING TIME The bill to allow hydraulic fracturing -- the oil and natural gas extraction method better known as fracking -- is a carefully written compromise that balances business and environmental interests. Supporters say it could bring 50,000 much-needed jobs to southern Illinois, generate hundreds of millions of dollars in state revenue and lessen the nation's dependence on foreign oil. Greg Baise of the Illinois Manufacturers Association and Illinois AFL-CIO President Michael Carrigan explain why Gov. Quinn should sign it into law.

JOBS NOW Illinois' jobless rate is 9.3 percent, well above the 7.5 percent national average. We want to change that and we need your help. Click here to sign on!

BIG NOISE IN LITTLE BURNHAM The huge embezzlement scandal that came out of tiny Dixon, Ill., last year taught us that corruption can come from the unlikeliest of sources. So when the FBI raided Village Hall in sleepy, south suburban Burnham, and the longtime village clerk abruptly resigned, the Better Government Association took notice. The investigation is here.

NEW IMPROVED DAILY TIP-OFF To make it easier for you to get to the news you want, we're now linking directly to each piece at its source publication. So here's today's Illinois news roundup:
-Bruce Rauner can't get away with evading big, politically tricky issues like gay marriage and whether to end the temporary tax increase now that he's officially in the governor's race (Mark Brown, Chicago Sun-Times)
-Can private citizen Bruce Rauner survive the "bloody gantlet of reporters and opposition researchers tearing through his life" that awaits him as a candidate for governor? (John Kass, Chicago Tribune)
-Gov candidate-to-be Sen. Kirk Dillard, R-Hinsdale, says he didn't mean to offend anyone when he said Illinois needed a "a first family, in a traditional sense, back in the governor's residence." (Bernard Schoenburg, State Journal-Register)
-Social service providers will get some relief from a bill signed by Gov. Pat Quinn that will pay $1 billion in back bills owed to them (Associated Press)
-Gov. Pat Quinn should call lawmakers back for a special session and let them "sweat it out" until they come up with a pension reform bill (Chicago Sun-Times)
-Education funding was spared an expected $400 million cut in the state budget thanks to a surge in tax revenue in April (Progress Illinois)
You still can find links to these and other relevant Illinois news stories in the Daily Tip-Off section of our website.