Along with all its other merits, Illinois could be called a food destination. As home to some rave restaurants, the state has rightly earned its status as a place full of good eats. Some Illinois restaurants have even been featured on national television shows about food, such as Diners, Drive-Ins and Dives on the Food Network.
While there are many hidden gems that might not receive the acknowledgement they deserve, you can find some good eats in pretty much every region of the state. From the southern Illinois towns of Golconda and Alton, through the Capitol, and all the way up to the Wisconsin border, there's plenty of awesome food joints to get your fill.
The Illinois Office of Tourism has given the "Enjoy Illinois: Delicious Destinations" award to 19 Illinois restaurants thus far in 2014 -- a distinction that recognizes popular, local eateries considered staples in their communities and unique to the state.
"From family-owned restaurants with long and storied histories to the hottest new cuisines in the world, Illinois has emerged as a premier culinary destination for both domestic and international visitors," said Illinois State Travel Director, Jen Hoelzle. "The 'Enjoy Illinois: Delicious Destination' award honors those restaurants that are authentically Illinois, making a trip to the state unforgettable."
Here's some more information on how IOT goes about the nomination and award process, according to Illinois Government News Network:
To be considered, restaurants must be nominated by a local Convention & Visitors Bureau, community member or an 'Enjoy Illinois' social media fan...Nominated restaurants must be unique to Illinois and an established part of its community and award winners will be chosen by the Illinois Office of Tourism.
Did any of your favorites make the list? Here's a few maps with winners thus far.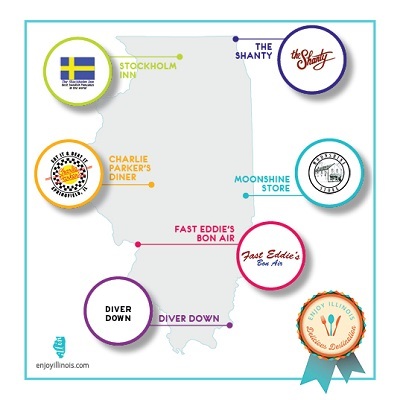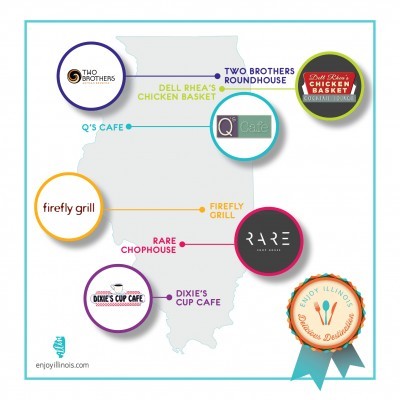 Check out another map at Reboot Illinois to find out if any more of your favorites made the list, plus see descriptions of each restaurant.
Sign up for our daily email to stay up to date on all things Illinois politics.
NEXT ARTICLE: 13 highest-grossing horror movies filmed in Illinois
Lights, camera, action: Here are the 100 highest-grossing movies filmed in Chicago
Catchin' some zzz's: What time do Illinoisans go to sleep?
That's right, the Simpsons live in Illinois. Here are 20 reasons why.
Watch: Fiery to the finish: Recalling Judy Baar Topinka