Despite the 148 charter schools in Illinois, many residents of the state don't fully understand what they stand for or what they do. There are more charter schools in Chicago and Rockford than the rest of the state, but many rules govern charter schools throughout the state.
The charter school model was created to allow "great flexibility for innovation within public schools," according to the National Education Association. The first one opened in 1992 in Minnesota. They are public schools that differ from regular district schools because there are rarely geographic attendance restrictions within the districts (except in some areas of Chicago, says the Illinois Network of Charter Schools).
The NEA also says charter schools are different from neighborhood schools in that they tend to hire younger teachers, are governed by appointed school boards and are sometimes run by "chains"-groups that run several charter schools. Both kinds of schools are taxpayer-funded and do not charge tuition.
The INCS calls the idea that charter schools and district schools have similar academic achievements a myth, but the NEA says there are only very small differences. In some areas, traditional schools do better, while charter schools have higher-achieving students in other areas.
The INCS has identified several other facts and myths about charter schools in Illinois.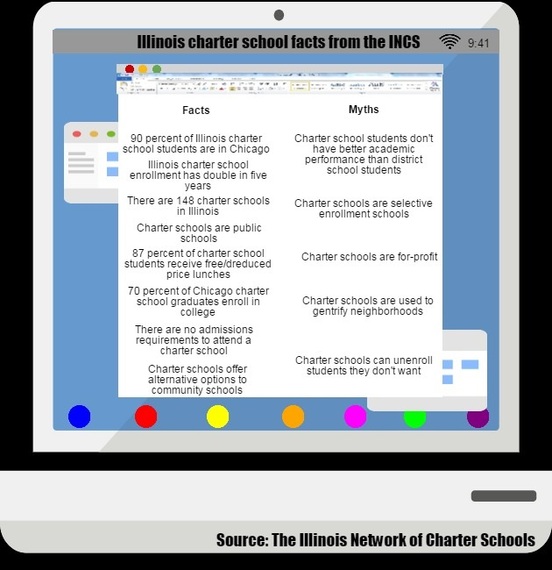 Check out Reboot Illinois to find a list of even more facts about charter schools in Illinois from the INCS, including how the schools are run and what the NEA thinks is necessary to run a successful charter school.
Sign up for our daily email to stay up to date on all things Illinois politics.
NEXT ARTICLE: Chicago charter schools: Separating fact from fiction
New map shows CPS students made more progress than charter school students
Chicago school funding pits charter schools vs. neighborhood schools
John Oliver slams Illinois Lottery in Last Week Tonight
How are Illinois schools doing? Here's an overview from the 2014 scorecard