Most politicians have made their stances on gun control laws widely known. Republican Illinois Gov.-elect Bruce Rauner has said he supports the rights of Illinoisans to own guns while some Democrats have expressed support for stricter gun control laws as a way to stymie violence in the state. What about Illinoisans as a whole, though? What do average people in the state think about gun laws?
The Paul Simon Public Policy Institute at Southern Illinois University polled registered voters throughout the state to gauge their feelings and found that most "show strong support for two key provisions of a gun crime bill which is pending in the legislature."
The provisions are: increasing mandatory minimum prison sentences from two years to three years for felony gun convictions and requiring convicted felons to serve at least 85 percent of their sentences. Nearly 69 percent and 65 percent supported the provisions, respectively.
From The Paul Simon Institute:
Some background: House Bill 5672 seeks to enhance penalties for certain violations of laws concerning unlawful use or possession of weapons. It is sponsored by Democratic State Rep. Michael Zalewski of Riverside and calls for increased prison sentences for certain gun crimes from two years to three years.

The bill also requires at least 85 percent of certain gun-related-crime prison sentences to be served, a provision called "Truth in Sentencing" by bill supporters. Current law requires 50 percent of these sentences to be served.

Many local and statewide officials support these proposals as a way to curb violent crime in the state, particularly Chicago.
Check out these charts to see how Illinoisans' support for these measures were divided, and click on the charts to see interactive information at Reboot Illinois.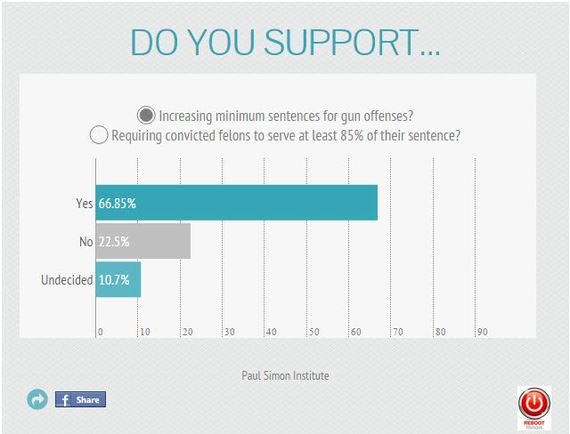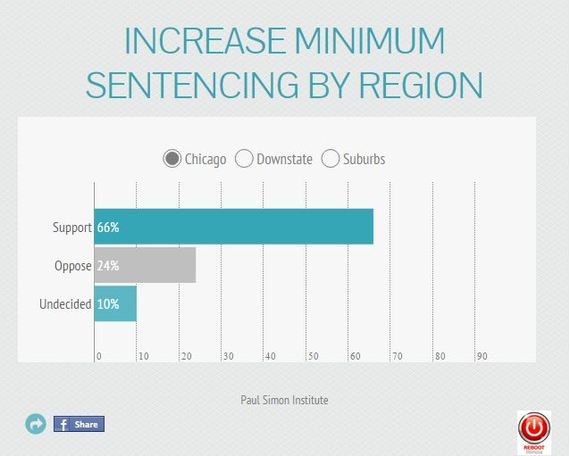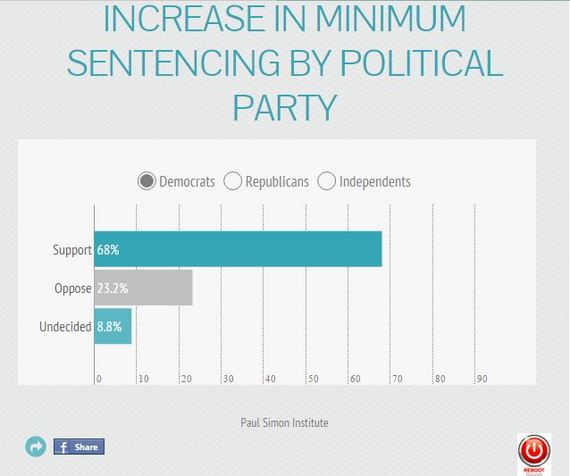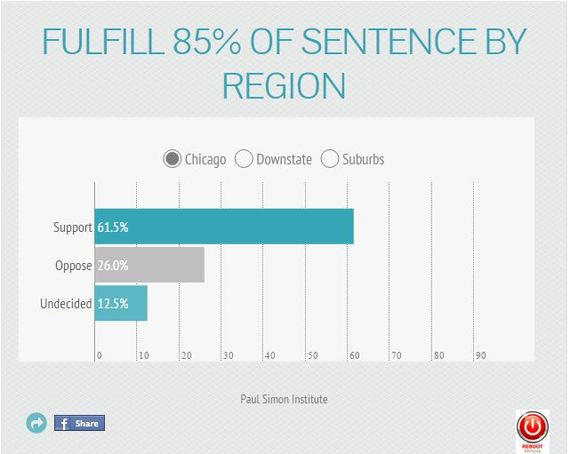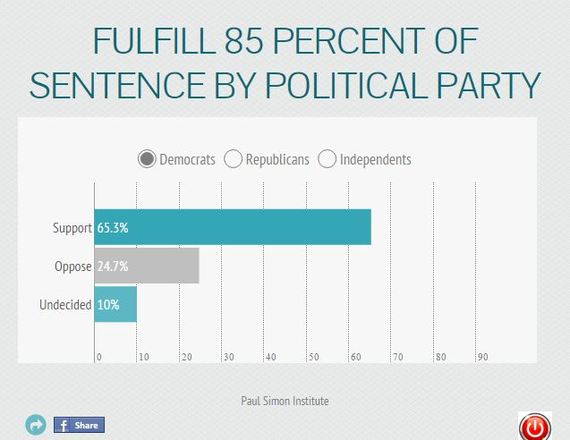 The poll was conducted Sept. 23 to Oct. 15 and contains the responses from 1,006 registered Illinois voters and has a margin of error of plus or minus 3 percent.
Check out Reboot Illinois to see how the Paul Simon Institute found Illinoisans feel about police officers and how well they do their jobs.
Sign up for our daily email to stay up to date on all things Illinois politics.
NEXT ARTICLE: Illinoisans compile a long to-do list for Gov.-elect Rauner
Road to success for Rauner goes through Madigan
Quinn's last stand: Fall veto session could be helpful or headache for Rauner
Cartoon: Jane Byrne blazed trail for women all over the country as Chicago's only woman mayor
Simple formula for Springfield to help small business owners: lower fees, fair taxes, sensible regulations