Twenty-two new legislators joined the veteran members of the Illinois General Assembly in January 2015. Reboot Illinois is talking to the new legislators about what they hope to accomplish during their time in office, their favorite things about the state and what they want Illinoisans to know about them.
Here is our conversation with Rep. Grant Wehrli, a Naperville Republican and former Naperville City Council member (appointed 2005) representing the 41st House District.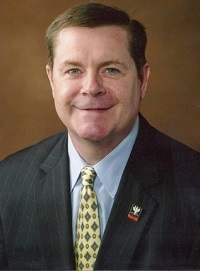 Wehrli is a sales and business consultant who he has lived all his life in Naperville, where his family roots extend more than 150 years. He majored in aviation management and aviation flight at the Florida Institute of Technology and Southern Illinois University at Carbondale. He and his wife have two sons.
Since joining the General Assembly in January, Wehrli has fought against the idea of pension double-dipping among Downstate police officers with House Bill 1320, which passed 88-20. He also sponsored another passing bill, an amendment to the Disabled Persons Rehabilitation Act, which ends the requirement for the "Department of Human Services to enter into contracts with public or private agencies for the establishment and continued support of resource, training and counseling centers," says his legislative website.
Reboot Illinois: Well, to start from the beginning, why did you decide you wanted to run for legislative office in the first place?
Rep. Grant Wehrli: Well, I had served on the Naperville City Council for about 10 years and I consider Naperville to be a very well-run unit of government. The overarching problems that our state is facing sort of drag down everybody else. I consider myself somewhat of a problem-solver, and to be honest with you, the biggest problems are coming out of Springfield. So I thought I would take my talents there.
And what are some of the bigger things you hope to do while you're there?
Well, obviously first and foremost is the budget. Our state fiscal house is not in order, so that would be priority one for me. And then local control. I think government works best when people are engaged and involved at their own level and that businesses and residents feel that they can impact their own future directly. I think that will go a long way to turn our state around. I want to make sure that the next generation has the stability to stay in Illinois.
So you talked about wanting to make sure you get this stuff done and you can fix the finances and work effectively, but obviously politics isn't always that easy. So what's your plan to compromise with your colleagues, both from your own party and from the other party?
Well, I think everyone recognizes the problems that we're in. It's working together and having the conversations to come up with a collaborative solution. So I don't pretend to have all the best ideas, I may have some of the worst ideas. But it's talking them through and seeing what we can get done. We're not going to fix our state overnight. It's not going to happen by May 31.
I can say one of my biggest surprises during my short time down in Springfield is there is the ability to work across the aisle and build consensus on good ideas. So we see a lot in the press of the partisan bickering and things like that, and on certain issues that will continue to be the story line of the day. But for the most part people are down there to try to make things better for all of us, and it's just making sure that we grasp onto that and expand that.
Read the rest of the Q & A with Wehrli at Reboot Illinois to find out what his favorite Illinois sports team is and what his favorite thing is about the state.
Sign up for our daily email to stay up to date with Illinois politics.