As the global economy and Illinois continue to move toward economic recovery, a report from the Illinois Department of Employment Security found that unemployment numbers were down in every one of the state's 12 metropolitan statistical areas for the ninth month in a row.
The monthly metro and local unemployment report is not seasonally adjusted, which means the unemployment rate of the current month is compared to the same month of last year -- i.e. December 2014 to December 2013 -- removing any seasonal or regular patterns that otherwise affect the unemployment rate. Additionally, people who have dropped out of the workforce are not reflected in these statistics.
IDES Director Jeff Mays, whom Gov. Bruce Rauner appointed this month, acknowledged unemployment rates in some metro areas are significantly higher than the current statewide rate of 6.2 percent, which dropped 0.2 percentage points from November.
It's worth noting that Mays' comments on the December numbers accentuated their negative aspect and minimized the report's good news -- the .2 percentage point drop in the statewide figure. This is a departure from comments throughout 2014 from Mays' predecessor, Jay Rowell, who emphasized the good news in the reports as they showed consistent monthly declines in the statewide unemployment rate for much of the year. The differing perspectives on unemployment numbers parallel the competing messages put forth during the gubernatorial campaign by Rauner and former Gov. Pat Quinn.
"Although unemployment rates are falling across all metro areas, there are still some metro rates that remain stubbornly higher than the statewide average and where job growth has lagged," said Mays.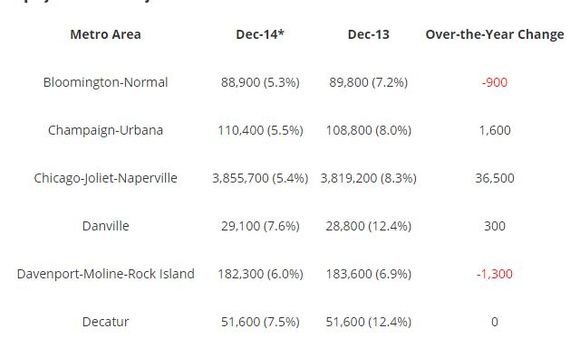 Check out Reboot Illinois to see these jobs numbers broken down by county and the jobs numbers in the 6 other metropolitan areas.
Sign up for our daily email to stay up to date with Illinois politics.
RELATED ARTICLES: