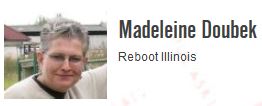 As has occurred far too often over the years, our elected officials ate their dessert first last week. The vegetables got pushed off the dinner table into the trash when they thought we weren't looking.
The dessert?
Well, there's apparently the framework of a deal for a south suburban airport in Peotone that Gov. Pat Quinn wanted. According to Crain's political columnist Greg Hinz, the budget calls for the state transportation department to buy land for, build and operate an airport at Peotone. The final $71 million needed to complete the purchase of land to start the airport is in new budget.
And there's a new stadium for DePaul University near the lakefront that Chicago Mayor Rahm Emanuel wanted. The McPier authority now can use its bonding authority to generate $70 million for the 10,000-seat stadium and hotel project. DePaul University will pay another $70 million.
Speaking of Mayor Bull, the take-your-medicine-now Emanuel tried to slip in a last-minute, two-year pension holiday for Chicago teachers that the union signed on to, but it wasn't approved.
And then there's the fact that legislators thought it must have been Christmas in April when they found out the state got $1 billion more in tax revenues than expected this spring They used some of those revenues to maximize some federal matching funds for health care costs, but they also decided not to cut school spending and to restore other spending cuts.
The Chicago Tribune reported that the operating budget that begins July 1 will be $35.4 billion. That's about $2 billion or 3 percent more than the current year from a state that hasn't paid its bills on time in years and still owes about $6 billion to real people who already have done work for the state.
All this from the part-time legislators who get full-time pay and and pensions. All this from our elected officials, who spent more, even though they also were warned by state Comptroller Judy Baar Topinka that our bills easily could balloon back up to $7.5 billion by August. This from the legislators who raised our taxes 67 percent in January of 2011 and vowed it would be a temporary increase.
How can the increase ever be temporary when our officials are ordering extra sundaes on the House?
When can we send them all off to bed without their dinner or their dessert? When will we realize we have to pay attention to what they're eating? We pay the bill.