If you ever want to find out all kinds of exciting Illinois political information, the Illinois State Board of Elections is the place to do it. It's one of the best resources for anyone who wants to be a smart voter or just wants to follow the money in state elections.
The site can be a little intimidating and confusing to newcomers, however.
The step-by-step guide below is intended to help any user with access to a spreadsheet learn to navigate the site for basic campaign contribution information and then sort the data in a spreadsheet. It shows how to search a candidate's campaign committee for all contributions reported to date.
1. Start at Board of Elections website and choose "Contributions search - all contributions" from "Top Pages" menu on left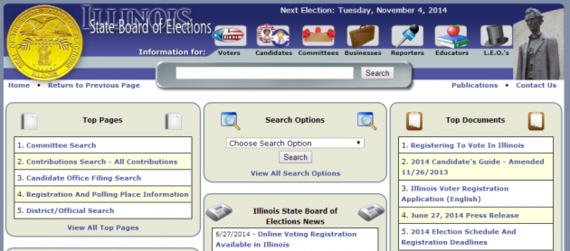 2. Click the "By Committees" tab and enter the name of the candidate or (if you know it) the committee's ID number. In the example, I'm searching for Bruce Rauner's committee.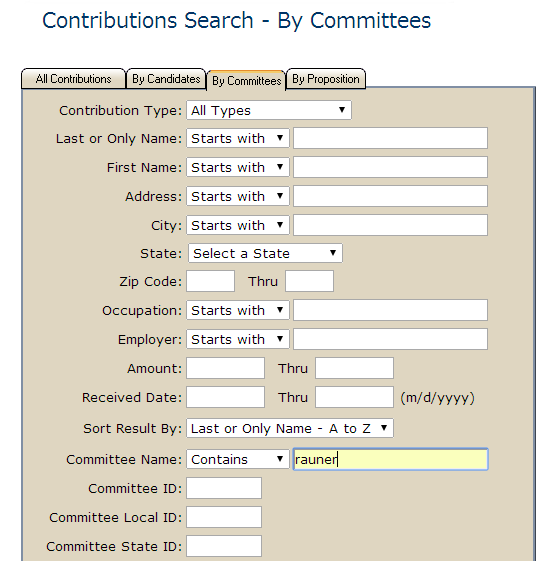 3. Hit Search and you'll get this result: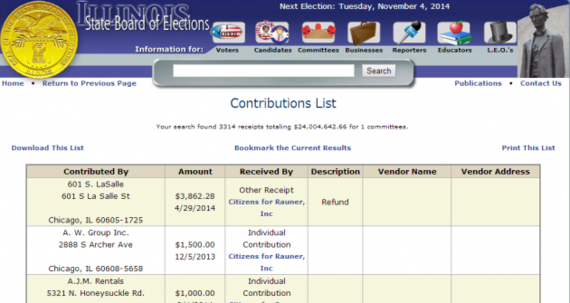 4. Click "Download This List" and then select "Tab-Delimited Text File"

5. The file will then download. It'll be called "Receipts." Open it and you'll see a mish-mash of text (shown below). Select all (Control-A) and copy to your clipboard (Control-C)

6. Open a new spreadsheet (Microsoft Excel, Google documents or any spreadsheet you like) and copy (Control-V) all the text into it. I'm using Excel in the example below.
7. Use Excel's Sort and Filter function to sort the list as you wish (by date, highest to lowest contribution, etc.). The example below is sorted by contribution highest to lowest.

Check out Reboot Illinois to learn how to search for quarterly reports on the Illinois State Board of Election's website so you are fully informed about what's going on with your vote.
Sign up for our daily email to stay up to date on all things Illinois politics.
RELATED ARTICLES: