We love Lincoln and you should, too. Illinois, of course, is "The Land of Lincoln" and our state includes a variety of historical sites and tourist attractions. To satisfy your Lincoln craving, we've put together our Trail of Lincoln, covering everything from the Lincoln-Douglas debate sites to the World's Largest Statue of Abraham Lincoln. Notable bummer: Due to Illinois budget constraints, several of these sites will have reduced hours this fall 2014, including four sites in Springfield information.
Lincoln Trail Homestead: This is the site where the Lincoln family lived when they first moved to Illinois from Indiana when the future president was 21. The Lincolns only stayed at the homestead for one year, discouraged by bad weather and illness. When his family moved to their new log cabin in Lerna, Abraham Lincoln moved out on his own.
Address: 16985 E 1350th Rd, Marshall, IL 62441
New Salem Historical Site: The New Salem Historic Site is a reconstruction of the village of New Salem, where Lincoln spent six important years of his life. Although he never owned a home in New Salem, Lincoln was very involved in village life, including clerking at a store and becoming postmaster. In addition to its many historic buildings and artifacts, the site also has a modern campground.
Address: 15588 History Lane, Petersburg, IL 62675
Lincoln's Log Cabin: Lincoln's father and stepmother moved here in 1837, and Abraham Lincoln traveled to Lerna to visit his parents. Today, the cabin sits on an 86-acre historic site. Additionally, there is a working farm and a second homestead on the site. Please note that this is one of the Lincoln sites that will be facing reduced hours beginning Fall 2014.
Address: 402 S Lincoln Hwy, Lerna, IL 62440
Lincoln Home: This Springfield house was the home of Abraham Lincoln and his growing family from 1844-1861. When the Lincolns moved into the house, it was smaller than it is today, as the Lincolns added two stories in 1856. Three of the Lincolns' four children were born here and one son, Edward, died here.
Address: 413 South Eighth Street, Springfield, IL 62701
Lincoln Ledger: On March 1, 1853, Abraham Lincoln opened an account with Marine and Fire Insurance Company with $310. Lincoln was a depositor at this bank until his death, but his account remained open until May 27, 1867 in the name of David Davis. The Lincoln Ledger is on display in the bank's lobby in a custom-made case.
Address: South 6th St. & E. Washington Street, Springfield, IL 62707
Lincoln Family Church: Although Lincoln's original church no longer stands, the Lincolns' pew is housed at the First Presbyterian Church at the original site of the Lincoln Family church. The Lincoln family began attending church services in 1850, three years after the death of Edward Lincoln. Although Abraham Lincoln never officially became a member, Mary Todd Lincoln became a member on April 13, 1852. Tad Lincoln was baptized at the church in 1855 and his funeral was held there in 1871.
Address: 321 S 7th St, Springfield, IL 62701
Iles House: The Iles house is the oldest house in Springfield and was home to Abraham Lincoln's friend, Robert Irwin. The Irwins frequently entertained the Lincolns, who would often come over and play cards.
Address: 628 S 7th St, Springfield, IL 62703
Lincoln Tomb and Memorial Site: On April 21, 1965, six days after Abraham Lincoln died, his body was brought to Springfield to be buried at Oak Ridge Cemetery next to his son, Willie, who died of Typhoid Fever while he was still in office. Today, Lincoln's body remains at Oak Ridge, as do the bodies of his wife, Mary, and three of their four sons. Please note this is one of the sites set to have reduced hours in Fall 2014.
Address: 1500 Monument Ave, Springfield, IL 62702
Bellevue Place: On May 20, 1875, 10 years after her husband's death, Mary Todd Lincoln, was committed to Bellevue Place after a Chicago court declared her insane. Mary's trial was arranged by her oldest and only surviving son, Robert. While at Bellevue, Mary lived a relatively normal life. Mary was released from her indefinite confinement on September 11, 1875 and was released into the custody of Ninian and Elizabeth Edwards She was later declared sane by a Chicago court on June 15, 1976.
Address: 333 S Jefferson St, Batavia, IL 60510
Finish the trail's journey on Reboot Illinois to see Illinois sites that Lincoln visited as a young lawyer and later as a politician.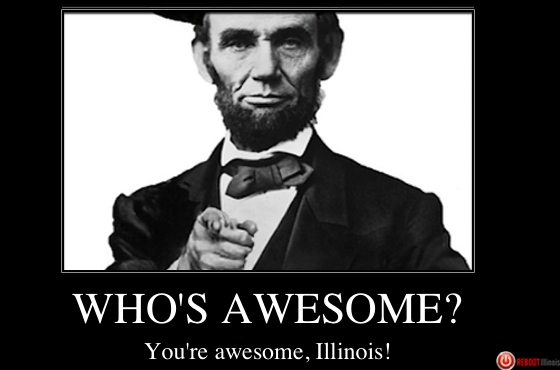 Want to see more cool lists like this and stay up to date on all Illinois news? Sign up for Reboot Illinois' daily digest news letter.
NEXT ARTICLE: 17 of the World's largest objects located in Illinois
21 Illinois city slogans, nicknames and mottos.
7 things to know when buying a house.
The best fast food joints in Illinois.
100 highest-grossing movies in the Chicago area.