Illinoisans know this state has a lot of issues to resolve -- a pension crisis, a terrible credit rating, a reputation of corruption. But we also know how great this state can be--Illinoisans are a hard-working bunch, and we enjoy titles such as being home to the world's best museum and being the home of Abraham Lincoln.
To begin to address some of the biggest issues the state faces, Illinoisans must first know what they are. Here is a list of some of the worst awards Illinois has received: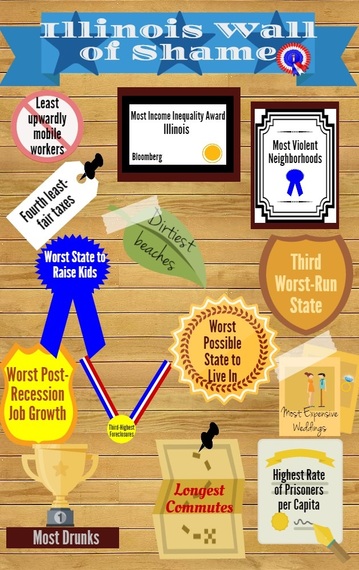 Most top 25 violent neighborhoods
According to Neighborhood Scout, Illinois has five of the nation's top 25 most violent neighborhoods in the country, more than any other state.
Third-highest home foreclosures
According to a study by RealtyTrac, Illinois had the third-highest rate of home foreclosures in the country in June 2014. One in every 645 houses in the state were foreclosed on in that month, compared with one in every 1,228 houses in the United States.
Fourth least-fair taxes
A study from WalletHub found that Illinois has the fourth least-fair tax system in the country, based on tax burdens to each resident and what the American public generally considers fair. Washington was found to have the number one most unfair tax system.
Worst state in the Midwest to raise kids
According to a study by WalletHub, it could cost up to a quarter of a million dollars to raise a baby in Illinois. That high cost, plus health and environmental factors, make it the 11th-worst state in the country to raise a kid, and the worst in the Midwest.
Third-worst unemployment
Illinois had the third-highest unemployment rate in the country, according to March numbers from the Bureau of Labor Statistics. At 8.4 percent unemployment, the state actually improved in the rankings-it had been the second-worst state for unemployment. Currently Illinois is ranked as the 15th highest unemployment rate in the country according to August 2014 numbers.
See more of these unfortunate designations at Reboot Illinois, including why some people think Illinois is the worst state to live in and just how much Illinois' spending is over budget.
NEXT ARTICLE: Exclusive governor questionnaire: candidates differ on taxes, corruption, reform
Mike Webster up to the challenge of taking on Jesse White for secretary of state
Road safety is the goal for Jesse White as he seeks fifth term as secretary of state
Beauties and beasts of Illinois college campuses
Watch: Chicagoans get hit with triple pension debt; towns across Illinois grapple with pension disaster