By Deborah Lindquist
Asian culture is a major inspiration for Spring 2013, from the flatform shoes we're seeing everywhere to kimono shapes and Asian-themed prints.
I'm particularly drawn to the works of art found in vintage kimonos. While easily interpreted into modern prints, the originals are precious and possess a complex simplicity of design. The creators of this magnificent artwork reinterpreted what they saw in nature and infused their artwork with hidden meaning. As ancient philosophers have noted, thoughts become things. Auspicious symbols may help you manifest what you want or need in your life. Add some key Asian-inspired pieces into your wardrobe and see what happens...
Longevity
The crane is a popular symbol in Asian textiles, symbolizing longevity, wisdom, wealth, power depending on its surroundings. In Chinese mythology, black cranes live up to 600 years. A new twist on a traditional spring cardigan is this cropped reincarnated cashmere cardigan with crane and floral appliques.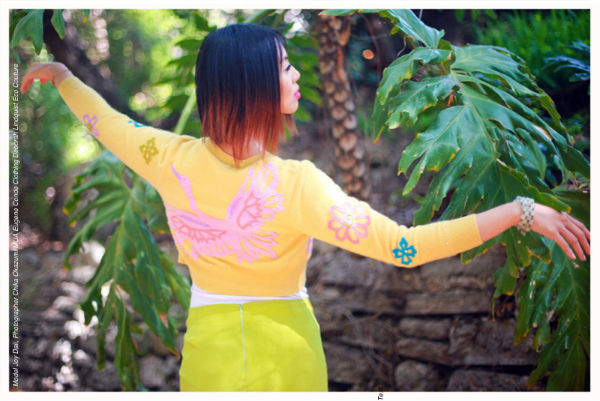 Photo by Chika Okazumi
Good Luck
Chrysanthemums are symbolic of powerful yang energy and bring good luck. This knee-length kimono print skirt is made of vintage kimono and color blocks of silk charmeuse. Perfect for work or fun, it's a colorful, versatile piece to add into your wardrobe.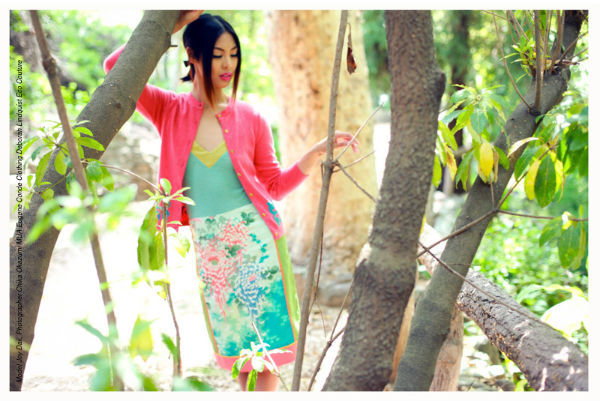 Photo by Chika Okazumi
Peace and Beauty
A symbol of spring, female beauty and reproduction, the peony is an exquisite, lush and fragrant flower. In full bloom it represents peace. Embroidered peonies and semiprecious stones adorn this vintage kimono and hemp/silk charmeuse bustier. A truly feminine piece, it nips in your waist and shows off your curves. Beautiful as an evening dress or maybe even as part of an Asian inspired wedding look.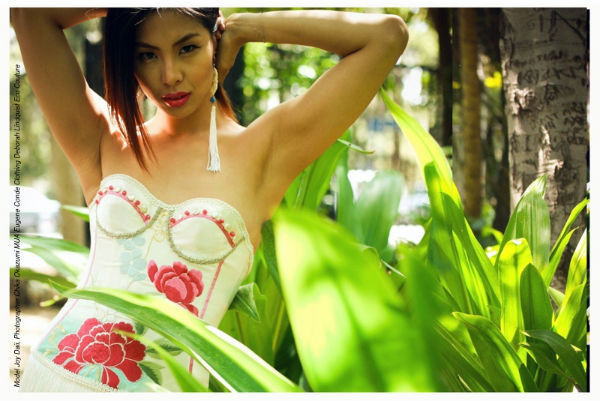 Photo by Chika Oakum
These kimono inspired pieces are trendy but timeless. The artistry in the prints and auspicious symbols make them unusual and newly exciting. Try one this spring and see what happens!
As one of America's most sought after environmentally conscious designers, Deborah Lindquist creates exquisite apparel out of a mix of "reincarnated" and new Earth-friendly fabrics, such as cashmere, hemp and bamboo. Lindquist's avant-garde apparel has been showcased in numerous publications including Elle, In Style, Lucky, WWD, Vibe, People, Brides and Maxim. You can also catch her one-of-a-kind pieces during episodes of Lifetime's How to Look Good Naked and Access Hollywood's Hollywood Green. She has dressed trendsetters such as Rihanna, Pink, Christina Aguilera, Jessica Simpson, Paris Hilton, Keisha Cole and Jessica Alba. Check out her press page and blog to learn more about Deborah.