By Deborah Lindquist
Springing forward this month, we're reminded that our internal clocks are now in forward motion. Cold winter temperatures are replaced by a sudden warm spell, then shift back again, and we are left wondering what to wear.
It makes a person want to jump on a plane and get away for some swim, sun and relaxation. And why not? We all need a little fun, and taking a break can recharge us when we feel like we're running on empty. The spring season (and a weekend -- or more -- away) gives us more time to lollygag with that special someone, and that in itself will make us glow.
That's what resort collections are all about. Taking the time to plan to have fun is only the start of a fabulous getaway. The challenge is what to pack.
Less Is More
The idea of "less is more" is certainly the focus. A few new versatile pieces that can be taken to the beach or pool but easily transition into evening is your best bet for fashion success. Keep it simple, colorful and feminine.
The Pinup Girl
This pinup girl inspired vintage kimono fabric suit is not meant for surfing, but it's an unexpected take on resort wear with a couture twist. Wear it barefoot on the beach or with heels at a pool party. Pair the bustier top with a tailored or full skirt and you have a chicly ladylike but sexy look for a romantic evening.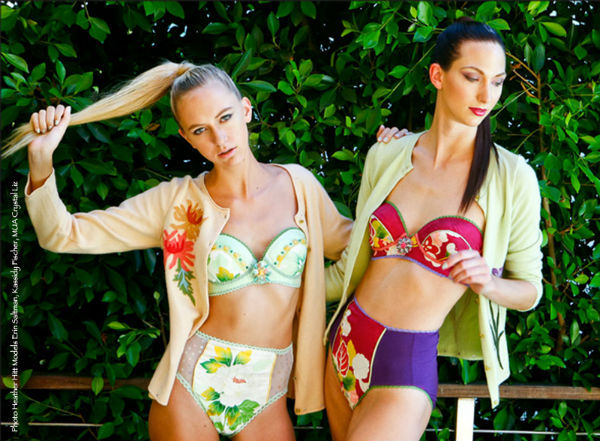 Photo courtesy of Heather Hitt
Layer It Up
Sometimes the evenings can be cool, even on a tropical island. Throw on a fun embellished cardigan such as this appliqué cashmere cardigan to keep the chill away. Colorful or neutral, a cardigan is the perfect layering piece.
Try a Unique Pattern
This spring, patterns are abundant. From mod graphic prints to romantic florals, there is a welcome cheerfulness that help ease us out of the familiar black and greys we may have settled into this past winter season. So try something new, experiment with florals and color when you normally wouldn't. You might be surprised how you feel. It's all about changing it up.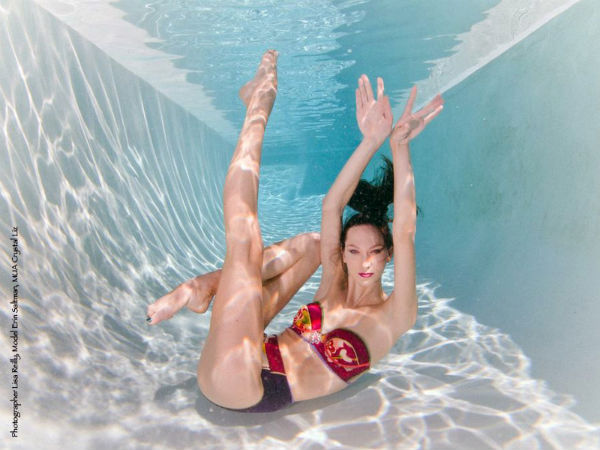 Photo courtesy of Lisa Reilly
Take the Plunge
And if you accidently get pushed into the pool, well, have fun with it. Unleash your inner mermaid and enjoy the ride....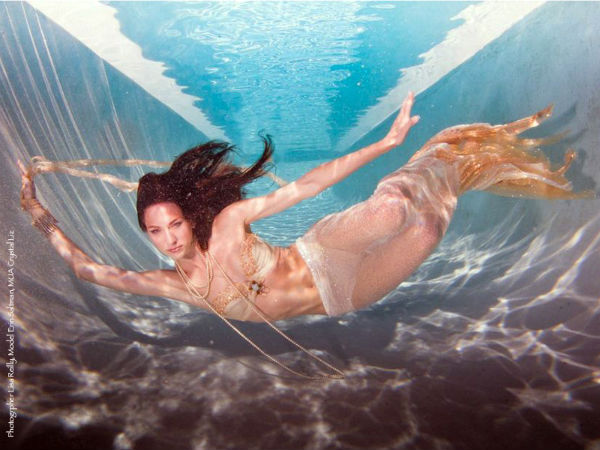 Photo courtesy of Lisa Reilly
This resort season, take a break, recharge, have some fun!
As one of America's most sought after environmentally conscious designers, Deborah Lindquist creates exquisite apparel out of a mix of "reincarnated" and new Earth-friendly fabrics, such as cashmere, hemp and bamboo. Lindquist's avant-garde apparel has been showcased in numerous publications including Elle, In Style, Lucky, WWD, Vibe, People, Brides and Maxim. You can also catch her one-of-a-kind pieces during episodes of Lifetime's How to Look Good Naked and Access Hollywood's Hollywood Green. She has dressed trendsetters such as Rhianna, Pink, Christina Aguilera, Jessica Simpson, Paris Hilton, Keisha Cole and Jessica Alba.
Check out her designs at deborahlindquist.com and read her blog on Red Room.