By Deborah Lindquist
If I don't wear green on St. Patrick's day, will I get pinched? What about the pot of gold?
According to Irish folklore, mischievous leprechauns from the "Emerald Isle" were the ones who started the pinching tradition. Children put it into practice but, to be safe, wear green on this month's Irish-American holiday named St. Patrick's Day. As legend has it, the color makes you invisible to those cranky leprechauns, with the added benefit of making it easer to catch one and be led to the end of the rainbow, where surely enough you will find a pot of gold.
And who wouldn't like that?
What color green doesn't really matter, to my knowledge. I say wear whatever green looks good on you From the brightest green to the dusty sage, there is a perfect shade of green for you.
Bright Greens
While having the added benefit of making you somewhat invisible in the trees, this camouflage patterned vintage parachute skirt is a beautiful bright option. Dressed up with a bustier, or down with a simple t-shirt and cute flat sandals, it can easily transition from day into evening.
Olive Green
Olive green has become its own kind of versatile neutral, since it can be worn with just about any imaginable color. This vintage parachute, metallic leather appliqué jacket could be thrown over skinny dark jeans and studded moto boots, or dressed up with a feminine skirt such as this silk fringed flapper skirt.
Dusty Sage Green
Another versatile but soft, bleached-out green, sage green is especially beautiful as the season moves into spring. Combined here with a dusty turquoise vintage lace bustier, this vintage parachute skirt is an easy, go-to addition to your wardrobe. Who doesn't love a skirt that moves so easily from day into evening?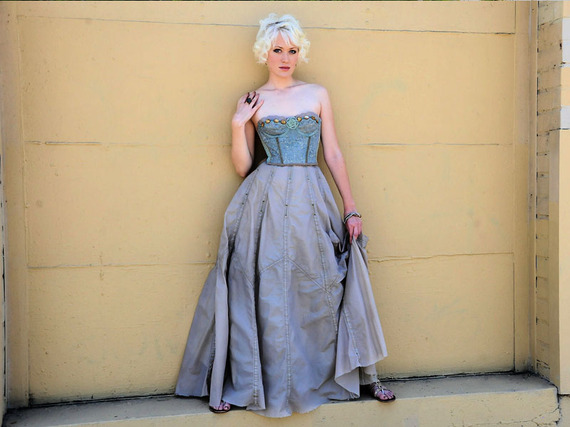 Photo by Pattie Traynor

Keeping the spirit of St. Patrick's day fun and fashionable in your own individual way, wear green to celebrate this legendary Irish holiday. You might just find your own pot of gold!
As one of America's most sought after environmentally conscious designers, Deborah Lindquist creates exquisite apparel out of a mix of "reincarnated" and new Earth-friendly fabrics, such as cashmere, hemp and bamboo. Lindquist's avant-garde apparel has been showcased in numerous publications including Elle, In Style, Lucky, WWD, Vibe, People, Brides and Maxim. You can also catch her one-of-a-kind pieces during episodes of Lifetime's How to Look Good Naked and Access Hollywood's Hollywood Green. She has dressed trendsetters such as Rihanna, Pink, Christina Aguilera, Jessica Simpson, Paris Hilton, Keisha Cole and Jessica Alba. Check out her press page and blog to learn more about Deborah.