By Patti Lawson
This holiday season, my dog Sadie and I plan on being charitable to canines, both personally and by purchasing from companies that donate a portion of their sales to help homeless dogs (and people, too). We support organizations more consistently and generously during the holidays when donations often decrease and people tend to overlook pets because they are focused on their human families. Yet giving has never been easier--take a few tips for charitable pet giving from us this holiday season:
Donate to a local organization that rescues dogs.
Shopping and eating locally are prominent trends in retail and restaurants. Why not apply that thinking to your giving this holiday season? Local rescues pledge to take dogs pulled from shelters and find them Forever Homes. They are always in need of funds to keep their operation going. Don't know of a local rescue in need? Rose's Fund has a state-to-state list of animal rescues and shelters that need assistance.
Reach out to a homeless pet.
When a pet parent becomes homeless, so does his or her pet. Pets of the homeless are nonjudgmental, offer comfort, and provide an emotional bond of loyalty. In some cases, they provide the homeless protection and keep them warm. Pets of the Homeless is an organization to which the homeless can turn to for their pet's food and veterinary care. The website lists collection sites all over the United States where you can drop off pet food for needy pets and a list of charities that help provide services to those in need of financial assistance for pet care. Go a step further and visit soup kitchens and shelters offering to donate pet food.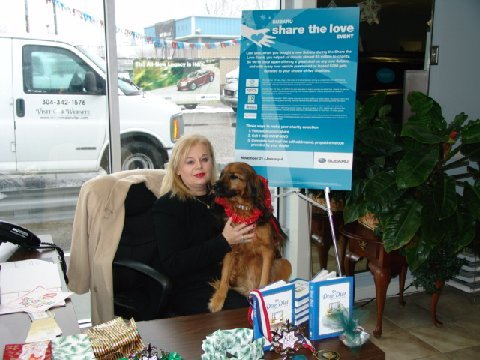 Patti and Sadie at the Subaru "Share the Love" event, held every December to benefit dogs; photo courtesy of Patti Lawson
Make gifts for dogs and keep them in your car during the holidays.
It's simple and thoughtful. Take a plastic storage bag and put treats and maybe a chew or two inside. Put Christmas stickers on the outside and keep several of these in your car. Give them out to dogs you see that might be homeless or to people walking dogs that might need them. You can also get inexpensive plastic bowls at a dollar store and fill them with treats, collars, and leashes and wrap them in colored plastic wrap for a thoughtful and needed gift. Sadie and I plan to drive around our area during the holidays specifically to distribute these small tokens of holiday cheer.
Take your dog to a nursing home or assisted living facility to visit residents.
Do an internet search for these facilities in your area and be sure to call ahead and get the green light from the home's administrator. You'll be surprised how many places dogs are happily welcomed to cheer up the residents. My sister was a patient in a nursing home in Pittsburgh, Pennsylvania, and Sadie spent as much time getting petted and fed small treats from the other residents as she did visiting Liz. It was amazing to see their eyes light up as they petted her and recalled stories of pets they once had. PUP (Pets Uplifting People) is a volunteer organization that provides pet visits to residents in health care facilities in the Tampa Bay, Florida, area. Dogs are checked by PUP facilitators and cleared for visitation. Check to see if there's a similar organization in your area, and if not, start one!
Purchase your holiday greeting cards from a company that gives part of their proceeds to animal welfare.
One such company, Dog Caption Cards, gives 25% of its proceeds to help pay for foster dog programs' essential services and supplies, including emergency kennel fees and heartworm/flea medications. Dog Caption's co-founder, Vivica Stone-Berry, opens her home continuously to foster dogs and works tirelessly at adoption events to find them Forever Homes.
Shop for your two-legged friends' gifts at companies that provide funds for animal rescue.
The Animal Rescue Site has terrific gifts for everyone on your Christmas list. T-shirts, scarves, and jewelry convey great messages about our love for dogs that any pet parent would appreciate. A fantastic gift is a drawing of the recipient's own dog for just $16.00 from Julia Vogel, a 14-year old girl in Virginia. Julia donates the money to help rescue Pit Bulls. Visit her Facebook page for more information.
Ask each of your holiday guests to bring a pet donation.
Having a holiday party? Put a request in your invitation that your guests bring a Kong© as admission to the party. Then donate it to your local shelter. Kongs, reusable rubber chew toys available at any pet store, can be filled with peanut butter, cheese, or other treats. Because the dog has to work to get the treat out, they provide hours of activity for dogs taking their mind off their surroundings.
Foster a dog over the holidays.
The shelter is a terribly lonely place at Christmas. Volunteer to foster a dog and give her a great holiday. Call your local shelter, which will most likely be short-staffed over the holidays, and volunteer to include a homeless dog in your family festivities.
The holidays can be a great time for you and your dog to make life easier for both pet parents and dogs. With a little creative thinking you can come up with even more ways to celebrate the holidays with your dog while helping others.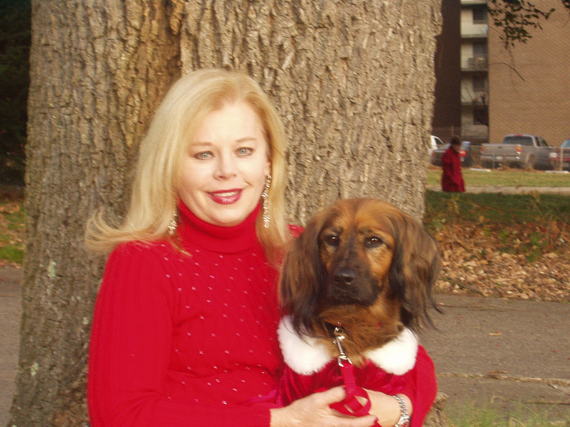 Patti and Sadie in their best holiday attire; photo courtesy of Patti Lawson
Patti Lawson is an award-winning author and columnist who lives in Charleston, West Virginia. Her first book, The Dog Diet, A Memoir, is the story of her adopted beloved canine companion, Sadie. She writes frequently for different publications on a variety of topics, and her blog can be read at http://blogs.dailymail.com/petcity/ or on her website. To learn more about Patti and her books, visit her on Red Room.