By JD Schramm
If doctors make the worst patients, what kind of students would a group of professors and administrators make? Twelve days in Kazakhstan revealed that we actually did pretty well as the recipients of experiential learning rather than the dispensers.
My recent trip to Kazakhstan demonstrated that, just like riding a bike, I was able to become the learner as I participated in a doctoral level study abroad trip. I'd never been to Kazakhstan (or anywhere nearby). My travel had not taken me to a former Soviet republic before. What's more, no one in my circle of friends or family had ever been there and usually just made some crack about the film Borat as their only reference point to this nation. The ninth largest country in the world, and the largest landlocked nation on earth, Kazakhstan provided a fascinating and educational visit.
By way of introduction, the nation was the last to declare its independence from the Soviet Union on December 16, 1991. In the nearly twenty years since that time the country has had only one president, Nursultan Nazarbayev. In 1997 President Nazarbayev relocated the capital from Almaty (near the Kyrgyzstan border) to Astana (closer to the center of the nation). We visited both cities but were primarily in the new capital. One classmate described it as what would happen if Epcot met Washington D.C. in Vegas. The city boasts remarkable world-class architecture, most less than a decade old. The country appears to be on the verge of many great things. Relying on its many natural resources (oil being chief among them), Kazakhstan is pursuing multiple economic and cultural dreams. It's rumored the nation may bid to host the winter Olympics.
The Kazakhstan agency of statistics indicates that just over 3,000 Americans venture to Kazakhstan each year; my 22 doctoral classmates from Penn's Graduate School of Education are now part of that small sample. My nephew Steven loves to visit professional baseball parks in each city he visits; we, on the other hand, visited colleges and universities. Invited by the leadership of Nazarbayev University we conducted several days of fact-finding research for this one-year old institution. We sought to learn what we could about the niche this new school would create and fill and how best to achieve those lofty goals. The trip ended with a full-day symposium where we shared our preliminary findings and we're now in the midst of crafting a series of White Papers on the topic.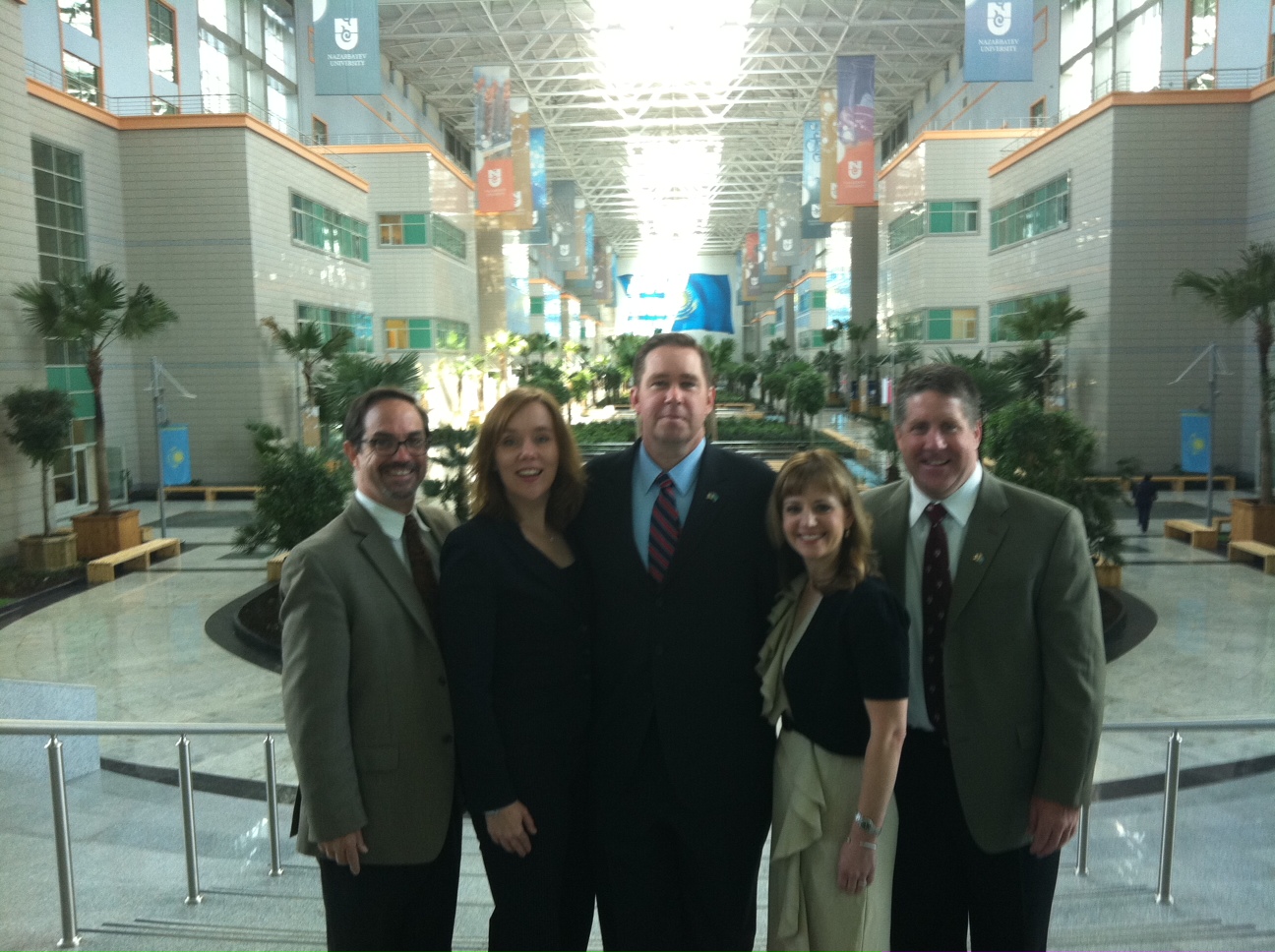 As leaders in higher education we were used to directing student experiences, not participating in them. It was no coincidence that our recommendations to the NU leaders kept coming back to "embrace experiential learning" as we ourselves were participating in the greatest activity of experiential learning any of us had ever seen. We were learning about researching vexing issues in higher education by, well, conducting research ourselves into the vexing issues our host university was facing.
But even now I'm not sure if I learned more about the Kazakh people and their system of higher education or about myself during my 12 days of Kazakhstan. It's been said the best way to teach a goldfish the nature of water is to remove it from its fish bowl. That's what being in the unfamiliar territory of central Asia did for me: I was able to see myself in a whole new way. I found reservoirs of resilience I didn't know were there as we faced accommodations, transportation, and meals that were challenging. I also discovered how uncomfortable I was when un-tethered from my blackberry for just two days while participating in a research/writing retreat in a remote area of the country.
Further, I became aware of my own impatience as I observed this nation trying to play catch-up after decades of Soviet rule. When they wanted to recreate a vibrant cattle industry, they simply imported hundreds of pregnant cows from North Dakota. When they wanted to establish a unique tourist attraction, they simply shipped in millions of tons of sand to create the world's largest indoor beach (on the 7th story of a high-end shopping mall). And when they wanted to establish a world-class research university, they crafted partnerships with a half-dozen top ranked universities (Penn, Duke, Carnegie-Mellon, and the University of Wisconsin-Madison, to name a few).
With the right resources am I a bit like Kazakhstan? Looking for ways to accelerate my career with a two-year doctorate, advance my retirement savings by maximizing the amount of matching funds allowed from Stanford, and even accelerating my frequent flyer miles through accepting special promotions from United. I'm often encouraging my students to "slow down and smell the flowers along the way" but my trip to Kazakhstan showed me how often I resist doing just that.
It was a great lesson to learn (or perhaps relearn) and it took me going 10,371 miles away from home to a place I'd never been before to learn to go within. Yet in the unfamiliar republic of Kazakhstan and the less familiar role of being a student on a study trip, the learning experience was both rich and profound.
JD Schramm, Director of the Mastery in Communication Initiative at Stanford's Graduate School of Business, teaches a variety of communication courses to MBA students. To read his blog, visit him on Red Room.