June 23rd is National Pink Day, but we're celebrating a little early this year! We couldn't wait to highlight homes for sale that use pink in all the right places. From the ultimate princess room to a sophisticated library, these rooms really show off the chameleon qualities of the color pink.
A Pop of Pink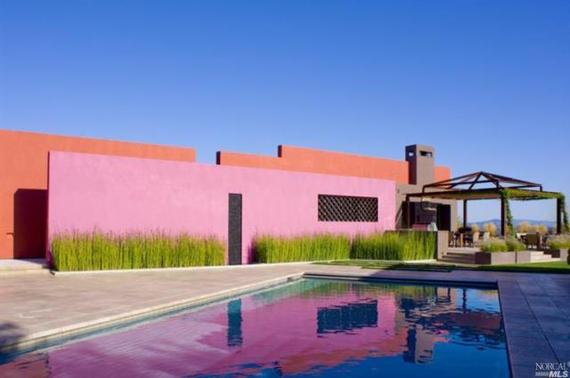 This amazing estate sits on more than 13 acres in the heart of Sonoma's wine country. While most of the exterior is earth-toned stucco, the home has a pink and orange wall that acts as a gate at the entrance, and creates plenty of privacy around the pool area. The pop of pink contrasts beautifully against the green shrubs, orange wall and blue sky. Time to open a bottle of rosᅢᄅ!
Tickle Me Pink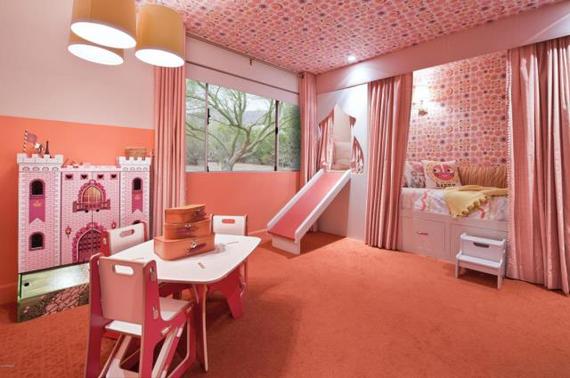 This pink palace is every little girl's dream room! Once this princess is done playing dress up, she can hop on over to her pink castle to play with her dolls. After that, she can color on her pink table...with pink crayons, of course. When she gets tired, she can cuddle up with a princess book on her bed, which has a pink slide! Despite the overwhelming amount of pink, the room is cohesive and calming. And this little girl isn't the only lucky one in her household; if you take a look at the listing photos, you'll find that her siblings have rooms that are just as adorable!
Think Pink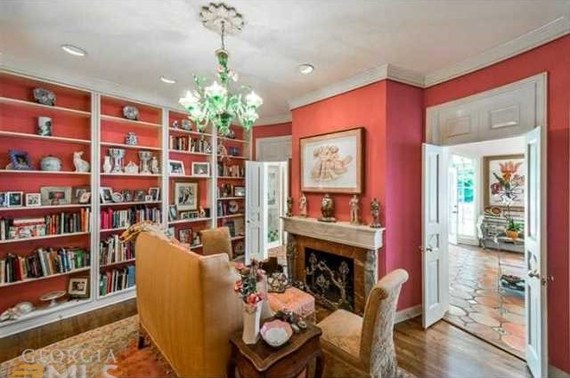 While most libraries feature wood paneling and earth tones, this one keeps it fresh with a coat of pink paint. The white shelves, fireplace mantle, and custom doors really stand out against the salmon-colored walls. Hints of pink in the dᅢᄅcor tie it all together. And this isn't the only room with twist; the listing photos reveal pops of color throughout the home, including shades of teal, seafoam green and magenta.
Pretty in Pink
This beautifully decorated dining area is absolutely stunning with the pink patterned wallpaper. "Granny chic" is a new interior design trend that focuses on floral patterns, soft colors and classic furniture. This formal dining room pulls it off! The rest of the home is just as opulent, with a game room, study hall and dance studio!
Pink Power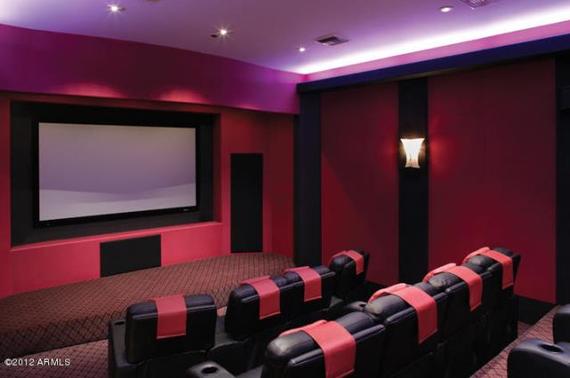 It seems like every luxury home has a home theater these days, and they're getting bigger and more elaborate every year. The theater in this home looks like a miniature version of a public cinema, but with nicer seats! The vibrant pink on the walls and chairs gives it a more modern look and makes it stand out from any other room in the house.
Would you ever decorate your home with pink?